The worldwide pandemic has forced many business owners to take necessary precautions, adjusting their habits following the constant threat of contracting terrorism or being blackmailed into working for criminal organizations. The B2B industry has also changed the way they conduct their businesses. With the Internet, e-commerce has exploded! Now, anyone can sell just about anything online, even if you have no physical store or operate out of your garage! If you are thinking about joining this trend and starting an e-commerce business but would rather learn more about what starting a multi-vendor B2B marketplace in 2016 entails before doing so, continue reading our post. This guide will reveal how an e-commerce B2B marketplace can help you run your fictional company in 2021!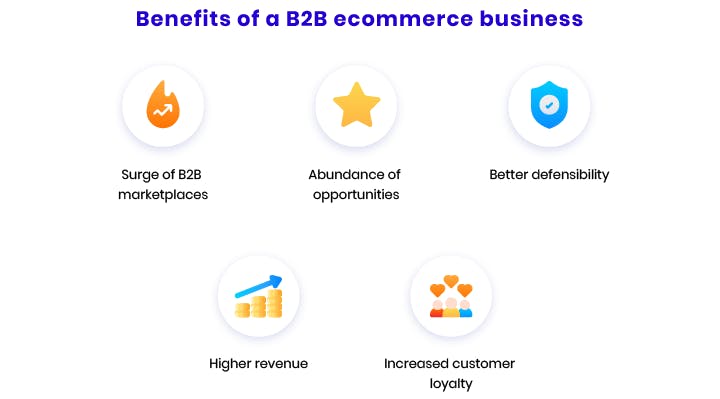 Difference between an e-commerce store and multi-vendor marketplace
A B2B eCommerce store is a speciality business that provides products or services to other businesses. B2B storefronts have been around for a while now and are common throughout many different business domains.
A multi-vendor B2B marketplace is a platform where sellers from all over the world can come together to interact with each other for mutual benefit. The question you might be asking, right at this very moment, is what could a simple provider of goods and services gain from running their online platform?
Well, let's explore exactly why a B2B e-commerce website could be good for your company.
The surge of B2B marketplaces 
The COVID-19 pandemic has changed the way business is done. According to recent research by McKinsey, more than 75% of commercial buyers and sellers prefer online interactions over face-to-face interactions.
Moreover, most are planning on continuing to grow their businesses primarily online. Convenient self-service, easier scheduling, safe payments, and faster closing of deals are among the most significant benefits they have come to associate with e-commerce that leads most commercial adopters to adopt it as part of their routine.
Another benefit the B2B multi-vendor marketplace brings is that buyers are ready to spend from $50,000 to $1 million online when it comes to B2B purchases.
Finally, the latest trends in the B2B industry show that small manufacturers are shifting online; this creates room for entrepreneurs to offer their services and start opening B2B multi-vendor marketplaces.
The abundance of opportunities to find your niche 
"In consumer-focused marketplaces, many categories already have high competition, which means that business-to-consumer (B2C) newcomers need to combat existing network effects with an innovative marketplace product that is exponentially better than previous ones. In the realm of B2B, many categories still have no dominant marketplace players. That leaves plenty of opportunities for emerging platform businesses to be the first mover."
Mathias Ockenfels, Partner at Speedinvest
Unlike the B2C and C2C spheres that came online much earlier and have already gained stability, B2B marketplaces are starting to move online only now. This is one of the major reasons why there are a lot of opportunities for finding your niche in the B2B sphere. Let's examine ways you can find your niche in the B2B sphere:
Identify problems that exist within existing offline corporations and use this information as inspiration when building your B2B marketplace. For example, if these corporations experience long delays associated with closing deals due to bureaucracy, make simplicity a key feature of your marketplace.
So you've found a niche, great! But how will you reach your customers? If there are no online analogues where would the customers come from? Here's what you can do. You can become an industry pioneer and bring this sphere to the Internet marketplaces where people congregate. Like with Transfix for example, which brought shipping services online.
Find transactions that aren't happening today but have the potential to happen online, think about all potential spheres that don't make money right now but have a real potential for it. This is a definitive sign of hitting gold!
Better marketplace defensibility
A company that has already achieved the status of being the market leader has a greater chance of leaving other companies in its tracks if they choose to compete against them. A marketplace's viability and competitiveness are greatly influenced by three components, product value, competitor response, and switching costs.

Network effect
The more the merrier - that's what people say, but it works well when talking about venture investments as well. The network effect means that as the number of your startup's users grows, your business becomes more valuable and you're able to grow faster as a profitable company. So let's consider Alibaba – they have 630 million buyers on their e-commerce platform and had annual revenue of $39.3 billion in 2018. In 2020, they were able to reach a milestone of a whopping 960 million users on their platform and bring in annual revenue of more than $1 trillion globally.
Since the B2B industry is only starting to move online, you'll have an opportunity to build a strong network with your target audience. Once you create a B2B marketplace that solves the problems of your target audience, you'll have more opportunities for gaining users to join your platform.
Visibility and brand awareness
Creating a brand can greatly enhance your marketplace's defensibility. People are likely to choose the best product on the market. You need to make sure that you not only create a product that people will want, but that it is well marketed too! The more spread out your promotion is, the more successful it will be.
Right now, while the B2B sphere still hasn't gone online completely, you have an opportunity to work on your brand and find a way to present your business to your customers in a way that makes you stand out from the rest of the competition.
Scalability
The more customers you attract to your marketplace the more opportunities you have for the growth of your business. A marketplace can scale successfully with all the same B2B eCommerce benefits that an online retail store would have, especially when it comes to reaching a global audience.  
If your business thrives in one country, then an opportunity has opened its doors for expansion into other countries which would then create future revenue that may offset some of your initial expenses.
Higher revenue
One of the distinctive characteristics of B2B multi-vendor markets is that they tend to bring in huge profits. According to a report by Digital Commerce, B2B sales are expected to reach $3.6 trillion by 2024 compared with $680 billion in 2018. Large revenue is determined by two main factors:
High-priced transactions. B2B purchases are often large. B2B customers often buy in bulk or make expensive purchases that are necessary for their businesses. For example, if an executive is going to open a website for e-commerce purposes, they will have to make several large investments
The frequency with which B2C and B2B marketplaces conduct transactions is less frequent. Business-to-consumer (B2C) online marketplaces may facilitate transactions several times a week since consumers are at liberty to shop any time of the day whereas business-to-business (B2B) multi-vendor platforms tend to focus on long-term partnerships with users, as they handle orders that may be placed multiple times per month or even less frequently. An example of such a marketplace would be LemonCat - a B2B multi-vendor platform for catering orders - which sees orders every day from business clients serving more than 300 cities across Germany.
Increased customer loyalty
Making your B2B marketplace convenient and straightforward to use is one of the most important things in regards to winning customer loyalty. As trends show, B2B customers want to be able to interact with their chosen marketplaces in an intuitive way that's easy to understand.
By providing self-service tools or automating processes you can make it easier for your users to order what they need when they need it without having to wait for you or other human beings sometimes taking forever - providing convenience, which is a guaranteed boon for many businesses.
Another way to help your B2B clients enjoy their shopping experience with you is by creating a mobile application. You can easily gather data on your users and their preferences to tailor the application to best cater to their needs. It's also a great way for them to transverse your marketplace at any given moment. And this spells an opportunity for you. Since technology is growing, we know that it will play a big part in the lives of everyone and by 2020 there will be mobile transactions worth $250 billion that year alone. Once you give people the ability to shop from the palm of their hands, they won't want to look anywhere else!
Final thoughts
B2B business owners are also recognizing the potential of ecommerce in a substantial way. For all entrepreneurs interested in penetrating this market, this is a major opportunity for them to capitalize on. You can feel confident about taking that step into launching your own multi-vendor marketplace with the insight you've gained from reading up on all of the benefits just listed here.