The world has been dramatically changed thanks to COVID-19. Because everybody is online now, communicating with the help of instant messaging and video chats, this market niche is a gold mine for people who just want a better way to stay connected to their family and friends.
If you are thinking of how to build a video chat app, our article is the right place to be! Here, we'll provide you with some useful tips on how it's possible to create your own video chat apps. We have provided:
- An overview of the major players in the market when it comes to building video chat apps.
- Questions that should be answered before one builds a video chat app
- Three ways in which one can create such an app
Top video chat apps
Viber

Viber is a messaging app that allows users to send messages, share files, hold video calls and feel connected no matter where they are. In addition to messaging services, it provides the ability to easily make phone calls anywhere in the world – making it an essential tool for people on the move. Its features make it a unique value proposition, unlike other similar apps.
Facebook Messenger

Messenger is another app that Facebook owns. First released in 2011, Messenger was designed to connect people who did not have the main Facebook app installed on their devices. Over time, however, its functionality has expanded and it can now be used entirely separately from Facebook. Some of the features that make it unique include video calling, stickers and even an SMS alternative (if you're not big into or comfortable with standard texting).
Messaging is one of the most popular parts of social media today, so the fact that there are so many people using this particular app should not be much of a surprise when considering its popularity!
Telegram

Telegram is thought to be the most secure messenger app around. It offers over 250,000 stickers that can be added to individual messages for fun, and it allows users to create their own creations so they can use them with anyone. Telegram's secret chats are encrypted by default and self-destructing messages also help it stand out as the most secure messaging app around.
WhatsApp

With traction almost exactly on par with that of Tango, WhatsApp is the first on our list of IM applications. Launching in 2009, it's hard not to wonder why WhatsApp had an ever-increasing popularity rise to its status as the largest IM application. One of its USPs was how light it was on bandwidth at its initial stages making for great interactivity which is possibly why it gained so much momentum almost overnight.
WhatsApp offers businesses the advantage of being able to create business profiles complete with an about section and a contact page which means that you can reach out to your users via their personal information rather than that pesky corporate number!
A comparison of all these apps: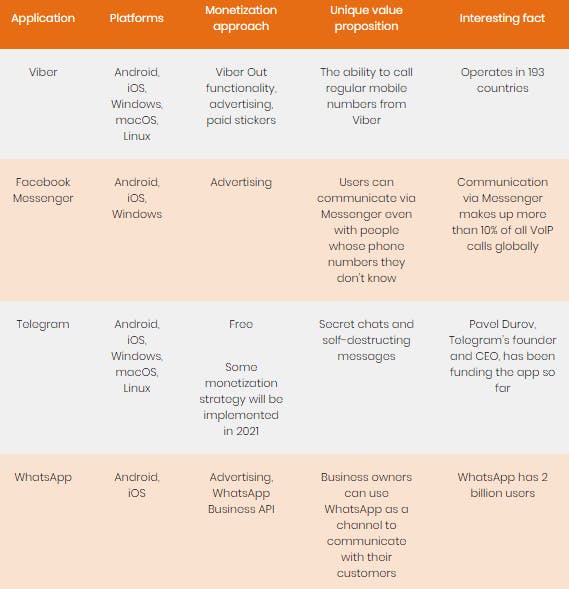 Things to consider before starting work on your app 
To make your app a huge success, you need to carefully consider the questions that will help you determine how to develop your app. Below are a few of those questions that will provide you with the insight needed to create a development strategy that will bring you all of the benefits of developing a simple or complex app.
#1 How will you stand out from the competition?
To succeed in the modern market, you should find a market niche that you can specialize in. Your niche should have a demand for a solution that your product or service will hopefully help to relieve. Thorough market research means that you can accurately define what your potential customers need, and then try to see if the features of your product are genuinely helpful towards addressing those needs. If it turns out they aren't (and there's no viable way to make them more accessible), then maybe it is time to reconsider whether this might be an idea worth pursuing?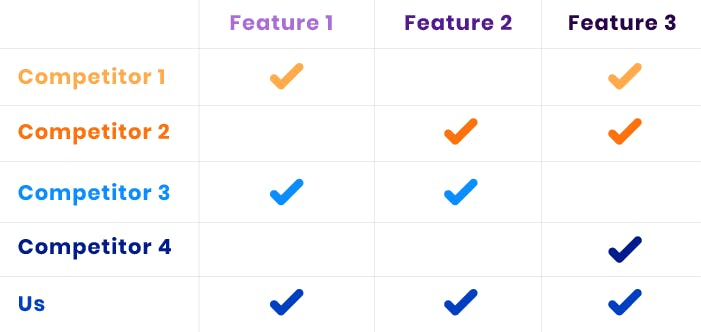 Before you can position an offer for a target audience, you must know two things: your competitor's products and features; and your potential customers' preferences within a relevant market. By cross-referencing a chart of "comparison" of products similar to yours alongside a table of how your competitors position their offers in the market, you'll have a good idea of how to position your offers going forward.
Once you have a firm grasp of your app's features, take some time to focus on what sets it apart from its competition. Then figure out the most beneficial feature for your users and display it in a way that is simple to understand. In addition, this feature must highlight how using your video chat app will improve the lives of your users!
#2 What monetization strategy should you choose?
As a startup, it's important to consider possible ways to make money with your app and choose the one(s) that best meet your business needs.
Advertisements mean a third party company or brand using your app as an advertising platform. Viber is a messenger that offers advertisements as one of its monetization methods. This means that Viber users can see ads among their chats from time to time.
In-app purchases refer to paid stickers, different currencies for picking them up, and any other type of paying feature inside of your app. For example, while Viber does offer some free sticker packs, users have the option of purchasing more exclusive packs as well if they so wish!
Freemium is a business model used widely for our projects. On the freemium model, you have two service packages - free and premium. Free service has all the features needed to satisfy basic customer needs. But premium service provides access to advanced features which add value when using the application.
Some apps feature commerce-related fees and others do not. Viber is an app that allows you to speak with someone on your normal cellphone but also pay their phone bill if they happen to be overseas. Because it offers a way to call someone from your computer, most of the main functions within the app is free but Viber Out offers these same capabilities from anywhere at any time for a fee. Funded by donations from users who don't mind paying for this service, Signal is a video chat app that gives you a messaging platform as well.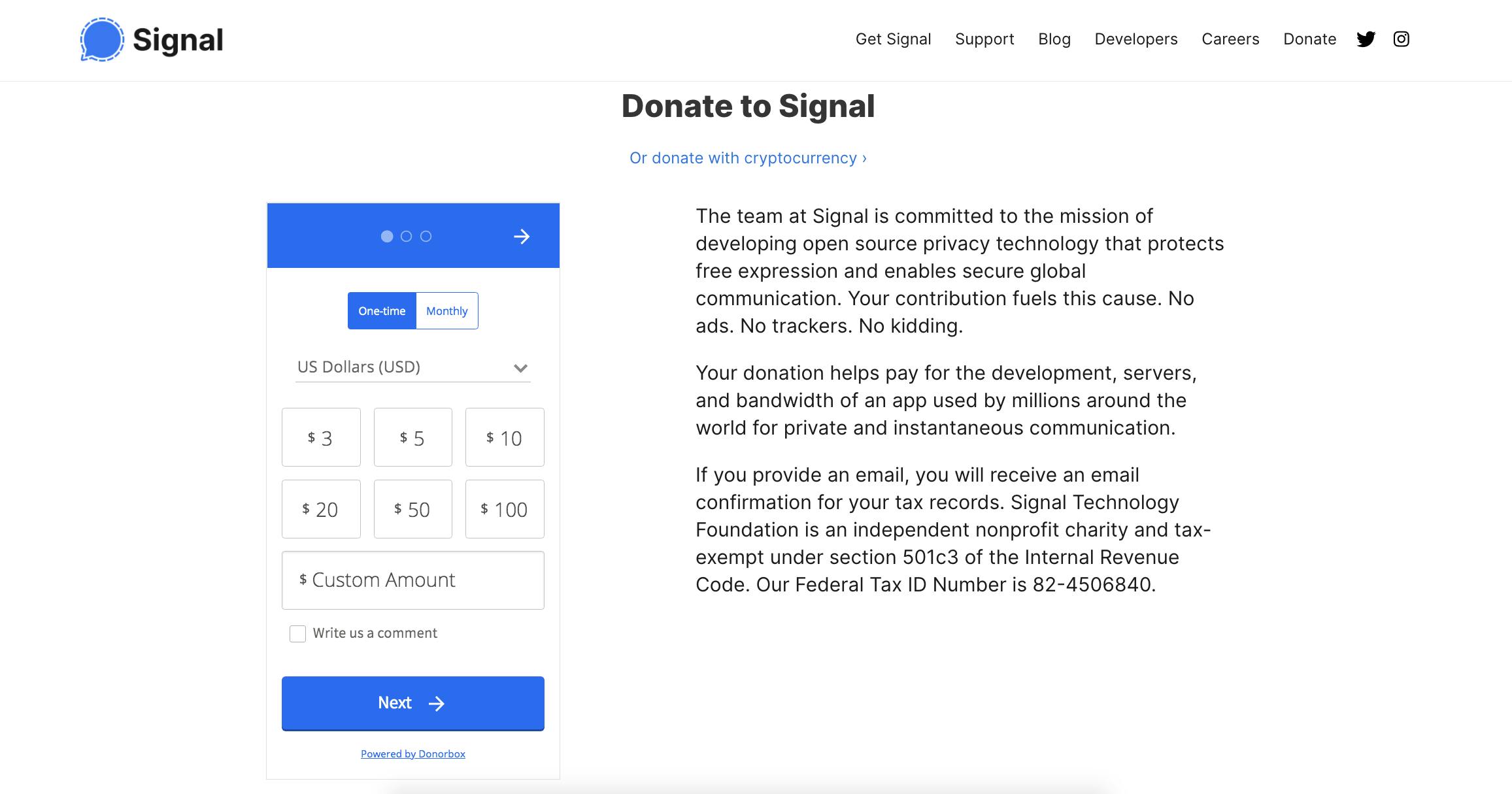 #3 What features should you include in your app?
As the examples of popular apps illustrate, video chat apps can have dozens of features. However, you shouldn't expose all those features at once. It's feasible to start with a minimum feature set that will meet your users' most needed functions to see if they are useful and functional before releasing all of them.
Registration
To register in a video chat app, users are asked to provide their name and/or nickname. These are usually the only information required at the time of registration (some apps will request your phone number too). Some might consider sharing additional data like date of birth or location optional, but they might be useful depending on what kind of people you'd like to interact with.
Profile management
Once users have registered in your app, it's important to make sure their information is stored securely and data such as profile pictures and account settings are readily accessible.
Contact list 
Users should be able to find and reach out to friends and family fast! This is why we suggest building a contact list of sorts allowing users of your app to save contacts. If you want to, you can also build a functionality that imports telephone numbers from people's phones into their address books on your app's server or your place on the cloud.
Chat
Video chatting is popularly used on messaging services such as WhatsApp and Messenger. Since text chatting is generally faster than video calls, install an in-built chat feature for users who prefer it over video conversations or for users who may not have good internet on their device at the time they want to use call.
One-on-one video calls
This feature is what video chat apps are about. Users will be glad to be able to communicate via a video connection, that's why it's important to provide high-quality video and audio transmission so the user gets the best possible experience.
Push notification
This feature allows users to receive all activity in their chats. At the same time, users should be able to mute or turn off push notifications if they don't need them.
Automatic backups to keep data safe and in line with the latest legislation. It's good practice to allow users access and visibility of their own and all other conversations, and in this age of transparency, it can only do you any favours to have a conversation with your consumers about their needs rather than jumping to assumptions.
Encryption takes care of your communication safety by offering encryption opportunities to your customers who want them for whatever reason. In the case of chat apps, the level of security measures depends on just how much you feel you need to protect yourself from.
#4 What additional features should you include?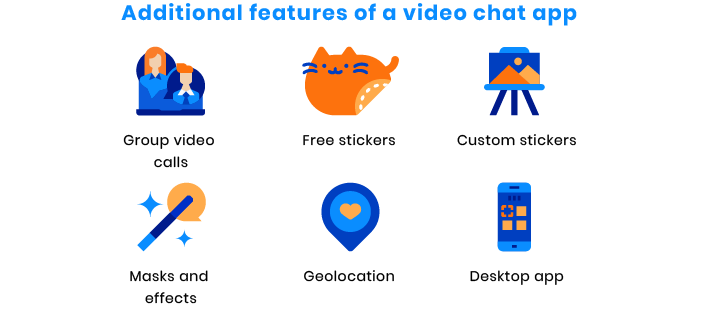 Group video calls. Although not an ideal solution for video chat apps, the option to add more than two participants in a video chat session can improve the overall user experience and will feel more personal and less like a one-to-many type of situation.
Free stickers don't need to cost anything so long as there is enough variety in stickers available to users.
With support for custom stickers, users can create their own sticker packs of various images and share them in-app. Viber, Telegram, and Signal allow users to make stickers out of photos or other images and make them private (only visible to the user who created it) or public (visible to everyone).
Masks or effects can help your users make their communication brighter and more fun. FaceTime and Google Duo allow users to use effects on videos they make during video calls.
Geolocation may come in handy for users who need to share their current location or the location of a specific place. Most video chat apps on mobiles have this feature already including telegram, Viber, and Whatsapp.
You might want to provide your customers with the ability to use your app on their desktops and laptops too! Take a look at modern video calling apps like Viber, Telegram, Messenger and Signal who all offer desktop versions so you can see what might work best for your situation.
#5 How can you build a marketing strategy to promote your app?
Launch a landing page and a blog
A landing page is usually a one-page website that is used as a teaser for videos. You can create this page to tell your target customers about the benefits of your video chat application and leave a form for them to fill out to learn about updates. You can also launch a landing page with an opt-in form, which helps you build a customer base.
A blog is a great way to grow your business with organic traffic by using SEO on your blog. Viber, WeChat, and Telegram all run blogs to inform their users about new updates.
Continuously work on SMM
Social media are channels that you can use to your advantage to spread awareness of your product. You can socialize with users, inform them about new feature updates, answer their questions, and so on. Real-time messaging applications have Instagram accounts so you can let your customers know about competitions or events on their platform which might interest them.
Run referral programs
One of the ways that Evernote promoted its client growth was through its referral program. The referral program allowed every user to gain new Evernote customers by offering small bonuses to existing Evernote users. Academic publishers have tried this model as well to further market their journals. You can try out this strategy with your video chat app, and talk with your marketing team about what specific methods they think would work best for you!
How to create a video calling app
The development approach you choose for building your video chat application will depend on three things. 1. Budget 2. The number of people involved in the build process 3. Technical expertise required to build the application
Build it with a CPaaS platform
A communications platform as a service (CPaaS) is like an API (Application Programming Interface). It's like you're buying the ingredients for making your own IT app, but rather than having to do everything yourself, you're able to use someone else's API - only instead of renaming things, CPaaS allows you to convert text messages into numeric strings that can then be put into the API.
Develop video chat functionality from scratch
When developing your video chat app, you need to consider the tech stack, including programming languages, frameworks, databases, and encryption protocols. We'd like to draw your attention to the streaming protocols that are used to implement video calling in apps - it's important because they're an app's foundation when it comes to video calling. Let's take a look at three streaming protocols frequently implemented when creating video chat apps:
WebRTC is a reliable tool that allows you to use your device's built-in camera and microphone to achieve real-time quality video and audio. It's cross-platform and supports most modern browsers such as Google Chrome, Mozilla Firefox, Opera, Microsoft Edge, and Safari. WebRTC stands out because it quickly delivers high-quality video and audio transmission across multiple platforms with minimal effort on your part.
Real-time Transport Protocol, or RTP, offers fewer features than WebRTC. However, it's a good choice for multimedia streaming where a little latency is acceptable. RTP ensures end-to-end audio and video transmission by dividing each piece of transmitted data into separate sessions and delivering them in a strict sequence. As a rule, this protocol is used together with the Real-Time Control Protocol (RTCP) to provide flawless data transmission.
RTMP (or, Real-Time Messaging Protocol) can be used for both real-time and low-delay content transmission and is mainly used in live broadcasting to provide high-quality audio and visual transmission. Information is divided into small batches and sent over in three steps: handshake, connection, stream. During these steps, chunks of information are sent to a server, processed, and then displayed on a user's device. If you want your video chat app to have more individual design features and unique functionality it might make sense to seek out custom development services or turn to open source solutions that let you modify the source code yourself!
Use a pre-built solution 
A prebuilt solution is a video call app that has been customized to suit your business needs. You can choose from a variety of features in a prebuilt solution. If a pre-built solution doesn't offer all the functionality you need, you can change anything you want by extending its functionality and adding new features.
Final thoughts
For a company to develop a video calling application, a lot of effort is required. It takes time to complete the project successfully. However, with the right planning and development approach, it is possible to create a successful product.