Discord is a gaming app that started as something called Hammer & Chisel in 2015, by Jason Citron. At the time, it was meant to be a competitor to Skype. It changed its name in 2017 to Discord and raised $20 million by selling game keys through Early Access game developers. Today it has around 150 employees spread around the world and in 2017 it generated revenue of over $15 million in 2016 alone.
What is Discord?
Discord is an app that gives you the ability to text, video call, and voice chat with your friends all in one place because let's face it, we could do without another platform to connect on! It has a familiar interface and is kind of like Slack and Reddit had a baby because you can share photos and GIFs while having different channels for discussing topics.
You can find out more through their website at www.discordapp.com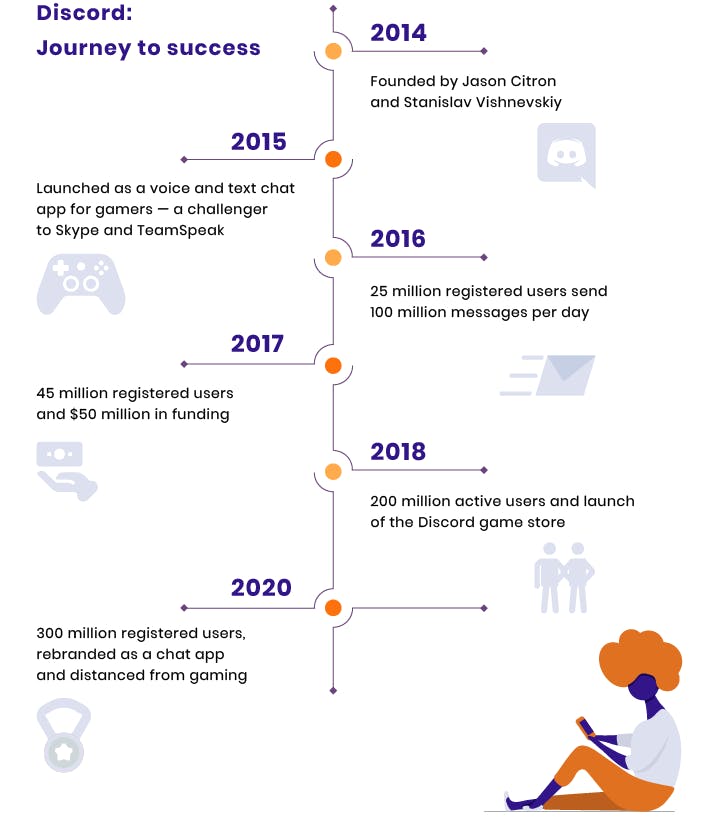 Why Discord?
When Discord had just started making a buzz, one of its founders, Jason Citron talked about why Discord appealed to users.
They loved that it offered a handful of extra features like browser support and DDoS protection that other competitors didn't—but the attention to detail and polish across the board was far more compelling. Jason said, "We deeply understand this product because we are the people we're building it for."
In 2021, it seems like the reason people choose Discord hasn't changed. On the Why Discord? page, the company lists no specific advantages over rivals: there's just a description of the overall experience and customer reviews.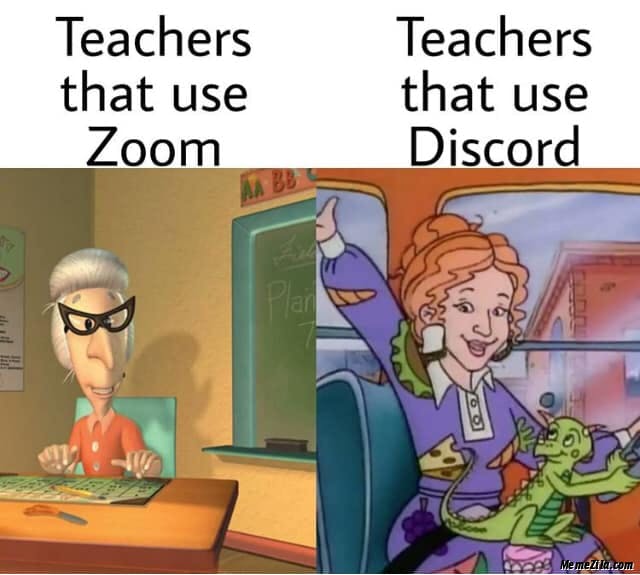 At the same time, Discord does have some advantages over other communication platforms. For example, the free version of Slack doesn't allow you to search your complete message history, while Discord allows you to do so. Slack also imposes storage limits on users, which Discord does not have at all. Finally, while Slack is ad-free, they still have a diverse selection of fun stickers for users to enjoy!
Discord features
Discord is the all-in-one voice and text chat for gamers. What makes it so special? Here are some of its main features:
Servers and channels 
Discords are servers created by people to interact with others in specific channels. Channels on Discord allow members to share messages, files, and images for others to see at any time. There are two types of channels on the Discord server:
Text channels where you can post messages, upload files, and share images for others to see at any time
Voice channels where you can connect in real-time via voice or video calls with other members
Since 2020 there is a background noise suppression feature in voice channels.
Direct messages 
Much like other chat apps, Discord is a platform that can be used to communicate with others in real-time. It differs from many such services, however, in its use of an API system to allow users to create message groups up to 10 users in size. Additionally, the app comes with an option for scanning user messages for explicit language or content outside of these groups for added safety.

Screen sharing and video calls
In 2017, Discord first embedded video calling and screen sharing to their mobile and desktop platform. Initially, users could video chat with up to 10 people in a single channel, but after the pandemic of 2021, Discord increased this limit to 50 users per channel.
Today, using the Go Live Screen Sharing feature of Discord's software, teams can easily share an individual application window or their entire desktop on any device.
Integrations 
Discord integrates with many popular platforms because people spend a lot of their time doing things like streaming videos or chatting on social media. YouTube, Twitch, Patreon, Nightbot, OBS (Open Broadcaster Software), and XSplit are among the popular tools that Discord users can use to enhance their server's functionality.
Now let's see how Discord earns money with its rich functionality.
How does Discord make money? 
Unlike many of its rivals, Discord doesn't make money from ads. Its founder claims consumers in general dislike ads and doesn't want to share their data with companies they don't know or trust. Instead, Discord has opted for the following methods:
1. Subscriptions
Discord has always been focused on creating a seamless and secure communication experience. In 2021, Discord offers two paid plans:
Nitro Classic. $4.99 per month or $49.99 per year — Users can now upload GIF avatars as well as customize their own emojis.
Nitro. $9.99 per month or $99.99 per year — Users can now experience incredibly high video resolutions during calls with team members!
Discord is a company that lets people play games in groups. The platform has over 140 million registered users. For the better part of the last year, it's been aggressively rolling out ways for people to pay for different features on the service. Discord's strategy appears to be paying off - in Q2 2019 its subscription revenue nearly tripled when compared to Q2 2018!
2. Game store 
Discord launched a game store globally in August 2018. Developers can roll out their games to the Discord community, where users can purchase the games that they enjoy. Once a game is purchased, developers receive 90% of that revenue, and 10% goes to Discord for hosting the platform of transactions.

3. Discord merchandise
For years, Discord has been selling a wide range of goodies. Though at the time this article was written (early 2014), it was not clear whether or not the servers would be offering merchandise for sale. An early year article from PC Gamer confirms that items such as T-shirts, socks, and shirts are available to buy from their website.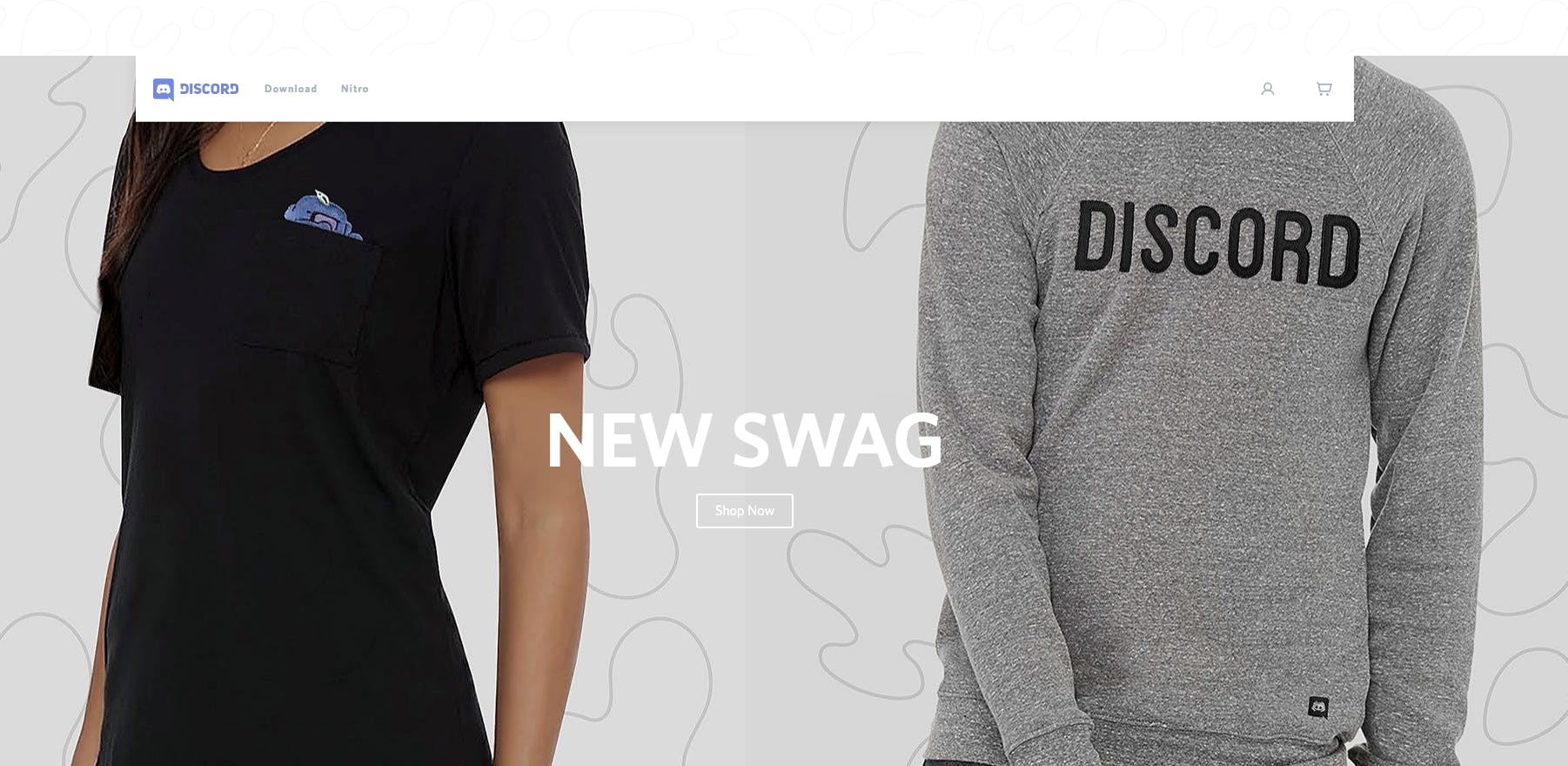 4. Funding and investment
Funding is not a monetization strategy, but it's important to note that in 2020, Discord reached a whopping $3.5 valuation in the market.
However, Discord's way to success was never smooth. They encountered many challenges on their way, and it may be the same when you are planning on creating your app similar to Discord's one. Let's see how you can deal with them.
Challenges of building an app like Discord 
Maintaining privacy and security
If you are wondering how to create an app like Discord, keep in mind that many individuals are interested in digital privacy. Users' IP addresses cannot be revealed because of how Discord is made: the network traffic will always go through their system and servers and criminals can't get their IP address and launch a DDoS attack against them.
On the other hand, someone using Discord may also draw some unwanted attention if they happen to be associated with hate groups or racist people. In response, Discord introduced a Trust and Safety team to prevent such violations.
If you're going to build an app like Discord or Skype, be ready to handle moderation at scale. Thankfully, routing audio and/or video through your own servers offers a way to do it. This allows administrators to disable the audio and/or video for offending participants
Ensuring stability and speed 
Discord can support a massive 3 million concurrent voice users which means they need an extremely fast, reliable and stable infrastructure to handle that much traffic.
Their main software is built with WebRTC which allows them to communicate via a low-level API to handle audio and video resolutions independent of the end user's local network quality infrastructure. This lets Discord establish a smooth connection from anywhere which makes their platform extremely reliable and stable.
Finding first adopters 
No matter how functional your MVP is, you would still need to find beta users to test it. Here are some potential places for this:
Beta testing platforms – These are both free and paid. Some good ones are Betatesting.com, BetaTestersHub.com, or Betafamilyorg.
Techie communities – Reddit, Quora and Hackernews can help spread the word about your product and attract early adopters
Personal invitations – Use social media such as Linkedin but also Facebook and Twitter
Finding your first customers
#1 Send emails
As a product manager, it's your responsibility to be able to get in touch with potential customers and make sure they feel comfortable getting in touch with you. If you're working on a startup that will solve problems that the general public faces, then try your best to get their attention by collecting emails beforehand! They'll help you send them updates on what you're doing.
#2 Create a blog
Companies that blog get 67% more leads than companies that don't. Content marketing allows you to position your app as a leading source while also attracting organic traffic to your website. If you build a Discord alternative, try using keywords like "Discord alternatives" and comparing Discord to other tools alike.
#3 Post on social media
Success with SMM doesn't depend on a profile but engaging, relevant content. Engaging content will attract potential followers who decide whether to follow you based on your account's user-friendly tone. Once they have decided, politely interact with them so they stay.
Discord's tech stack 
Many companies use a client-server network architecture. The reason for using the client-server networking is that instead of having to bring all of the people into one channel at once, large "channels" allow more than just a select group of friends as essentially creates a channel just for them as well as anyone else they may want to join later on. Another upside is that it helps cut down on potential costs because rather than having to communicate through your phone's data plan, you could go over Wi-Fi and use it on a computer or tablet instead if you wanted to.
As mentioned, Discord uses WebRTC – a specification for real-time communication which allows app developers to reuse code so they can have their programs on more than just one platform and makes it possible for them to keep up with updates easily as Google Chrome automatically updates itself whenever new features come out of the woodwork.
Discord employs the React/Flux client technology stack to be integrated into its frontend web technologies, which Discord uses in tandem with a custom back-end architecture written in Elixir. They employ Rust in many places across their software stack, including for their SDK and backend services for client signalling.
Discord also used Python when they decided to make an iOS app for voice chat, which is not included with their desktop/web audio messenger, but they do plan to add support in a future update.
Your strategy
If you want to make a Discord-like app, your first and most important choice will be whether you should create a solution from scratch or use an existing tool that can be modified to suit your needs. Let's take a look at the pros and cons of these options:
Create a proof of concept yourself 
If you want to build a proof-of-concept quickly, you could use the Firebase platform for developing your Discord-like app's back end. The powerful online tool can help you integrate secure authentication and real-time database functionality. To ensure profitability, the samples are free but are limited in functionality.
Build from scratch
Stanislav Vishnevskiy, co-founder and Chief Technology Officer of LA-based Discord Technologies Inc., explains that when he and founder Jason Citron decide to develop their flagship product - a chat app for online gamers - they were forced to use what they had at their disposal. Although the idea originated about four years earlier, it took a lot longer than a few months to build a product with all the required features.
In the end, the ideas that got implemented into the initial version of Discord were considered successful by clients who included The Walt Disney Company and Microsoft. The official launch took place on May 13th, 2015 after nearly three years of development work.
Choose a pre-built solution 
As an option, you can create your app by first building a pre-built solution like Discord - it is a real-time communication app meant to keep teams connected. By making use of such a tool, you can build your project step-by-step from start to finish and find the first users as of earlier as possible to receive feedback for what you've already created. The key advantages of using a pre-built solution like this one are:
Get an app that's already been tested (there's no risk involved).
There will be out-of-the-box features that will help boost engagement and user satisfaction.
You can reach scale gradually based on your own goals and plans.
There'll be less time spent on building the same resource twice since some components will already be implemented.
Acquire a responsive and unique design for web, mobile apps as well as logos.
Conclusion 
Discord is a popular chat application that's polished and feature-rich. Still, there are some important technologies behind its codebase - some of which you can find support for with alternative solutions while some might require you to customize the pre-built app to meet your business needs. It's worth mentioning that building such an app from scratch might be expensive and time-consuming so it's not a bad idea if you decide to explore prebuilt solutions instead!