0
Get in touch
124 City Road, London
EC1V 2NX, United Kingdom
Pride Gateway, S.no.112, Baner
Pune, India
Blog Post
July 18, 2023
Accurately Estimate Project Cost and Duration
The only way to know if your team's estimates are reasonable is to compare them with industry standards. One way of doing this would be by looking at similar projects and their actual timelines and costs or talking with industry peers about their projects and the pros and cons they've faced.
You have probably been given a web or mobile application development estimate before. And, if you're like most people, the final price came to more than you expected. That's why it's better to understand how these things happen. Knowing your options can help you make a better decision moving forward whether to bring on a freelancer or hire a company for an app project. But whatever you choose, make sure you know what to look out for and set a realistic budget from the start! We would love to help!
Most software developers find it difficult to accurately estimate the timeframe and cost for implementing a set of functionalities. However, there are various reasons that we could consider to get deeper into this matter and why app development projects might take longer than initially thought. Let's look at the five most common reasons why app development projects can exceed initial estimates:
5 common reasons for exceeding app development estimates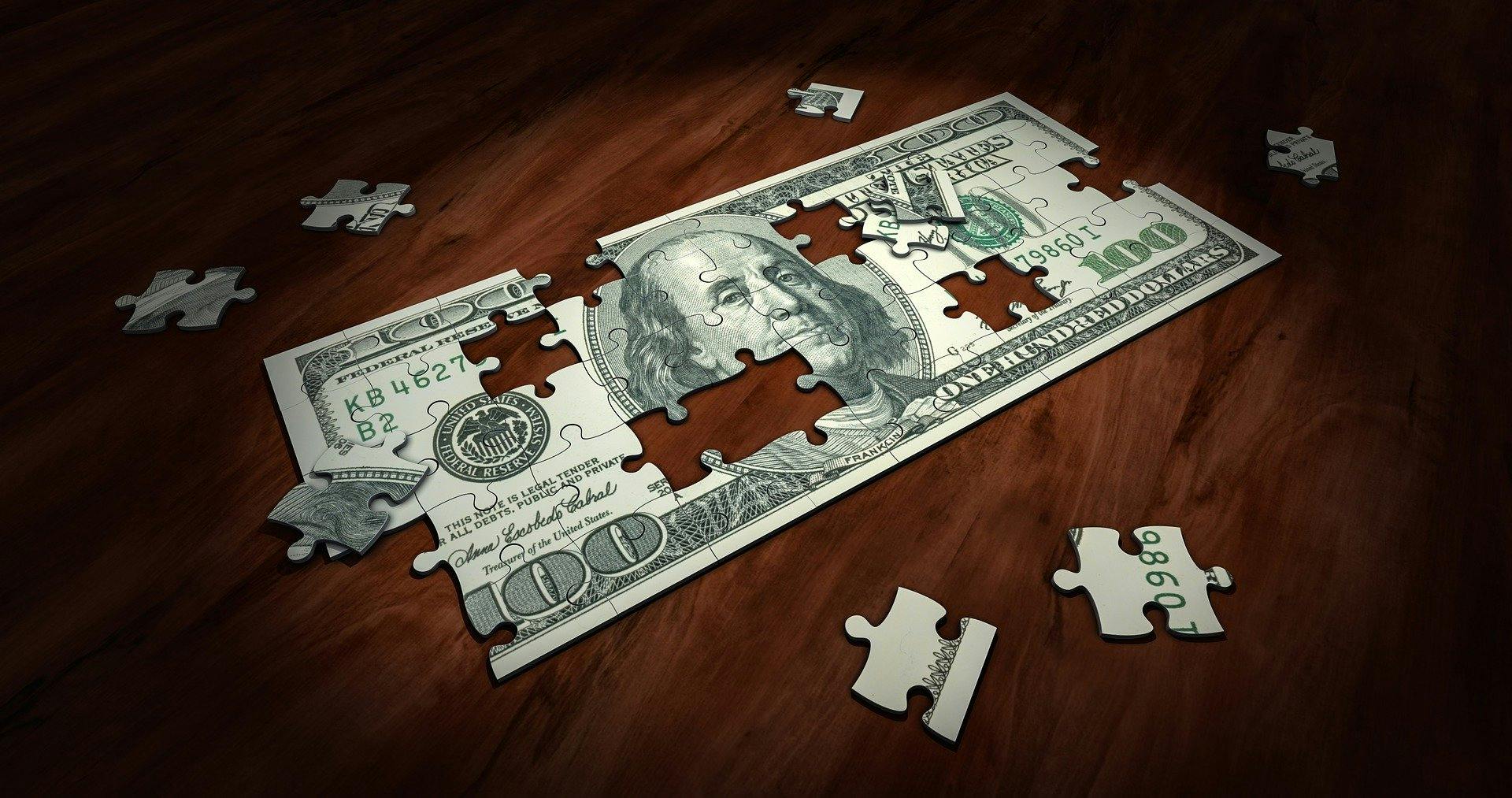 Obscure project requirements. If project requirements are not fully understood by a software development company that doesn't follow best practices for eliciting requirements, the company may leave some of the required functionalities out of the initial estimate and can sometimes cause complications and delays in meetings and plans.
Lack of estimation experience. When non-programmers provide an estimate, or when managers or executives don't have sufficient development expertise or experience, they may also be prone to providing overestimates on time and cost commitments.
The app developer who estimated the project isn't always available to follow through with their idea. For example, the development team you'd like to hire built an amazing WordPress website for an e-commerce company using Google Maps integration before, but if they're not selling them on the idea of including Maps in their mobile version of the app, you'll need to work with someone else. Things can get even more complicated when this team consists of lower-level developers (middle or junior). Typically these developers take more time than expected to implement a given feature open up the possibility.
Under-estimating project complexity. Sometimes it can be easy to overlook the challenges faced when working on an app, but if you do not give the topic your full attention, some very real complexities can lead to increased costs and a longer timeline than expected.
Some companies are dishonest about the amount of time they need to complete a project. These companies typically charge lower rates and promise to deliver software faster than their competitors. Be wary of that temptation to go with the lower price. If you receive an estimate for your project that is much more optimistic than estimates provided by other software development firms, this company may be trying to trick you.
Developers providing you with poor app development estimates can be like falling into a black hole. Estimates aren't always indicative of the actual time it will take to develop your product. As a result, you could lose control over your budget and deadlines (which can both get out of hand).
How do you know if the estimation is reasonable? The best way to figure this out is by looking at how developers construct their estimations.
What's the right approach to estimating project development time and cost?
Several different options can help software development teams offer reasonable price ranges for their products. However, most app development agencies apply one approach to all of their jobs without taking into account particular circumstances. Is it realistic to have the same approach applied to pricing estimates for a personal blog and an enterprise marketing automation system?
We at Distinct Cloud combine various approaches to ensure our clients receive price estimates that give them an accurate picture of what they'll need to do to complete their projects on time and within budget.
Imagine you want to make an online shop for cosmetics. The website will be like the model of Cult Beauty, which is a fantastic online store and advice resource specially designed for women's beauty products.
To proceed with the development of your website, we would approach it in such a way:
Step 1. Eliciting requirements
Before moving forward with you, we need to have a clear picture of your website idea. We need to understand who your target audience is, why they come to your site and what problems they will need to solve when visiting.
We'll ask you to provide us with a list of features on your site, a list of any competitors, and some details about how you plan for users to interact with each other on the site.
This information-gathering process might take some time, but as a result, we can better assess what you want from us which will demonstrate our potential work in the form of user stories or an outline.
Step 2. Decomposing features
You may find this case study on how we approached the process of decomposing features for a large shopping cart project interesting. In the first step, we need to gather all the information we can (if some of it is already available then that's even better!).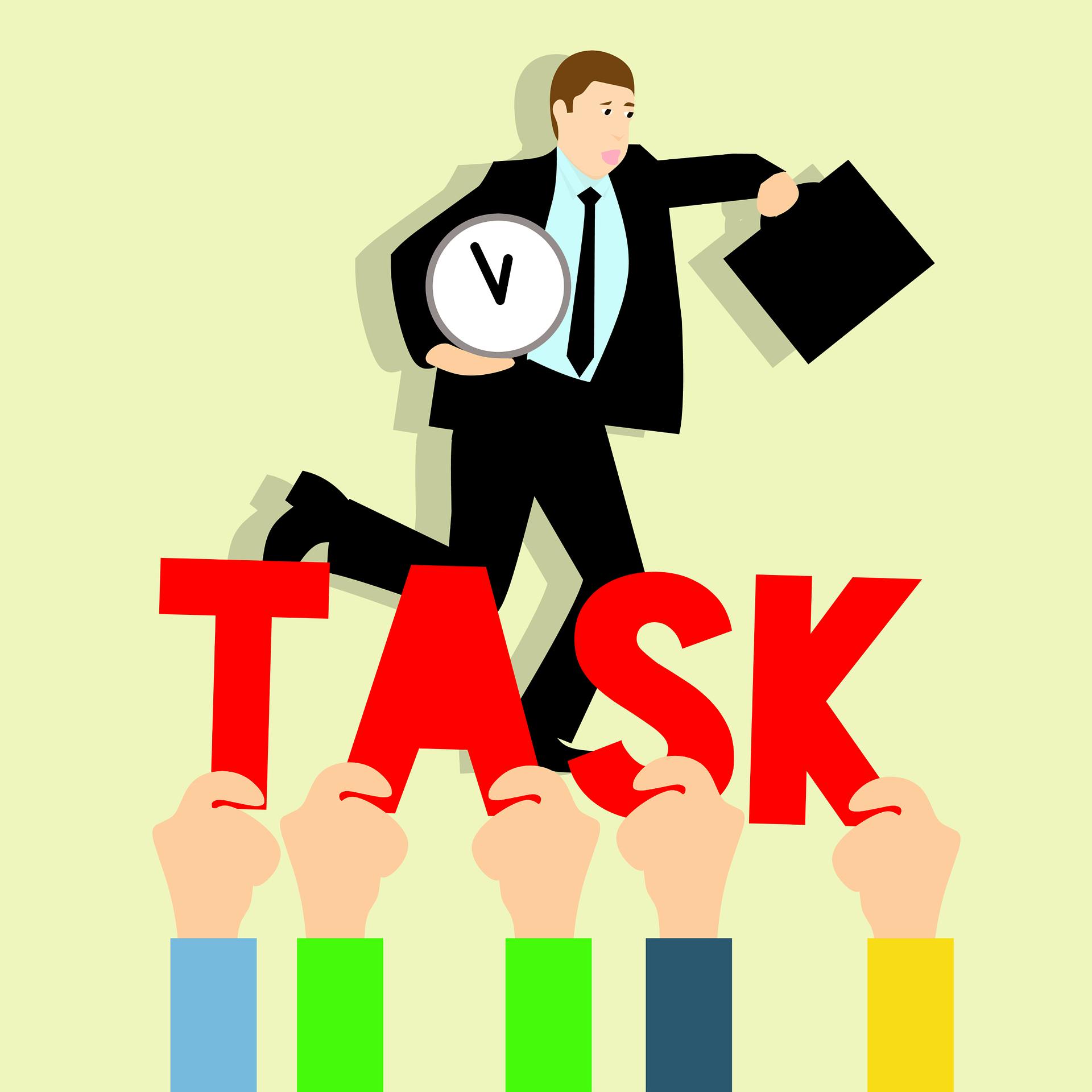 Once we have all the necessary information, we move on to creating our tasks and breaking down those tasks into smaller ones:
Epics – User Stories – Use Cases. Let's take a look at a few examples: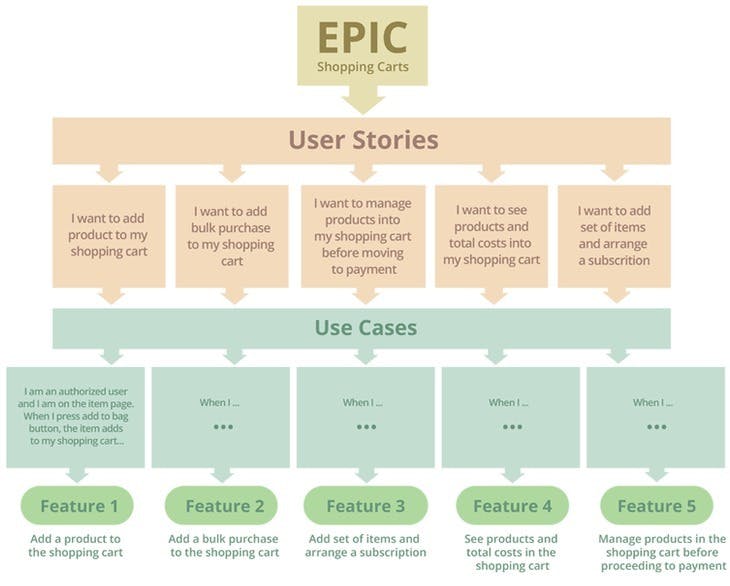 Step 3. Analogous estimation
As I already told you, our Distinct Cloud team uses several estimation approaches to arrive at precise estimates. Let's take a look at one of them.
The analogous estimating approach is used at the first stage of estimation for your online store that sells cosmetics because analogous estimating uses a measure from a similar earlier project to estimate the cost and duration of the current project.
You can use analogous estimation to create a preliminary estimate for the hours it will take to complete work on your project. To do so, you need to find a project that is roughly similar to yours and has the same feature set within comparable client demographics (like for example your hypothetical "Cult Beauty" eCommerce store.)
Once you've found an analogous project, plug the hour's estimates into the corresponding fields in your estimation spreadsheet under 'Pain Points.' You can then be reasonably certain about how long it will take for us to complete your project.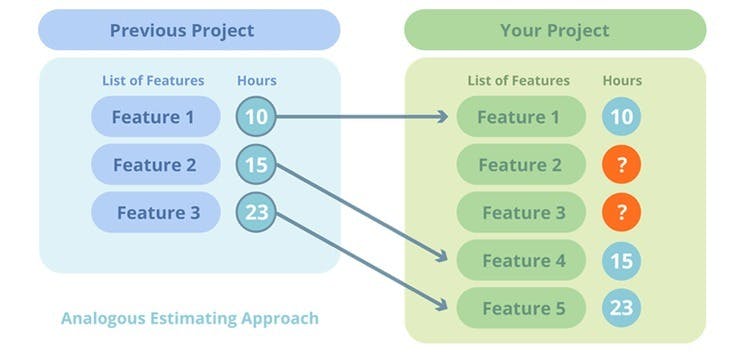 Relying on past experiences helps us to arrive at more precise estimates.
However, we can only use analogous estimation methods when a previous product contains tasks that are very similar to those in the project we're estimating.
In some cases, our new projects may require features that we haven't implemented before. For example, in addition to categorized products and a shopping cart, you want your online cosmetics store to offer a bulk purchasing option and automatic subscription ordering.
Since we haven't built these features before, we have no choice but to rely on expert judgment for this estimate.
Step 4. Expert judgment estimation
Expert judgment estimation relies on input from experts and industry leaders to estimate projects based on their industry experience. The formula is complex and includes an expert opinion as well as other factors such as:
Our expert (or group of experts) research the features that need to be estimated. In our hypothetical project, those features are bulk purchasing and subscription orders.
A project manager sets up a meeting with an expert group to clarify the scope of the work.
The expert group starts to break down each feature into smaller pieces - Epics, User Stories, Use Cases, Tasks etc for bulk purchasing and subscription orders.
Our expert estimates the number of hours needed for implementing bulk purchasing and subscription order - which totals around 60 hours for both full-time developers over 1 week based on these assumptions: _a_ 30% time estimation error margin; _b_ After the initial kick-off 1 developer can complete 20-25hrs/week case studies; _c_ No interruptions during this phase.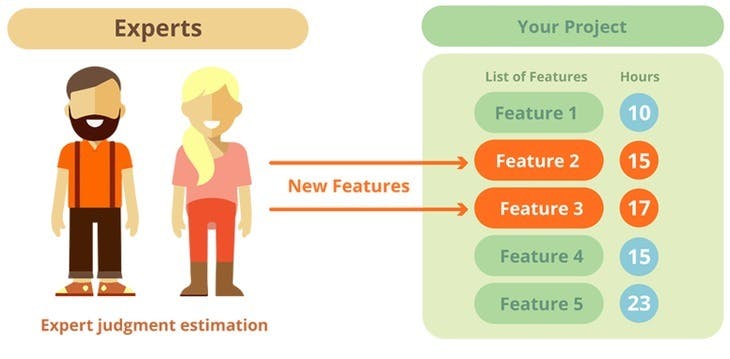 Step 5. Finalizing the estimate
Product Managers often use average and expert judgments to come up with the ideal solution to the problem they are dealing with. Once this solution is decided upon, they make a final decision about their product requirements using task breakdowns.
We collect all of these requirements in a spreadsheet and share them with our clients where we then receive feedback in the form of corrections or modifications. If any changes need to be made to the spreadsheet, we will have to provide a re-estimate moving forward.
At Distinct Cloud, we combine both qualitative and quantitative estimation approaches to offer accurate project estimates on time spent for each feature. Both parallel approaches are based on real-world data that enables us to provide an excellent estimate of schedule duration. Thus, we reduce the risk of exceeding your cost limits which is essential for your budget constraints. As a reliable partner, who values our reputation, we always strive to stay within your budget limits.