As of 2019, about 85 million American families had pets. That's why the idea of creating an on-demand dog walking business is becoming popular among young entrepreneurs. If you are considering this idea too, read our article to find out what features to include in your product, how to validate your business idea, what challenges you can face, and how to overcome them.
Best on-demand dog walking apps
Before you go ahead and start working on your pet caretaking app, take a moment to scope out what your current competitors are doing well. After analyzing them effectively, consider adopting some of their top features in your app so you can create an even better product for both your customers and theirs too!
Rover
​Rover is becoming more and more popular as the years go by. ​It not only attracts more customers every month but is growing and taking over smaller dog walking apps. Currently, Rover can boast more than 300,000 dog sitters in ten countries and 95 per cent client satisfaction ‒ that's something to be proud of! So what's the secret of success?
First of all, Rover is an app where both pet-owners and pet-walkers feel at home. Not only is the app easy to use (plus it runs smoothly on mobile devices!) but it's also very intuitive - anything related to pooches you want to perform takes just a few minutes tops (from registering, ordering services for dogs etc).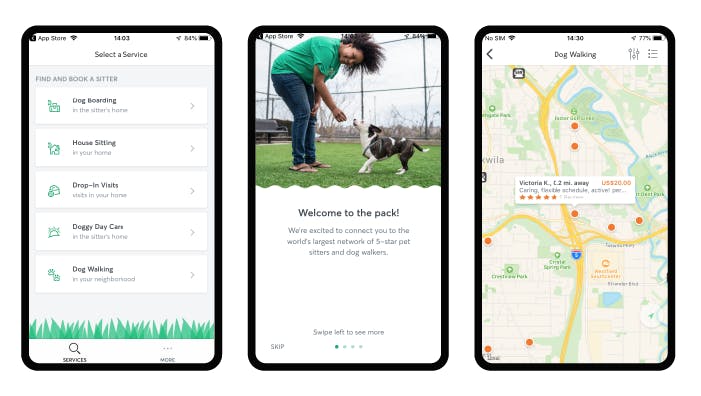 Second, if dog walking isn't for you, you can hop onto the app and take care of your pet at home instead or try to find professional suppliers through it if you need to urgently book a doggy daycare or even a dog walker for those times when Rover isn't available. The app takes care of all kinds of pets - from cats to potbelly pigs and even snakes! This means that if you happen to have a reptile as a house pet, then you can freely use the app without having to worry about going elsewhere for solutions.
Wag!
Wag! appeals to customers with a vast array of services from its network of walkers, dog-care specialists, and training gurus. Dog owners who use Wag! book fun adventures for their furry friends in the form of on-demand or scheduled walks, food, and training sessions. And in the Wag! the app, customers learn all about various aspects of dogs—from dog breeds and dog health to dog behaviour and dog activities.
Wag! stands out from the crowd because the company offers pet owners guaranteed peace of mind like never before. The Wag! Lockbox utilizes biometric technology to eliminate the chance of unauthorized access. Customers can rest easy knowing their homes will stay secure during dog walks without having to take off pet collars every time they leave the house.
Barkly Pets
In addition to all of the usual services a dog-walking app provides, Barkly Pets offers a complimentary meeting before a pet owner hires a dog walker. The pet owner gets to meet the walker and make sure they're compatible with their furry friend.
Barkly Pets positions itself as the first commission-free application for dog walkers. Unlike similar companies, Barkly doesn't immediately charge pet owners for every service their walkers provide. Instead, they offer new dog walking customers a more affordable membership option of $8.50 per month once they get to earn more than $100 in commissions on the site. This monetization approach is Barkly Pets' USP, and it attracts a lot of pet owners to their services.
MVP features for a dog walking app
The best way for startups to launch their business is by creating a Minimum Viable Product (MVP). An MVP is a simplified version of the actual product but normally has all the most important functions. It allows the startup to test its hypothesis on potential customers while saving on costs. Startups can release their MVP using one of several ways - wireframe, prototype, or mockup.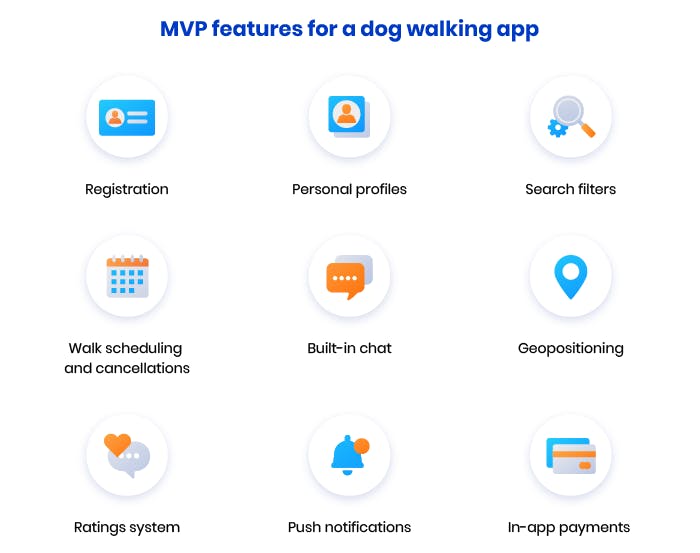 Registration. To use the app, users must register. Registration opens up a whole bunch of possibilities: availability of all features and personalized search and special offers and so on! For example, Wag does this well: they make users prove their knowledge in dog handling before offering them to work with dogs. It is an easy way for customers to sign-up by using social media accounts like Facebook or WeChat.
Pet profile. Pet parents can fill out basic information about their pets, such as each pet's name, food preferences, health issues, usual walking times, etc. Pet owners can also upload pictures of their pets to current profiles. Pet walkers can search for particular pets they want to follow and leave comments where they vent on how the animals behaved during a walk.
Search filters. This feature will help dog owners and walkers find each other faster. Search filters should include location, walking times, fees, etc.

Walk scheduling and cancellations. Scheduling walks is quite an obvious feature of a dog walking app. As a rule, this app should allow for scheduling on-demand walks, regular walks, and one-time walks. Cancellations should be available for dog owners and walkers in case of unforeseen circumstances.
Built-in chat functionality is a handy feature for fast, safe, and effective communication between a dog owner and a caregiver.
Location tracking makes it easy to find one another without disclosing too much personal info. And message history eliminates the need for lots of back-and-forth phone calls to ensure that everyone's on the same page while people are out walking your pet!
Rating system. Giving ratings after dog walking services or dog sitting bookings helps establish a trusted community inside your app. The more trustworthy your application appears, the more likely you can attract new customers.
Scheduled notifications prompt users to think about trips and let them know when transactions have been made.
In-app payments are fast and convenient for carrying out transactions.
How to monetize an on-demand dog walking app
There are different ways for individuals and organizations to make money once they roll out their apps onto the market. Determine which strategy is best for you based on your business objectives:
One of the most popular monetization strategies is charging transaction fees. Companies such as Rover and Wag! have been successfully using this model for years.
Barkly pets offer another option for their customers that may reduce the number of money customers spend. The company doesn't charge for each walk individually but instead gives the customers a discount on an initial membership fee and then they use this pass to go on as many walks as they can during a specified timeframe.
Paid promotion is the best way to increase brand awareness. This would give dog walkers an advantage because they will pay less for their campaign to be broadcasted across the PetBacker app, but its goal will be to reach more people who are looking to hire someone right this moment!
Paid ads for dog-related products. Although very few dogs walking apps use this monetization approach, it's a possibility. If you come up with a way of implementing advertisements into your app without irritating users, ads could be an additional source of revenue.
Once you decide on the main features of your project, analyze the competition, and choose a monetization approach, it's time to gather all this information in one document to validate your business idea.
Wag! business model canvas
The best way to test out your business concept is by creating a business model canvas. A Wag! Business Model Canvas is the example below, but feel free to create your own according to your specific needs.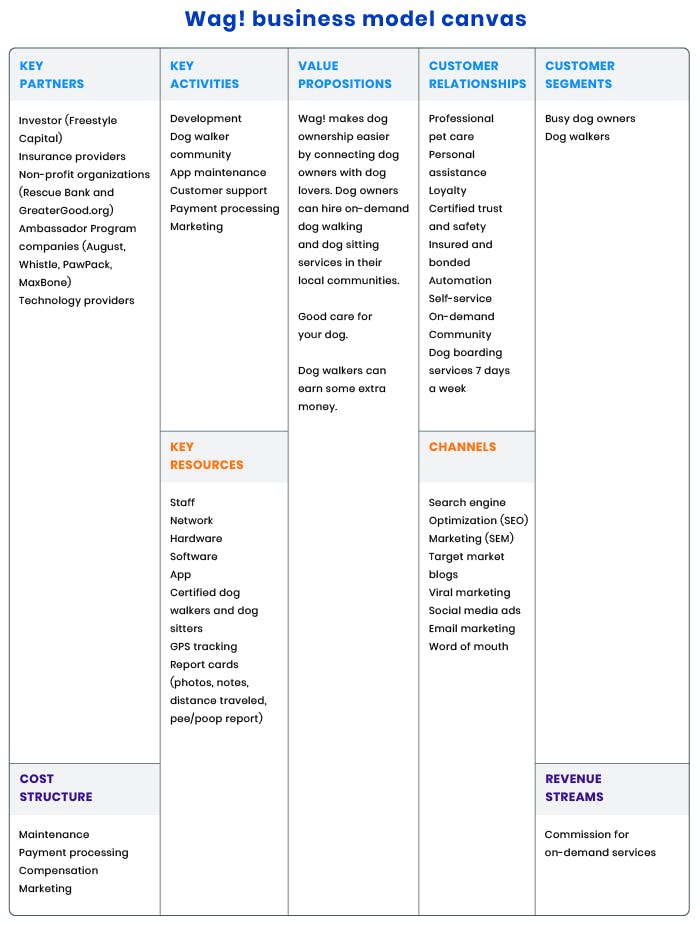 Challenges
You've probably heard that the first step is the hardest. And it doesn't get any easier from there! Launching a successful product on a huge marketplace like Amazon can be a real challenge. However, with enough preparation and know-how of what you need to do, you shouldn't let it stop you from bringing your business idea to reality! Specifically, there are several things one has to deal with before releasing an Amazon product.
Choosing the right market
Targeting the right market is important for a startup since it determines the success of your business. Before starting to work on app development, you must first carry out an analysis of your target demographic. Make sure there are pet owners in the area you want to launch and study how often they check their phones and what apps they do so with.
Analyze your competitors and find out if similar apps exist and how many downloads they have gathered, as well as any other information that can give you an advantage over your competition. Once you carry out market research, only then can you progress to product development.
Safeguarding your customers' property
If an Uber driver accidentally scratches something on someone's car but the parking spot she chose was too small for her car, she might lose up to $5,000. That is why you should foresee and plan for any possible discrimination. And in case that is impossible, think about how you can mitigate the consequences.
Today's dog walking companies are more reliable than ever before. One of the ways they make sure to create customer trust is by offering home insurance or something similar. Wag! has presented pet owners with a unique lock system that helps increase their property protection. Though not every pet sitting company provides this service, you can decide on whether or not to implement it, if it would help keep your customers happy.
Securing dog walkers 
While on-demand dog walking services offer different ways to protect pet owners and their property, not a single company does the same for walkers. The question you must ask yourself is 'why? This is a serious shortcoming from similar companies, especially considering that dogs can be aggressive and all walkers are at risk of injuries.
You could remain safe by creating an app that offers security to dog walkers through GPS tracking or any other method - perhaps this can be your unique value proposition so your service stands out among the competition.
Keeping dogs safe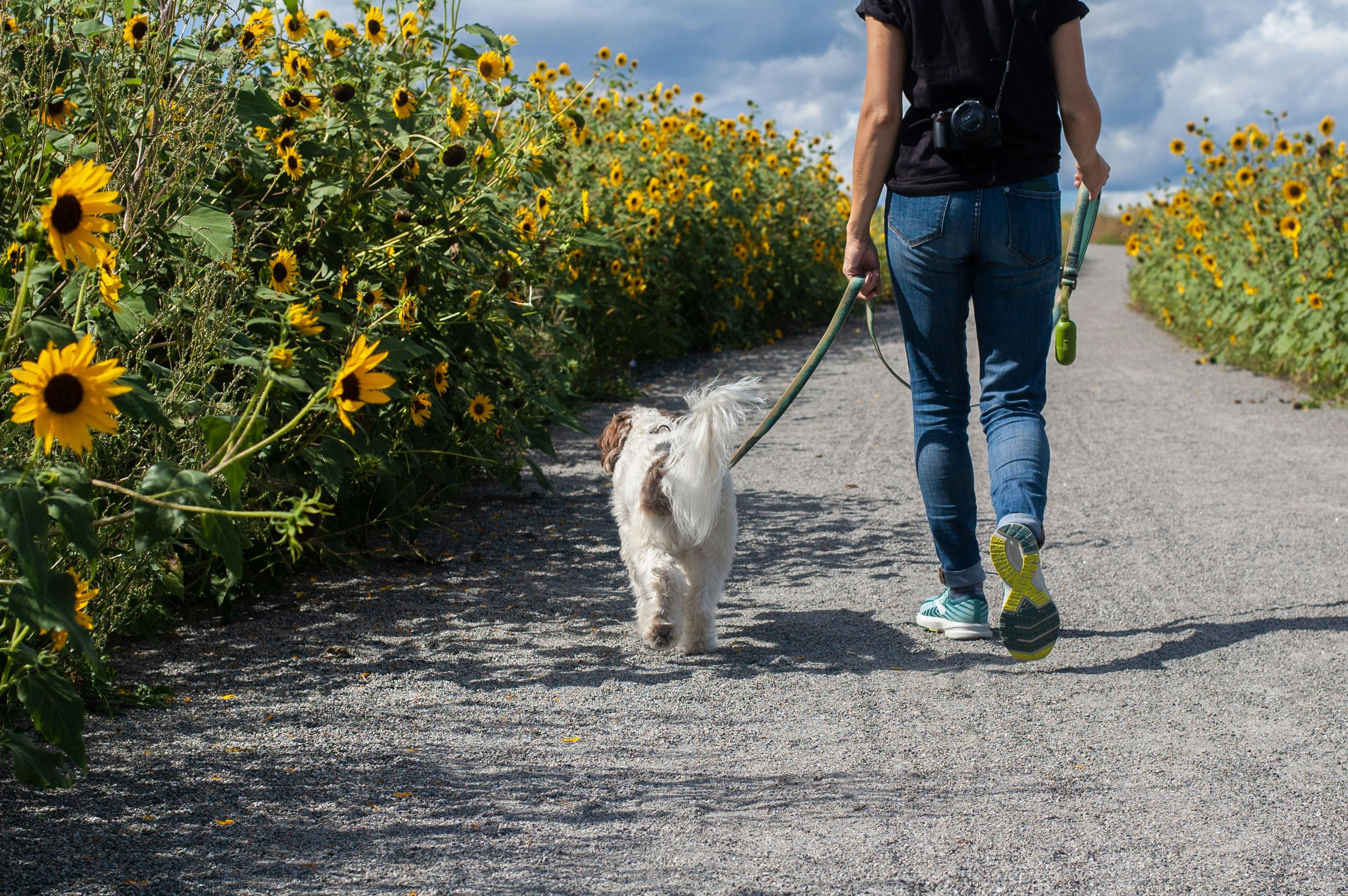 Dog walking companies are always looking to differentiate their services from those of their competitors. One way to do this is by delivering superior customer service. By learning from your industry, you can offer excellent customer service that people can trust.
On-demand dog walking companies conduct knowledge tests and background checks before hiring new dog walkers. Only 1% of applicants pass the test and other requirements such as submitting a photo report after every single appointment with a client. This particular on-demand service is so careful because they want their clients' pets to be treated with lots of care which makes clients feel safe when using services from them.
Final thoughts
Even if your app is popular, it's not necessarily profitable. If you have the opportunity to propose a solution for concerns that pet owners have about dog walking then you can take all of the potential profits within that industry, however, crowded it might already be.