0
Get in touch
124 City Road, London
EC1V 2NX, United Kingdom
Pride Gateway, S.no.112, Baner
Pune, India
Blog Post
August 16, 2023
Top must have features for your B2C marketplace
One of the most important things to remember when you're building a business-to-business (B2B) marketplace is that it all starts with your customers. You aim to make them successful in any way possible and every decision you make should be made in service of that goal. Whatever features we end up within the end, we must always keep that caveat in mind and not stray too far from the core premise: enabling our customers to succeed in their endeavours. Nonetheless, there are some features we find essential for us to meet our clients' objectives. These include:
Must-have features of a B2C e-commerce platform
B2C platforms are invaluable for businesses trying to sell their products. They are an easy way for brands to develop relationships with customers online, market products, and conduct transactions at scale. Since B2C platforms are particularly useful, you should probably already have one before reading this blog post! With the many benefits, it can provide your business, building a new eCommerce marketplace will help keep your brand at the forefront of the digital world.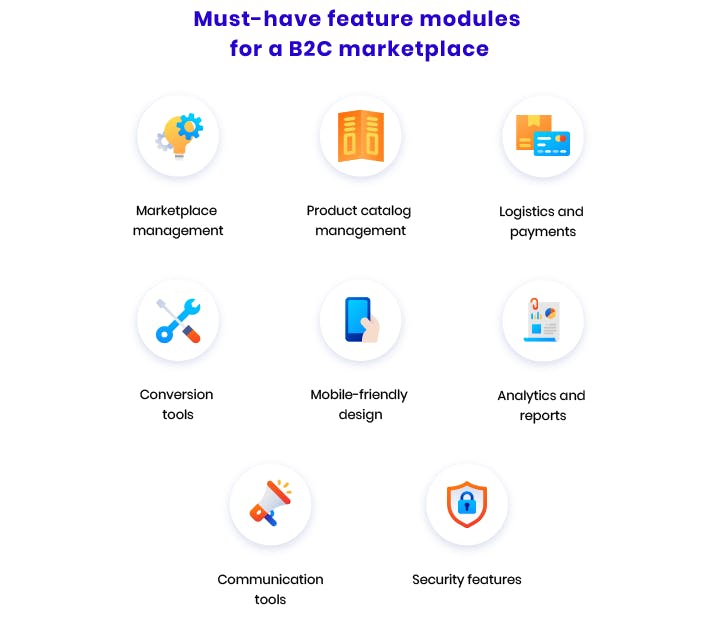 Marketplace management features
Marketplaces have three types of users: admins, sellers, and buyers. All users should be able to effectively manage their activity on your marketplace, and three feature sets fit the bill: one-click account registration, search autocomplete (or suggestions), and user ratings.
Administrators need a powerful admin panel to ensure that a marketplace is running smoothly. Without a good administration area, it would be impossible to configure and adjust settings for the platform. Administrators also need an admin panel that's easy to use for them to work with the marketplace even if they do not have a technical background.
A seller dashboard is a must for sellers whether they are brand new or have been selling for years. They need to be able to access their own, personalized dashboard that allows them to take care of just about anything they might need to do regularly. Sellers should be able to set up shop, publish products, manage orders, provide shipping information - just about anything related to sales.
While not everyone who shops online wants to have a personal profile on an online marketplace, buyers will tend to return if they do have one. As a buyer, it's convenient to have a place to look at your orders and communicate with sellers.
In your personal profile, you should be able to configure your information by adding or changing your phone number or email address, add or edit payment details for when you don't feel comfortable entering that kind of information again and a message centre where you can communicate with sellers and view ratings and reviews.
Product catalogue management
When setting up your multi-vendor marketplace, it's important to think about the catalogue. If you don't have a way for administrators to manage the catalogue, they won't be able to ensure that products are appropriately represented in the marketplace.
Marketplace owners should be able to define their chosen catalogue structure for their marketplace. After you create categories and subcategories, your sellers will be able to continue working with them without affecting your catalogue structure. You can also choose to allow or disallow sellers from making decisions at the category level (for example, they may not be allowed to change category names).
This feature should allow sellers to manage their products, making it easy for sellers to create new products and provide product descriptions, images, options, option values, variants, dimensions, properties, and prices.
Product sorting and filtering
Sellers should be able to easily navigate through the seller central interface to find products, quickly edit or delete products, set new prices on products, change product categories, and perform any other action.
When sellers create new listings, admins should have access to these on a dashboard with the ability to examine and approve them at any time. It's important to have both manual or automatic moderation functionality on hand so that you can deal with new products either way.
Restricted categories management
Admins need this feature to ensure that all products on their marketplace are of high quality. Admins can use the product categories to verify goods and services that must adhere to certain laws or regulations to be sold.
Logistics and payments
Another important feature that your B2C marketplace must have is logistics. This set of features is essential for both you and your marketplace sellers.
You need this feature to allow sellers to get comprehensive order information. Sellers should be able to export order information, print shipping labels, and cancel or edit orders from their personal dashboards. Sellers should also be able to see an order activity feed with data time tracking of all order activities.
Custom shipping management
This feature allows Marketplace administrators to add multiple delivery options for buyers and sellers. The more delivery options you have, the more effective your service can be.
One way to make sure that the buyer has the best experience possible is to possibly take advantage of some of the automatic features that are out there. You can certainly take full advantage of the automatic shipping calculations feature which will provide your customer with an estimate on how much they will need to pay before their item gets delivered.
Product returns and refunds
Automatically return goods Customers can use this feature to apply for a refund, provided the item is not customized. Sellers will be able to track which customers are requesting returns and decide whether they want to accept or reject their applications for a refund.
Payment gateway implementation
You should ensure that your entire operation is secure. When it comes to online payments, for example, there are different ways of ensuring the consumer's security and safety of their/the vendor's information at all times. It is advisable to make sure that you are utilizing one of the most reliable payment gateways available today to streamline processes while at the same time protecting your company's interests!
About half of all transactions are done via credit cards, so it's important to make sure your website or app has credit card payment options included.
Make sure buyers on your platform aren't confused at the checkout stage. Give them a clear outline of their profile information via an email or online notification if they want to buy more than one product instead of making them re-enter the same shipping address and billing information.
Conversion tools
These features are important to the success of your B2C marketplace and will make it easier for you to attract customers. Let's take a look at the following functionality that will help you grow your customer base and create a loyal community around your marketplace.
Allow people to review sellers and leave comments. This is important because reviews make your marketplace more trustworthy in the eyes of new buyers while also allowing buyers and merchants to understand which products are most popular (or unpopular) among different customer groups.
Another way to get feedback is through five-star ratings. Although buyers are not allowed to comment on sellers' satisfaction with their products, five-star ratings are a quick way to see if buyers are generally satisfied or dissatisfied with them.
The ability to identify products buyers like is beneficial for sellers and buyers. With likes, sellers will know what products are in demand while buyers will be able to quickly find popular products.
Giving buyers the ability to save products to their wishlists will help keep them engaged with your platform. If a buyer liked something they saw but didn't have enough time or money at the moment to purchase it, they could add it to their wishlist so that upon further inspection they can decide if it's worth buying!
Thanks to this feature, sellers can promote new products and apply a percentage of discounts on selected items. Your marketplace will attract more customers while you'll be able to earn more money!
Mobile-friendly design
To be truly successful, mobile-friendliness is a must. In 2020, up to 250% of mobile ordering has been recorded and we can guarantee that your marketplace will at least come close to this number.
Analytics and reports
Business owners should have analytics and reporting functionality available for them to generate, edit, and export reports. One should be able to see information regarding sales numbers as well.
Communication tools
Sellers and buyers should have a straightforward way to communicate in a secure environment so that they can discuss important matters when necessary.
Live chats are very convenient for product owners because they allow the buyer to talk with their customer service representative whenever they have a question or issue. This way, even if it is an open question, the buyer can get the answer he needs right away.
Security features
Among the goals, sellers and buyers set for their eCommerce business are to remain safe and secure with material goods during an online transaction, with payment details and data. By looking into sellers' and buyers' expectations, we won't miss any features that can help improve marketplace security with a B2C eCommerce marketplace. You should make sure your platform will offer certain tools which will limit marketplace fraud for all parties involved.
By keeping backups, you can ensure that your information doesn't get lost even if your marketplace becomes temporarily inaccessible. Backups will allow you to restore the recent content at a moment's notice too.
Compliance with personal data protection requirements
According to a study by Cisco in 2019, 83% of online users care about protecting their personal data. In light of this fact, complying with the regulation of your marketplace's personal data protection requirements is essential.
The European Union requires GDPR [link] compliance [link], American marketplaces must be [CCPA Link], and Canadian marketplaces must comply [PIPEDA Link].
Features that add value to your B2C business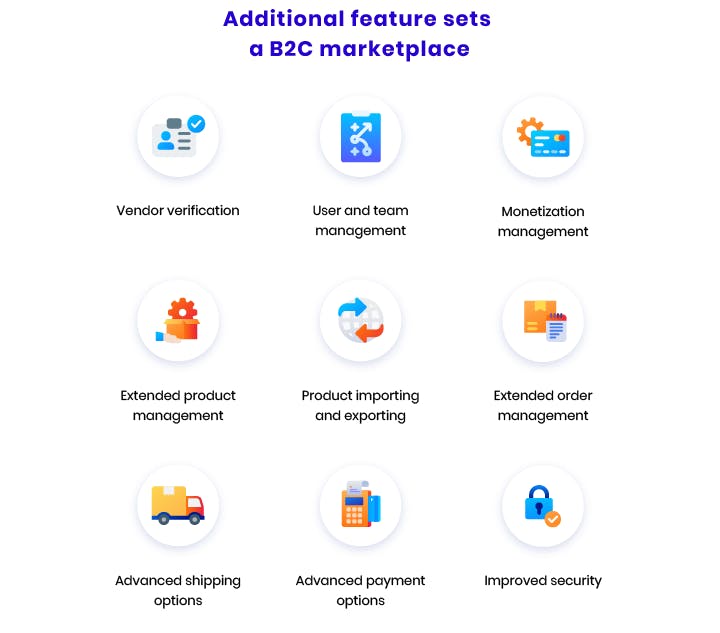 While the core features of a B2C marketplace are vital for building a viable platform that serves as a meeting place for sellers and buyers to do business, additional features can drive customer loyalty and create an exceptional experience.
Vendor verification
To ensure that you're cooperating with the most reliable sellers, you can implement a vendor verification system. This will help you to pick the best sellers, ensuring that all users of your platform are well-reputed merchants.
User and team management
You can think about extending your and your sellers' functionality to make it easier to manage your marketplace and separate stores. Distributing roles allows sellers to work on a marketplace with their teams. Company owner, company administrator, and the company manager are several roles you might want to provide for your sellers.
Marketplace monetization management
It's always better to have a multi-pronged strategy when it comes to increasing sales! Even if customers aren't doing well with one option, maybe they will be ten times more productive using another option. Putting in the effort to investigate different ways of making money is a critical step toward increasing revenue and building a healthy business.
When setting vendor fees, you can choose the most suitable option for you: A fixed percentage of each successful transaction, a fixed price per successful transaction, or a percentage plus a fixed price.
By offering subscriptions plans to vendors in your marketplace, you can optimize your monetization model and allow vendors to gain more control over setting prices for their services and timing of payments.
Extended product management
Sellers on your marketplace will be happy to have a plethora of instruments at their disposal that will allow them to manage their inventories more efficiently. The features below will help the aforementioned sellers work more productively.
Bulk product management
By implementing this feature, you'll give sellers the power to make changes and updates to multiple products in one go, making their lives easier and allowing them to become more productive.
Product options, variants, and types
for buyers, This will allow sellers to add variations of a product (including size, colour, and dimensions) all in one place, which makes shopping across different vendors on your site easier.
Product prototypes
A marketplace administrator can effectively manage how products are presented to customers on the marketplace using core benefits. The core benefits make it possible to create a universal product description form for sellers. This allows you to maintain uniform product presentation across marketplace sellers, regardless of their core competencies, by providing "blueprints" for different types of listings.
Product drafts
By implementing this feature, you'll have sellers save their product descriptions as many times as needed so they will be able to fill in a lot of information about a product many times throughout the process. This will be extremely useful for the seller when they need to do a lot of work on a product's description at one time.
In-stock product management
It's sensible to provide automated product stock management to make sellers' lives easier. By implementing such a feature, you'll help your sellers avoid supply delays and always know when it's time to restock. This will encourage them to arrange their businesses so that the inventory is in the right places at any given time, with delays kept to a minimum.
Automated product inventory tracking
When reviewing inventory, vendors can see how many products remain so they don't have to guess or go through a bunch of different systems looking for their information.
Advanced catalogue management
This feature is aimed at providing admins with the ability to create even more product categories and subcategories on their marketplace. As a result, sellers will have more options when customizing their stores and listing products for sale.
Coupon management
This feature will help sellers generate more revenue by offering buyers convenient coupons. With the new platform on offer, sellers on your website who previously lacked any payment processing or shipping options can now make their businesses more profitable online.
Product importing and exporting
This set of features will help to increase your revenue stream by allowing more sellers on your marketplace. To achieve this, the set of features will allow vendors to be even more detail-oriented about the way that they market their products. Other advantages include giving them an easy avenue for reporting on sales, inventory, etc.
Templates
Templates are a great way to let sellers import data from other eCommerce platforms. With templates, sellers can migrate effortlessly from one platform to another and put up their products in the store within a matter of minutes without having to worry about manually entering everything back and forth.
Step-by-step importing
When you first deploy your importing system and start inviting sellers, you can reduce the friction on their part by making it as simple as possible for them to input data. You can do this by providing a series of hints that will allow the sellers to know exactly where to look and what information they'll need to enter.
Product mapping
By providing your sellers with the ability to specify the CSV file structure, you enable sellers to organize their data correctly because this feature will allow them to create their own structure. This way, your product catalogues will import successfully.
Delayed importing
You can make the importing process easier by postponing the actual product importing, especially if the site is large (thousands of products). This way sellers can transfer information in several steps.
One-click exporting
If you or your sellers need to export information on sales, returns, companies, etc. for offline storage, you should think about implementing one-click exporting so users can download all reports as CSV files.
Extended order management
To make your B2C marketplace even more user-friendly, consider implementing some features that ensure smooth interactions with products and product catalogues.
You should give your sellers the honour of being able to track their order statuses, delivery details, buyer communications, print packing slips, and cancellations in one place. It will increase sellers' productivity and keep the user experience growing stronger.
Bulk order actions and Fast printing of packing slips
You can implement bulk order actions to improve sellers' productivity and help sellers save time on processing orders. If you allow for hassle-free packing slip printing, you'll simplify their daily routine.
Order status and warehouse management
Another great feature offered at eBay is the option of tracking your orders and warehouse inventory via their robust reporting tools, so sellers do not need to handle order management separately via spreadsheet. Automated tracking also helps to monitor inventory counts in real-time which streamlines reporting for inventory control purposes.
Advanced shipping options
Make your platform even more satisfying for sellers and buyers by grooming the shipping part of your e-commerce platform so that you can offer extended shipping functionality to users. Below, we list features of B2C e-commerce platforms that will help you do this.
Your marketplace should be able to manage as many carriers as possible so that sellers and buyers can take advantage of the most convenient shipping options.
Shipping labels and Tracking IDs
Allow sellers to quickly and conveniently print packing slips, making sure orders are always delivered to the right place. You can implement tracking IDs so buyers on your platform can conveniently track their orders and save time on communication with sellers.
Advanced payment options
In addition to what must be included, sellers may want to expand their payment offerings as well. Payment options will help you reach a larger buyer audience and encourage more users to join your marketplace!
E-wallets and Autocomplete payment forms
One way to help encourage repeat customers is by offering the opportunity for users to store their payment information in an "e-wallet". This essentially eliminates the need for them to re-enter any payment information on their next purchase. An automatic platform can save time and reduce errors (such as incorrect addresses or credit card numbers), while still providing customers assured security.
This is an extremely convenient feature for buyers which gives them the option to buy from several sellers on a marketplace and make one payment to cover the full purchase amount.
COD is clearly a big deal right now. According to a study put out by G4S, cash transactions have been steadily on the rise, surpassing 50% in 3/4 countries today. As a business owner, you might be wondering how that applies to your day-to-day proprietary operations. Simply put: If you're able to accept signals as well as traditional methods of payment from buyers, they'll have even more reasons to do business with you versus the competition!
Improved security
Last but definitely not least, you can plan to upgrade your marketplace's security measures by looking at the performance of an open-source log monitoring tool that will tell you how those on your team are interacting with your platform and when they're making these changes. With this information, you'll be able to react more quickly to cybersecurity violations and other issues that might affect your platform's smooth-running operations.
Recap
There are so many features that are essential features to have in an eCommerce website for business-to-consumer markets. We understand it can be a bit scary! But if you want your platform to be as functional and convenient as possible, we suggest implementing the majority of them on your marketplace.