Online shopping is on the rise. According to estimates, by 2021 the eCommerce market will boast 3.8 billion users, which is a 10% increase compared to 2020.
With such rapid growth in online shopping and increased competition between vendors, vendors must step up and stay ahead of the curve to secure their position in this booming industry. One of the prerequisites for success in this industry is robust inventory management.
In this article, we'll take a look at some of these best practices when it comes to inventory management when it comes to eCommerce.(add more interesting content here)
Why do you need inventory management in e-commerce? 
What is e-commerce inventory management? Ecommerce inventory management refers to all the actions businesses take concerning products before the actual sale. This includes production, supply, storage, and replenishment of goods as well as distribution of your product on the market.
There are many benefits to e-commerce inventory management:
Improved sales. Replenishing your products promptly helps you sell more to your customers.
Enhanced customer retention. If you make purchases convenient for your customers, they will continue spending their money with you.
Cost savings. Warehouse space and operations are expensive, but by avoiding overstocking, you can save on both of these things that are otherwise necessary to run your business.
Time savings. As the workflow within your company becomes smoother, you should need fewer working hours to supervise it instead of spending all day dealing with mishaps daily.
How to build an efficient inventory management strategy?
Let's look at the key steps in devising an efficient inventory management strategy for your e-commerce site.
1. Create SKUs
A stock-keeping unit (SKU) is used by all sorts of businesses to identify unique offerings for management purposes. This can be applied in all sorts of ways, for example, shop owners might use it to keep track of the likelihood that customers are to purchase specific items or whether they are generally attracted to certain colours over others. They could also see whether people tend to be drawn towards something because of popular adverts or if they already have a significant amount of product knowledge before coming across the promotion.
There isn't a set way to build up your company's SKU system, but here are some things you might consider when making decisions concerning standardizing what you need.
Decide on vital product attributes such as brand, model, colour and size - Use them as the reference for arranging your SKU codes.
Create a framework that can be universally applied – it will make your SKU system clear and easy to understand.
Ensure scalability so that it's suitable for what comes next for the business' growth - Check if it works as expected regularly so as not to cause problems in the long run.
Monitor the accuracy and efficiency of your SKU system. 
Concluding that constant monitoring and change are fundamental for creating a robust SKU system.
2. Create a hub for your product information
To effectively manage your eCommerce inventory, you need an easy to access location for all of your product information. This central database system makes it so that one doesn't have to worry about any item not being up to date thanks to designated software that pulls in data from different sources - including suppliers and backend systems like enterprise resource planning (ERP) systems.
However, some eCommerce solutions have PIM features built-in so you can upload, edit, and publish your product information right from the admin panel of your store!
3. Ensure a perfect taxonomy
Once you have your product information in place, it's time to present your offerings in the most convenient way for your customers. For this, a good taxonomy is key. A taxonomy is a way to classify your products in your store with a convenient catalogue structure, filters, search options, etc. The goal is to establish a clear and defined structure that facilitates sales (i.e. makes it easy and accessible for anyone who visits your store).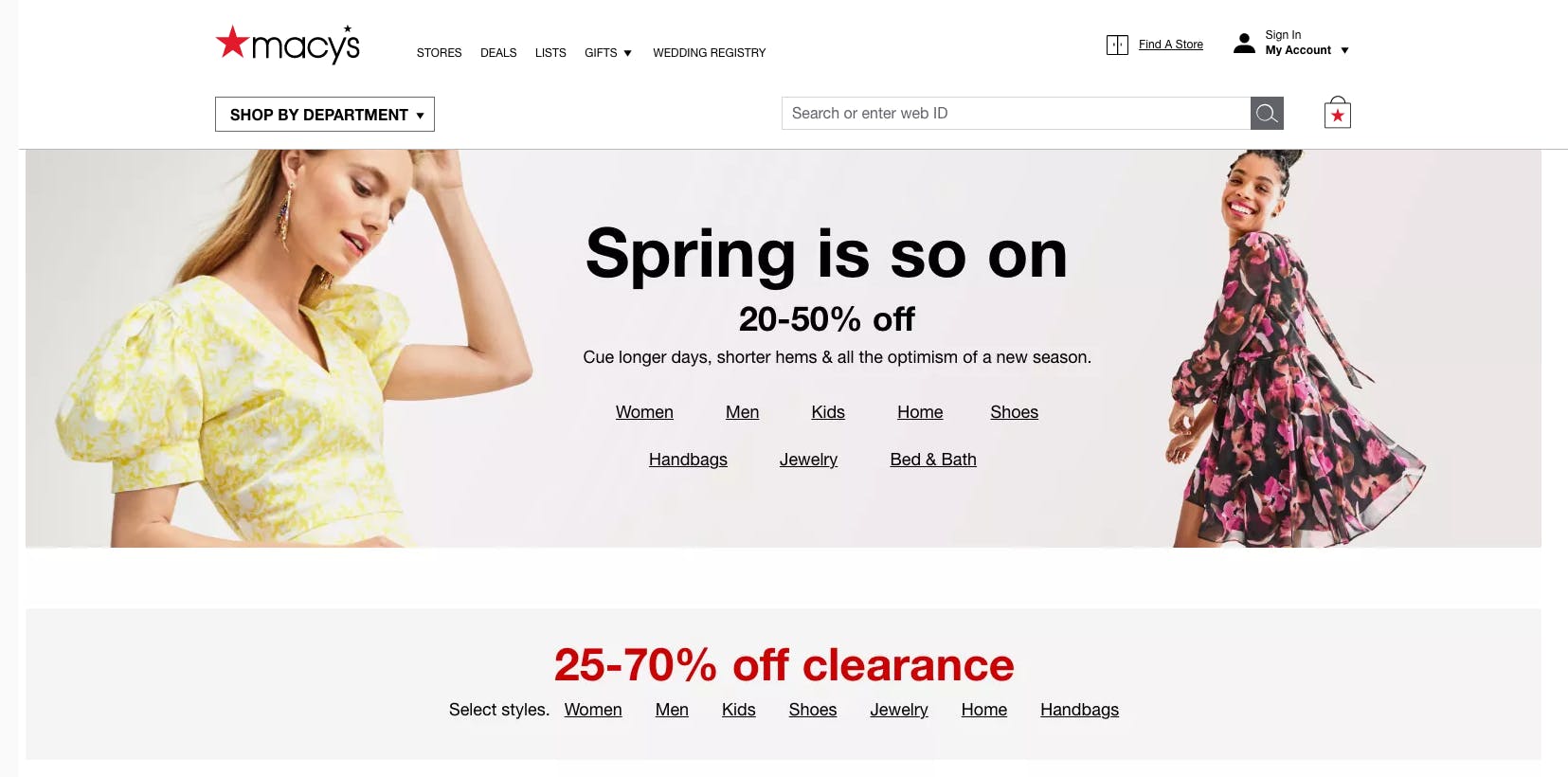 "Simplicity counts" Macy's website and app may dazzle and delight, but the overall structure is very simple. This simplicity makes it easier to find particular products and reduce the amount of time spent finding what customers want.
The steps to create a taxonomy are:
Research. Learn about taxonomy best practices and look at competitors' websites to get inspired.
Sketch it out. Outline your product hierarchy.
Implement it during the e-commerce product development stage by setting up your product navigation in the online store.
Test it; make sure it's working properly, see if there are any glitches in processing orders, etc.
Creating and maintaining a successful taxonomy is like building an ecosystem. You want it to be something that will sustain long after you're gone.
4. Polish your content 
Part of a successful inventory management strategy is advancing sales by helping your customers make informed decisions. For this, you need your online store's product information to be easy to understand and provide reliable information because if a customer can't trust the way you present yourself, she won't buy from you.
Product information in an eCommerce store includes:
Attributes. These include all basic characteristics of a product including materials, colour, size, and texture.
Description. A description should be detailed and appealing, describing the unique value of each item.
Photos and 3D images. There's no way customers would buy something without knowing what it looks like. Videos.
Virtual try-on. With image editing software like Photoshop, you can now recreate the in-store experience, allowing customers to "try on" products before purchasing them.
Customer reviews. Excellent tools like Yelp provide an avenue for customer reviews (good and bad) of products and services including those on your storefront.
Walmart is a multi-billion dollar company that provides us with the ultimate customer experience as a result of their engaging content. The site layout is easy to navigate and informs customers about products in a way that feels trustworthy. Users can even ask questions before making a purchase. There's also an option to sign-up for email alerts about sales or product information.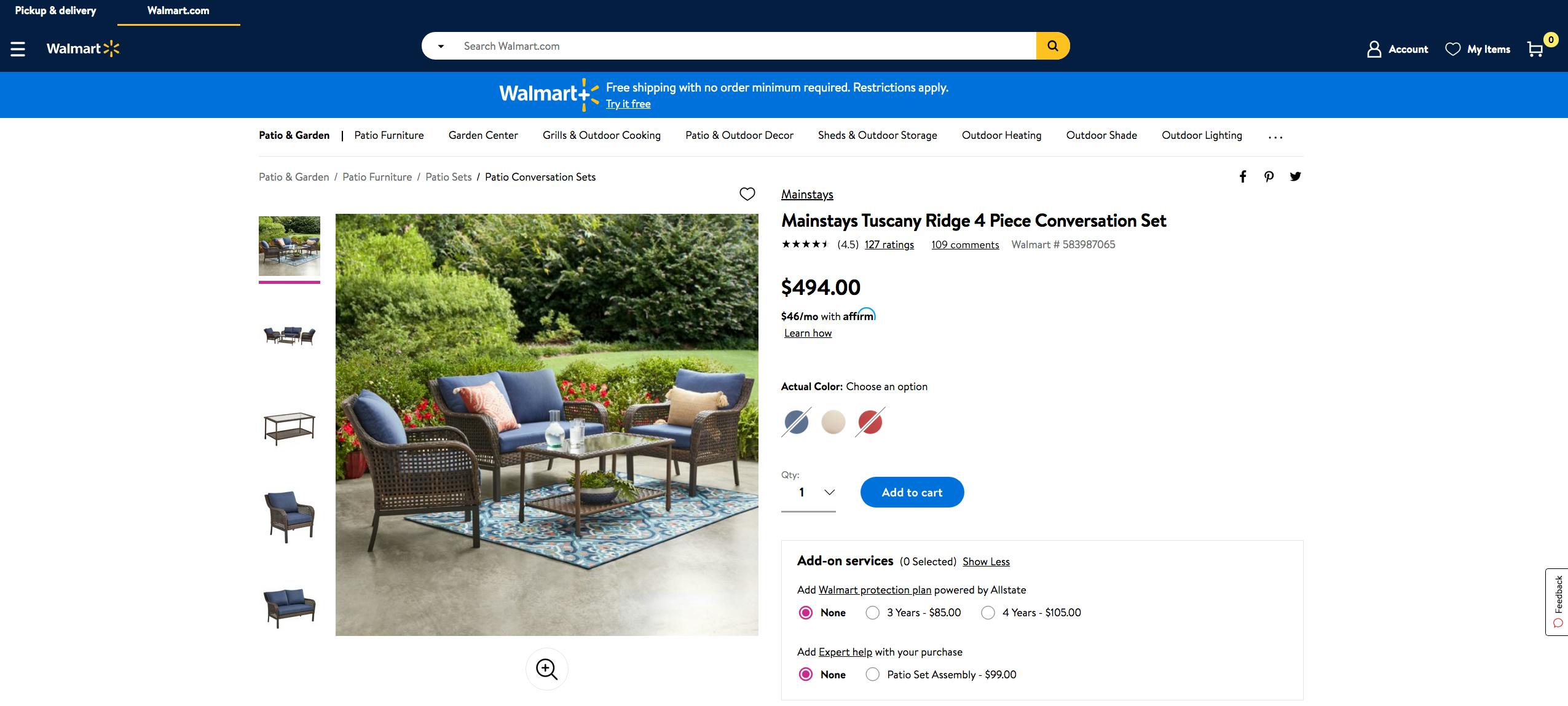 Pro tip: Use keywords 
As a site owner, to boost your presence and improve your search engine ranking, be sure to include targeted keywords in your page titles and headings; provide detailed meta descriptions within the title attribute for each piece of major content, and consider including alt text in images that can serve as a substitute for non-text elements. In case you aren't doing it already, working on search engine optimization (SEO) will likely prove to be one of your best improvements.
5. Automate your workflow
If you want to know how to gain a competitive edge in eCommerce, automated tools are one way to go about doing so. This is because these solutions offer different features depending on the type of project you have going on or your specific needs. In other words, it will be easier for you to find a match if you know exactly what it is that you need from the software and can then look for something with similar functionalities.
From what we've gathered, here are the most popular functions that – when provided – will prove valuable to an e-commerce store owner:
Bulk inventory management
With management functionality available to you in your store, you can handle many different tasks at once. You have a T-shirt being sold in many colours and sizes that you want to get rid of, but instead of deleting each one, you can do it all with just one click!
Product options and types
A robust e-commerce solution will allow you to sell products in different colours and sizes while applying flexible pricing. Imagine you run any type of store that sells shoes for example, and want to put large shoe sizes on sale while maintaining the usual price for standard sizes. One-click should be all you need to change the price tag.
Advanced catalogue management 
SaaS eCommerce platforms normally offer standard catalogue templates which can only be customized in a very limited way. However, there are tools like marketing available that allow you to tailor your catalogue to your specific needs and organize your eCommerce store in a unique style of your choosing while also making tasks such as product management and inventory control an easier process.
Suppose your eCommerce business is growing at quite a rapid pace. With the help of automation features there for you, it will be easy enough to expand your collection and add descriptions for all new products on offer while utilising the functionality of the platform at the same time. No information lost or forgotten that's for sure!
Automated inventory and sales tracking
Automated inventory tracking will make sure that you don't miss out on any important data about the products listed in your online store.
In fact, this kind of functionality will be able to connect directly with different systems you use for your eCommerce business and automatically update them as new information becomes available through certain triggers which you can customize and configure.
Analytics dashboard and reports 
Analytics reports and smart tools can help companies understand their buying patterns, customer profiles, and demographics. This will enable them to explore the effectiveness of marketing campaigns and new/current product lines.
To avoid a potential risk many eCommerce website owners face when they launch a new product or introduce a new feature unrelated to existing products - software robots can automatically adjust inventory levels while human employees make business decisions on the best ways to promote the recently released item.
However, automating this major function is not easy if your company currently has no automated system in place. Prebuilt software systems will allow you to reap the benefits of automation fast.
Conclusion
Strong eCommerce inventory management helps your sales workflow to run smooth, increases customer retention and inevitably results in increased profits.
By creating SKU numbers for your PIM tools you can create a base for successful inventory management. This will allow you to ensure that your taxonomy is perfect and also to polish your content too.
Automation comes throughout all stages of eCommerce inventory management and allows you to make the sales process flawless for you and your potential customers!