The rise of the pandemic has forced many to rethink their marketing strategies - particularly those who are involved in e-commerce. The fact is that you cannot market to every member of your online community equally. The group of people you create your marketing material for must be focused and well defined to make sure that what works for one, doesn't work against another, and vice versa. Having said that, let's take a gander at some marketplace trends working for e-commerce sites in 2021.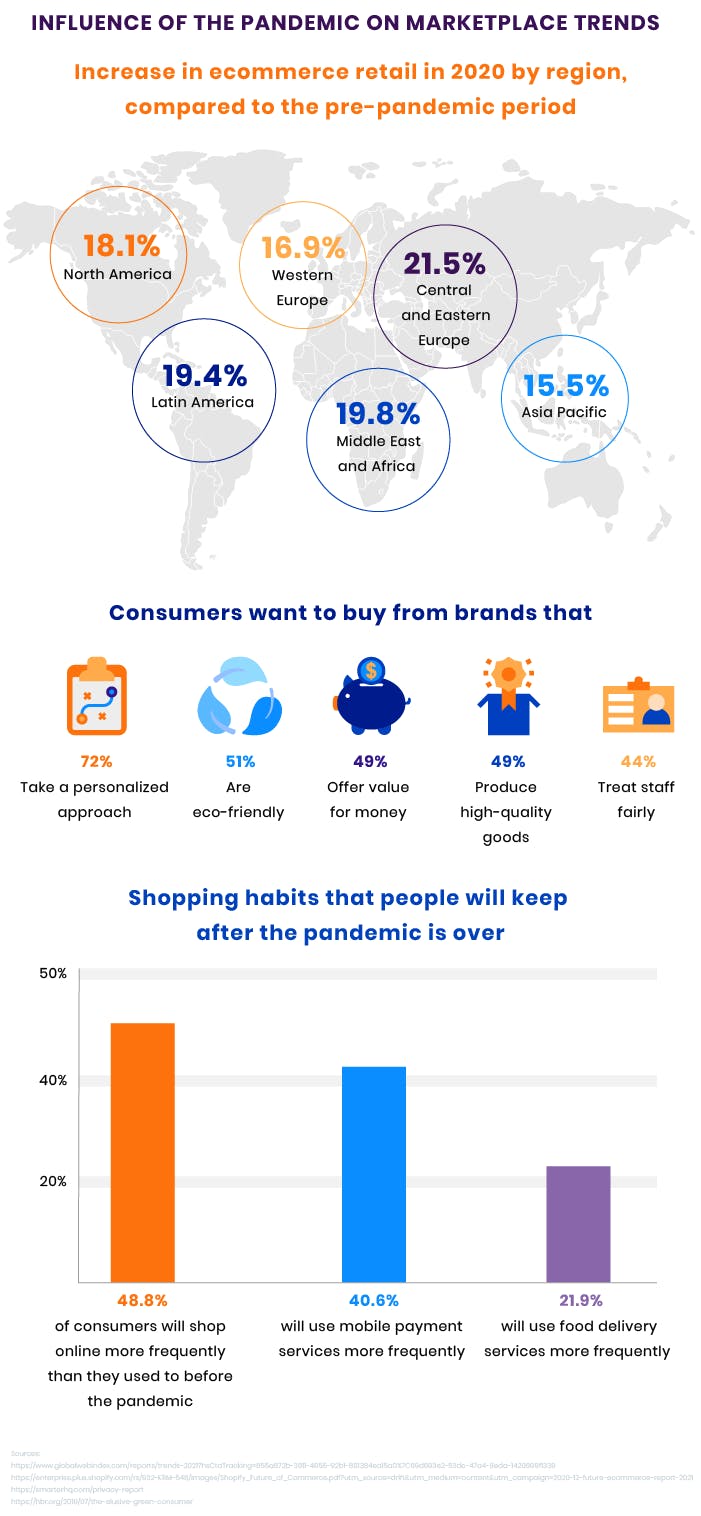 These statistics only represent the tip of the iceberg; there are still other themes shaping how businesses interact with customers leading up to this date!
Trend 1. The dominance of virtual experiences
When there isn't a brick and mortar store to showcase products, e-commerce owners and online merchants need to come up with ways to provide their customers with all the necessary information about the items they want to purchase.
How to benefit from the dominance of virtual experience
Add more information about goods
A photo and a product description are no longer enough to persuade customers to buy from you. You need to provide your buyers with comprehensive product information. Here are some tips on how to do that:
·       Upload more photos. The more detailed a product's visual representation, the better buyers understand your product's quality. Think about providing a 360-degree view, to allow your buyers to see a product from different angles. Another good idea is to use macro-photos to show the texture of the objects (clothes, cosmetics, furniture).
·       Provide testimonials. Represent your product as better than other similar products offered by competitors. Using case studies is always helpful when it comes to establishing the credibility of your company's claims. For example, Sephora implemented a shade finder feature on its website to help customers find the right foundation by letting them compare other foundations they already tried to ones available for sale on their site, so they can make informed choices based on what they already know will work for them. Cosmetics brand Clinique offers a personalized lip colour recommendation once you choose a face foundation.
·       Make it possible to test-drive products. Implement a feature into your website or application that makes it possible for customers to virtually try on the physical goods they want to buy. A perfect example of this is Maybelline, a global cosmetic brand that provides virtual makeovers for customers intending to increase the chances that they'll purchase the right products with confidence.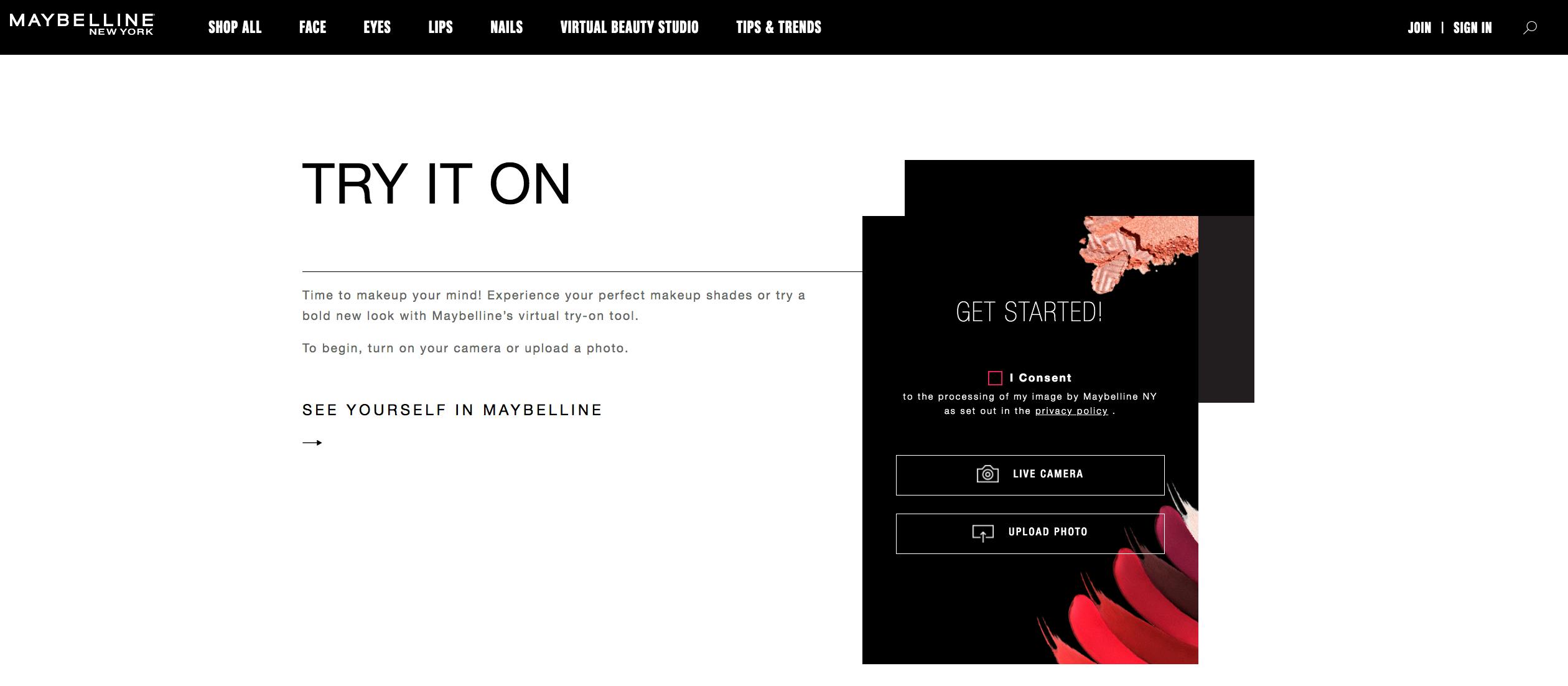 Invest in unboxing videos
Unboxing videos have been around for a while now and they continue to be a trend. With the help of these videos, you can show how your products look in different lighting and from different angles. Moreover, based on a survey conducted by HubSpot, 82% of marketing professionals say they include video in their marketing strategy. So don't miss the chance to attract more potential customers with this simple but effective way of presenting your product!
Collaborate with influencers to showcase goods
Attracting celebrities or bloggers to help you promote your marketplace is a proven approach that helps brands advertise themselves. Recent examples of this include Burberry's partnership with Emma Watson and Kanye West's work with Adidas.
While you might not attract world-known celebrities to promote your latest products at the very start of starting up, don't worry about local people from your industry. Reach out to people whose blogs are related to what you do and ask them if you can offer merchandise from your storefront for free in exchange for an unbiased review on their site! Other perks: these reviewers will give you authentic feedback! A good place to try this is at Reddit or Instagram influencer marketplaces which happen to be growing rapidly recently.
Aside from creating content that will promote your e-commerce store or marketplace, bloggers can help bring in more buyers. To do so, you can offer them special promo codes which they can share with their audiences.
Trend 2. Emphasis on the first purchase
Ninety per cent of customers are likely to make a second purchase from a store if they're satisfied with their first. That's why it's crucial to persuade your customers to make the first purchase. You can incentivize them in different ways, including discounts and loyalty programs, as well as by offering free delivery and more. However, you should also pay attention to how convenient it is for people to shop on your platform – that way, they won't be hesitant about buying.
What you can do to encourage first purchases
Make registration optional
Marketplace users have different reasons for not wanting to register when they make a purchase. Users may be in a hurry, may think they're making a one-time purchase, or even get frustrated when coming up with yet another login or password that they need to remember.
 By allowing your customers to buy from you without registering, you improve the shopping experience. If you want to enable registered users only, think about how you can simplify the registration process. For example, you can allow registration via Google or Facebook:
Provide a seamless UX, not just a pretty UI
While the desire to make your marketplace visually appealing is understandable, user-experience design trend predictions suggest that customers are more concerned with functionality than they are with an interface's appearance. To not only attract visitors, but convert them into customers, your platform's UX should be as seamless and consistent as possible. Your customers shouldn't need to think about what button to click or how to edit the number of products in their shopping cart. All functions on your platform should access smoothly and intuitively whenever they're required.
Ensure a consistent shopping experience from all touchpoints
Customers are making more and more orders via mobile apps, and that's another aspect of your platform that you should consider going into greater detail while developing your eCommerce store or marketplace.
If you have a web platform already, you might want to develop a separate mobile app to take into account everything from specific features on each device to user reviews. Alternatives include creating a great responsive design, a progressive web app (PWA), or even building native mobile apps.
Trend 3. The social commerce boom
How to take advantage of the social commerce boom
Boost brand awareness
Social media is one of the best ways to promote your marketplace. While you might not always sell directly from a social page, these platforms can be used to keep customers in touch or benefit your marketplace in other ways. Amazon and eBay both have official social accounts which are quite popular with their respective audiences ‒ Facebook, Instagram, and Twitter use all three platforms for promoting their offering frequently.
Build community
Customers and potential customers can be your biggest advocates if created the right environment. Create a transparent and friendly atmosphere on your social media pages so loyal customers and potential customers want to spend time there, take part in discussions, and share feedback with others.
Encourage sales 
People tend to make impulsive purchases when they feel happy. And what can make people happier when shopping than sales? Use the power of social media to announce sales on your eCommerce store or marketplace and attract more customers.
Trend 4. Favourable delivery options
How to improve delivery services
When it comes to shopping, customers care about their time and convenience. If your platform makes it convenient for them to purchase the products they want quickly and at an affordable price (or even for free ), you will likely attract more customers than those who don't offer such services.

Give more delivery options
It is oftentimes a good idea to not necessarily cooperate with big-name carriers who might have loads of deliveries going to and from, but rather you should look into local carriers who might do a better job for you if they are doing something that satisfies a real need. Have the carrier offer people the option to choose from several different shipping options based on how far away from them they live.
Additionally, make sure they can provide same-day delivery and trackable numbers so that your buyers know when it will arrive. It's paramount if you want to get ahead of your rivals in this space.
Offer free delivery 
If you can afford it, think about paying the delivery cost for your customers or including the shipping fee in the product price. When customers see that an eCommerce store or marketplace provides free delivery, they're likely to choose it over others that don't offer free shipping. According to Walker Sands research, 79% of consumers choose to shop online when they can get free shipping.
Calculate delivery at checkout 
Thanks to the inclusion of delivery charges in the original price and allowing consumers to see them on the checkout page, customers will always know how much they need to pay. Another option is to show a fixed shipping fee on the product page, which allows your shoppers to see the fee at a glance when exploring a product page even before adding a product to their cart or navigating to the checkout.
Make returns easy
Return policy is something that can affect your business in both ways. With the right steps, the returns policy can bring in more customers and engage them after by sending them product recommendations they are interested in; on the other hand, bad practices will make customers avoid buying from you again. Some ways to handle your return policy are put in place a return-to-sender system for when you do not have cash on hand to refund the customer right there. You should always do an exchange or replacement if possible; when exchanges aren't available, better refund money instead of doing nothing at all to the customer.
 Offer to send as a gift
One way to make the process of buying a gift for your significant other or family members easier would be making them available for purchase. By linking up with different delivery services like Amazon you can offer this service to your customers and make it appear as if you're giving them a small personal touch (by offering the names and addresses) ;)
Trend 5. The importance of a loyal community
Your loyal customers won't just find their way back to you from time to time - they'll bring their friends and family members with them, too. And when your business is pulling in leads from a variety of places, including both word of mouth and other marketing channels, it's natural for customers to start feeling more connected to your brand.
What you can do to build a loyal community

Provide a human touch
People hesitate to buy from automated platforms. While automated functionality such as 24-hour support and instant answers to simple questions can create a positive shopping experience, these aren't enough to build a loyal community.
To ensure that the customers feel like they are receiving real human help, you can take advantage of:
·       Shopping assistants. The problem with chatbots is that eventually, your customers will see through them. You can substitute chatbots with real people who will help your customers make the right choice and answer questions that need human involvement. It brings us great joy to see how much happier our customers are when dealing directly with other humans instead of robots!
·       Reviews and recommendations. Allow your customers to leave honest product reviews and offer a platform where they can share what you're good at and where there is room for improvement.
·       Communicate with them directly, appear in interviews online and offline, and showcase your personality as a brand so that it feels less like you're just another faceless corporate they wouldn't trust if they were shopping around.
Take a personal approach
While some consumers have privacy concerns, the majority of customers would like to buy from brands that take a "personalized" approach. A personalized approach can help you deliver a better customer experience. This means gathering information about your customers such as what they usually buy and when they made their last purchase. ​In this way, you can give them offers that will meet their needs.
Promote brand values 
There are many instances in which consumers are beginning to prefer brands that sell products that are certified as being eco-friendly or ones that advocate for certain values. As a marketplace owner, you can encourage your vendors to embody these same values by offering perks like rating products higher in search results or offering badges that display an item's sustainable features.
Sephora, among other similar cosmetic retailers, offers this use of eco-friendly badges to companies that produce goods using natural, chemical-free ingredients. These types of signs help to inform customers about the kind of product they are looking at.
Create useful content
Build a community around your brand. By fostering connections with the people who have committed to your brand, you can foster a sense of loyalty and appreciation for everything that your company does for them. By giving your customers the chance to experience how wonderful it is to be part of something bigger than themselves, you can develop an even stronger connection between their needs and the services you offer.
Final thoughts
With growing competition on the online marketplace, it's important to take advantage of trends so you can do more than just stand out. Keep pace with these marketplace trends so you can do more than just be different—be the best around!