React Native is a versatile & robust technology that allows you to create flexible, cost-effective solutions that are easy to update, maintain, and support. If you're considering React Native as the core technology for your app and want to find a suitable React Native developer, keep on reading! In this article we discuss:
What skills should a React native developer have by the level of seniority?
Things you need to check before hiring a React Native Developer
Models for working with RNT developers and where to find them.
Let's get started!
Hard skills to look for in a React Native developer
To find an appropriate React Native developer for your project, you can divide your potential candidates into three levels, namely junior, middle, and senior based on their skills, experience, and knowledge.
Let's take a look at what knowledge each level of the developer should have so that you have an idea of which type of developer is best suited to meet your project's technical requirements.
Junior React Native developer
Junior developers are a lot like snowdrops. They're usually recent graduates or so-called switchers (people who decided to change their occupation).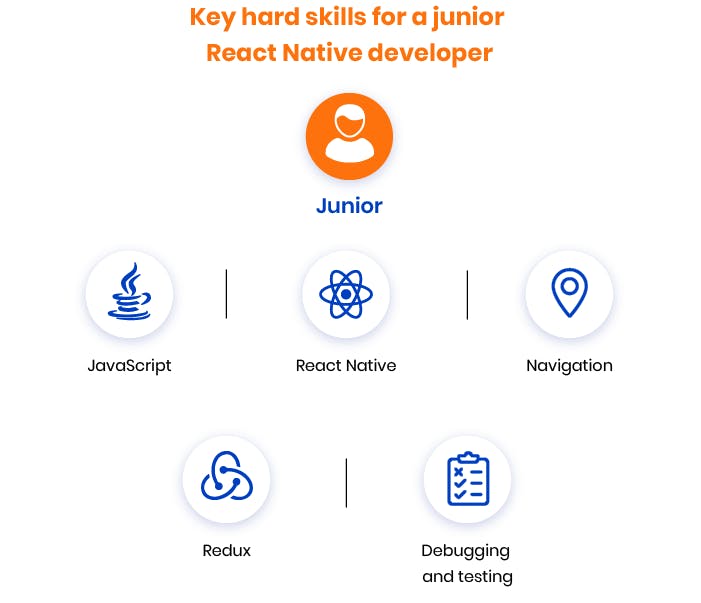 A junior React Native developer should be able to:
1. Write JavaScript code. React Native uses the JavaScript framework, so a junior developer should have knowledge of ES6 or later, including all its main features and enhancements.
2. Work with React Native. A junior developer should have a solid understanding of the React Native framework's main components, APIs, and libraries included within this fantastic toolkit.
3. Implement navigation. A junior developer should understand the inner workings of push, modal, and other types of navigation controls to ensure they're not making any mistakes that will ultimately lead to their app crashing all the time down the line.
4. Work with React. This state management tool allows developers to easily manage states shared across components and create predictable apps that can work in different environments. Developers can use different state management tools. However, Redux is one of the most convenient and robust.
5. Perform debugging and testing. Junior developers must understand some basic debugging and testing principles and be familiar with tools used for these purposes.
Even if a junior developer doesn't have any experience under their belt, they should have pet projects where they practiced all these skills.
Remember that a junior developer needs to be mentored, guided and managed by a more experienced JavaScript developer.
Middle React Native developer
Middle developers are what keep your business afloat. They strive to ensure your business is running smoothly and they understand the importance of communicating effectively with not only their peers but also any other departments within your business to ensure all bases are covered, so it's important for you as an entrepreneur to show these people the ropes if you want them to be as productive as possible!
A middle React Native developer must be able to:
1. Optimize performance: A React native developer should be able to optimize their application's performance and show relevant examples of when they have used various optimization techniques in the past.
2. Developers who specialize in mobile-specific features must be able to work with hardware like cameras, microphones and GPS sensors and incorporate them into an app. They need to be able to overcome some of the challenges that might occur while trying to do so.
3. Store data and cache offline. A middle developer needs to be knowledgeable about different types of databases (relational, non-conventional) and libraries for working with them. They need to understand all the nuances of offline data caching and be able to decide when using ready-made code is easiest and when creating caching logic from scratch is best.
4. Integrating third-party services. If you know the peculiarities of integration with Google, Facebook, Paypal and other popular external services, then you know how to extend the functionality of your app with their help.
5. Signing and deploying apps. Signing an app can be daunting for developers who are preparing to launch an app on the play store or iTunes, but there are many reliable steps that one must take to release a functioning version of their project in the wild.
Middle-level software developers are like casino croupiers. They have a significant amount of autonomy and independence. These types of developers can suggest ideas for how to solve certain problems, but they aren't responsible for making critical decisions about the app.
Senior React Native developer
A senior React Native developer has comprehensive knowledge and skills in creating solutions with this technology. This requires at least three years of industry experience and numerous successfully launched apps to their name. Senior React Native developers already have experience working with colleagues who are new to the field and helping them expand their skillset.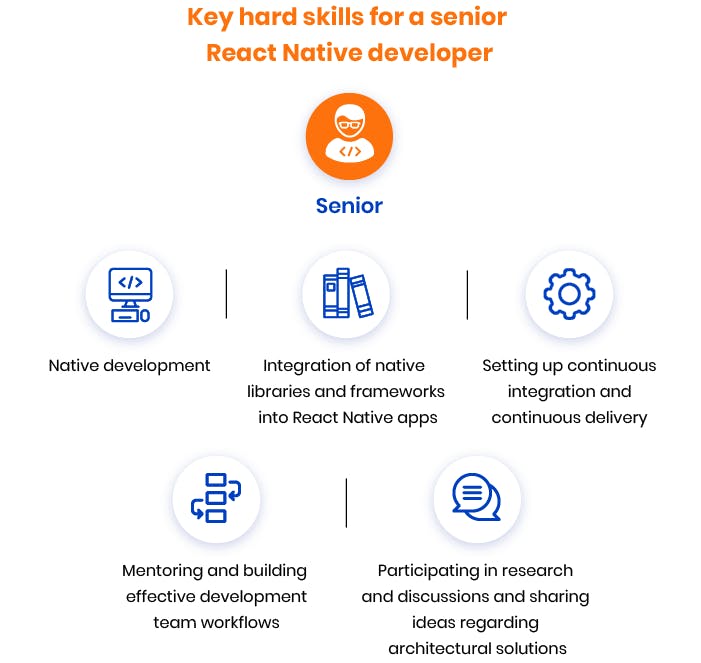 A senior React Native developer must be able to:
1. To successfully build a React Native app, you'll need to understand the languages used for native app development such as Objective-C and Kotlin.
2. Using native libraries and frameworks in your apps can make them more robust and full-fledged.
3. Set up continuous integration and continuous delivery (CI/CD) to help identify and address issues early on and make your code more stable overall!
4. Mentor, guide, and teach an effective development team workflow. An experienced developer who's applying for a senior position should understand the nuances of various approaches to code design when it comes time to work on different projects to help you decide which approach is most appropriate for each case.
5. Participate in research and discussions and share your ideas on how to develop an app's architecture. As a senior developer, it is your responsibility to have a sound knowledge of software design patterns, best coding practices, and object-oriented programming.
Parting thoughts
The ideal candidate for your project is someone who has all the skills your project requires. If your project is growing and you already have a team of developers that can support and mentor a newcomer, you can hire a junior developer. If your team doesn't have any React Native specialists, then you may want to think about hiring someone with more seniority than just an ordinary software engineer.
Important things to check when hiring a React Native developer
And while hard skills are just one thing you have to look into, depending on the level of expertise you are looking for - it's not necessarily enough. You have to be sure that the person who is coming on board will also fit in logistically. What else do you have to consider to make sure a candidate is true 'the ideal fit for your project?
#1 Soft skills
Some software developers can also possess traits that are not so obvious, to be honest with you. Such qualities are known as soft skills or people skills. It's very helpful for project managers when they have team members who possess these types of things because one day, something might come up which requires them to be relied on.
Among the soft skills you see in most developers are being organized, being prompt, being reliable, being able to communicate effectively with others, being hardworking and responsible for their actions.
The list of important skills for any campaigner also changes depending on their seniority. For instance, a junior developer should be eager to learn. A senior developer should have leadership qualities like being approachable, helpful, problem-solving and accountable.
#2 Cultural fit
Finding someone who's a good cultural fit for your company means finding someone with a similar mindset who shares your company's values. From the long-term perspective, cultural fit matters even more than hard skills and experience. Breathe, a company that offers HR software solutions, claims that people who are culturally compatible within an organization influence staff retention and performance to a much higher degree than how smart and talented they may be.
#3 Portfolio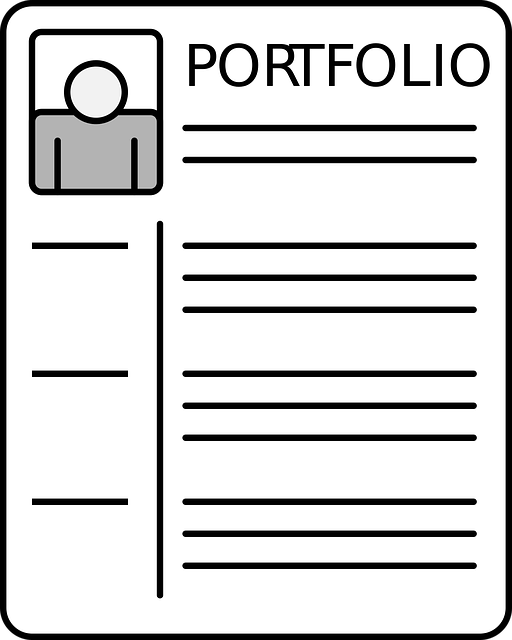 A developer's portfolio reflects their knowledge and skill set. Even junior developers should have apps that they've created that are up to date with the latest trends in development. Some specialists may even share links to projects they're developing on GitHub!
#4 Feedback from clients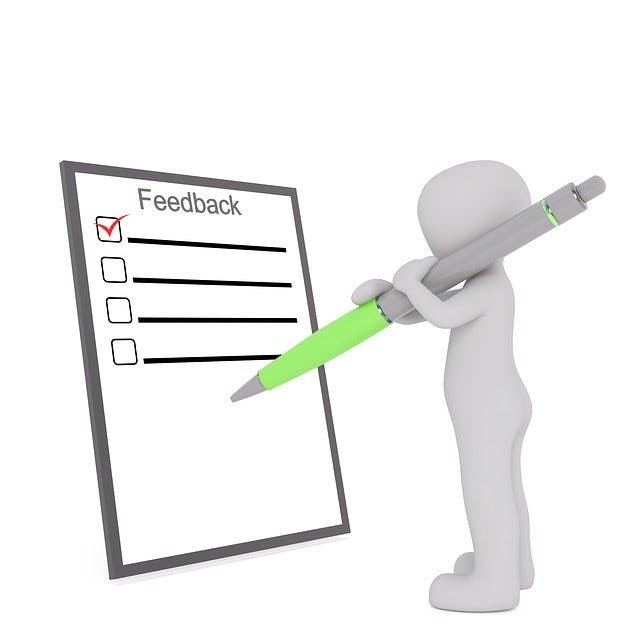 Checking up on any previous projects in which a developer has participated is never a bad idea. Checking with previous employers or coworkers will be even more helpful when it comes to uncovering potential red flags regarding their work ethic, timely completion of tasks, etc. It's always best to err on the side of caution when talking about hiring individuals.
How to hire a React Native developer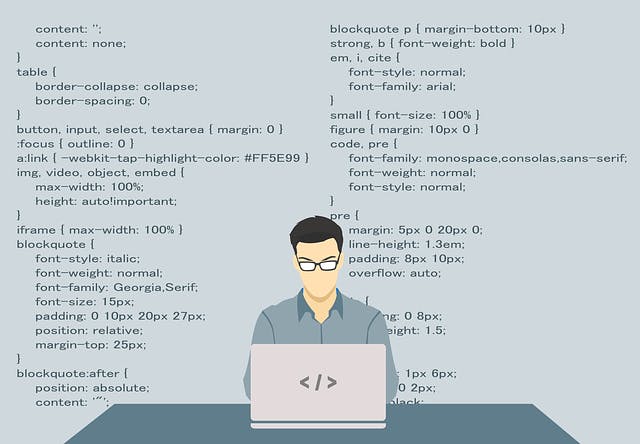 There are three main ways to work with a React Native app developer. You can hire an individual/team in-house, you can hire a freelancer or you can opt for a suitable React Native development studio.
When and how to hire an in-house developer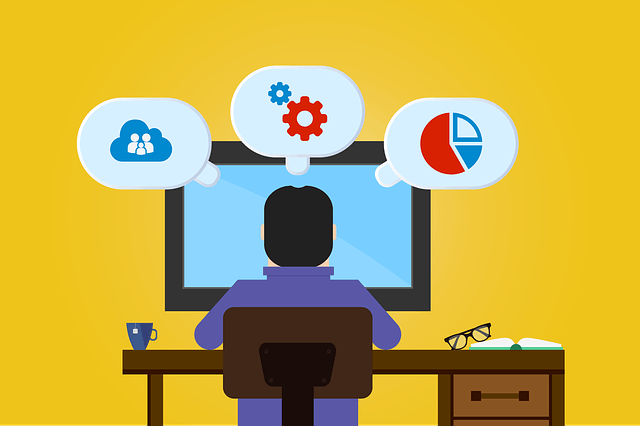 If you already have in-house developers on staff, an in-house developer is a perfect option if you're looking for someone with enough space to have their own office.
A great place to start looking for in-house specialists would be in the pages of traditional job board websites like Glassdoor, Indeed, Technojobs, and Monster.com.
Another great option is LinkedIn because of its advanced tools for searching for potential candidates. For help finding the right person who's capable of fulfilling your responsibilities efficiently, it may also be helpful to work with a recruiting company.
When and how to hire a freelancer
One of the most significant advantages of working with freelancers is that you can find experts with broad knowledge and experience for almost any budget. This type of cooperation is beneficial in cases when you don't have your in-house team or you have a small, one-time job for a React Native developer.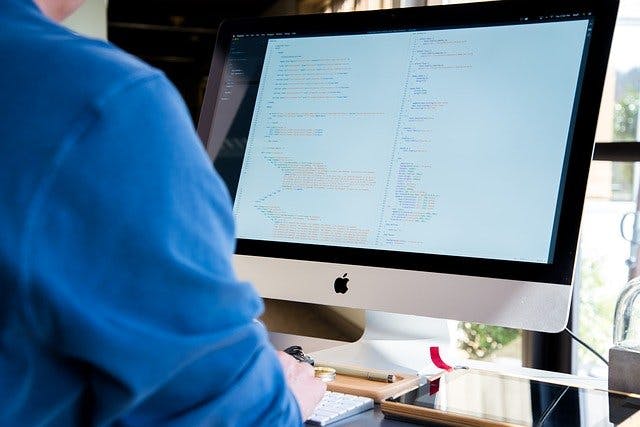 Look for a freelancer in React Native communities like react-native on Reddit and in groups on Slack, GitHub, Linked In, and Facebook. Or visit freelance platforms like Upwork, Toptal, Guru, Freelancer.
When and how to hire a React Native development company
A development company is the best option if you're planning on building something big or complicated but don't have the resources to do it all yourself. One of the biggest advantages of choosing a development company is that they can take care of everything under one roof, so you won't need to hire extra people to handle each aspect of your project.
If you're considering working with a React Native app development team, you can find one on Clutch, GoodFirms, G2.com, or Extract.co. These platforms collect clients' feedback about development teams all over the world. Visit these websites to check out client testimonials, find ratings of potential vendors, check out company portfolios, and discover core services companies provide.
Summing up
In this article, we've described how the required skills, experience, and general responsibility level changes for React Native developers at three different levels - junior, mid-level, and senior. We then broke down these skill sets into three categories that each could be broken down into sub-categories which you can then further explore here!