Marketplaces are set to exceed $7 trillion in sales by 2024, and COVID-19 restrictions have only accelerated their already rapid growth, pushing buyers to make even more purchases online.
Among all types of e-commerce platforms, two-sided marketplaces stand out. Some of the most successful business models are two-sided marketplaces including Uber, Amazon, and Airbnb.
In this article, we'll explain how to build a rewarding two-sided marketplace. We'll look at the advantages of these platforms as well as their key features as well as some potential pitfalls on the way to developing them. In addition, we will provide insight into how one can avoid those pitfalls.
Advantages of two-sided marketplaces 
The majority of two-sided marketplaces are highly successful by creating matchmaking opportunities for buyers and sellers within one platform.
To build the ultimate win-win marketplace, however, platform owners must take great care to design their service with complementary products that satisfy each audience's needs.
One advantage of having a two-sided marketplace is that it makes it easier ​to expand your customer base.
Profitability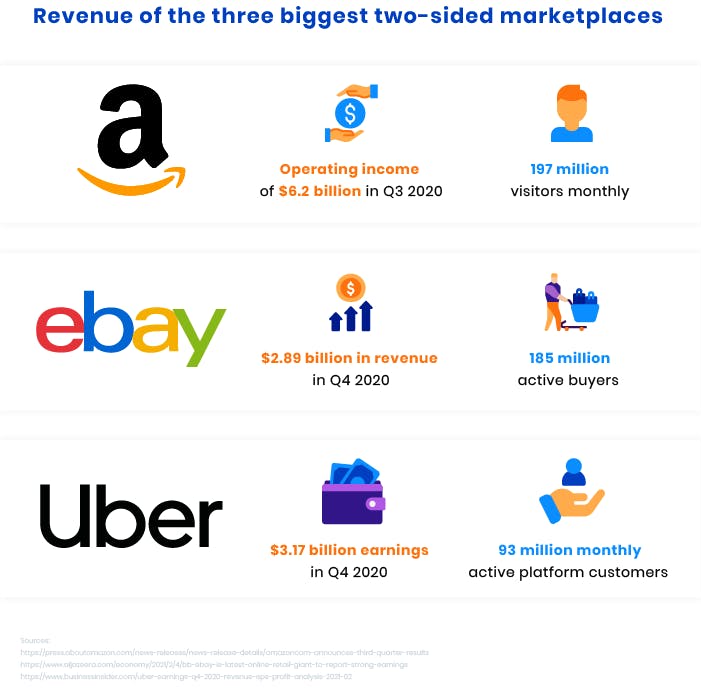 Airbnb is just one of many well-known examples that demonstrate the success of two-sided marketplaces. Two-sided marketplaces are something that can be done in several industries, however, to date, it's been very popular in things like travel services or digital products. Here are some other examples worth checking out if you want to understand how successful marketplaces are built… XpertSea is a brand-new aquaculture tech platform for everyday fishermen who want to take their hobby/business online to reach new customers in remote areas. It's actually reporting profits this year having grown 10x since last year in 2020 too. Another example is Eneba, a digital games platform that generates €6.55 million in revenue having attracted 26 million unique users in less than three years too.
The crucial success factor for a two-sided marketplace is generating a constant flow of users to the platform by looking into ways that you can instil trust and confidence among your buyers and sellers, who will then hopefully encourage others to join.
Scalability
Once you have successfully built the MVP for your marketplace, both of its sides will be boundlessly scalable meaning that the cost of adding another platform user approaches zero. Market players gain a life of their own and all you need to do is maintain the platform.
Success won't happen overnight for two-sided marketplaces, though – it's a long-term initiative. It may not be too late to launch an MVP and test it with early adopters who can give valuable feedback about how your product is developing.
MVP feature set
Building your Minimum Viable Product (MVP) in the earliest stages of development means starting with only the most basic features that meet the basic needs of both you and your customers. At the same time, these core features should deliver smooth functionality that engages with customer's existing mental models.
2-sided marketplaces have several types of customers: customers, sellers, hosts, guests, etc.
Below are some of our favourite ways to enhance UX for each group.
Features for customers
Registration allows your platform users to create a personal account and share their information with you. Registration should be seamless and come with the promise of a quicker experience once these visitors come back to your platform. The registration process shouldn't be compulsory, but rather inform users that they can benefit from an account (and all the amazing things it entails like order history and tracking) if they were to sign up.
Search and navigation tools allow customers to find what they need. Search can include auto-suggest and dynamic scoped search so that finding items is as easy as possible.
Order forms are intended to make the purchase experience as good as possible! It's a good idea to create minimalist, logically organized order forms with legible fonts.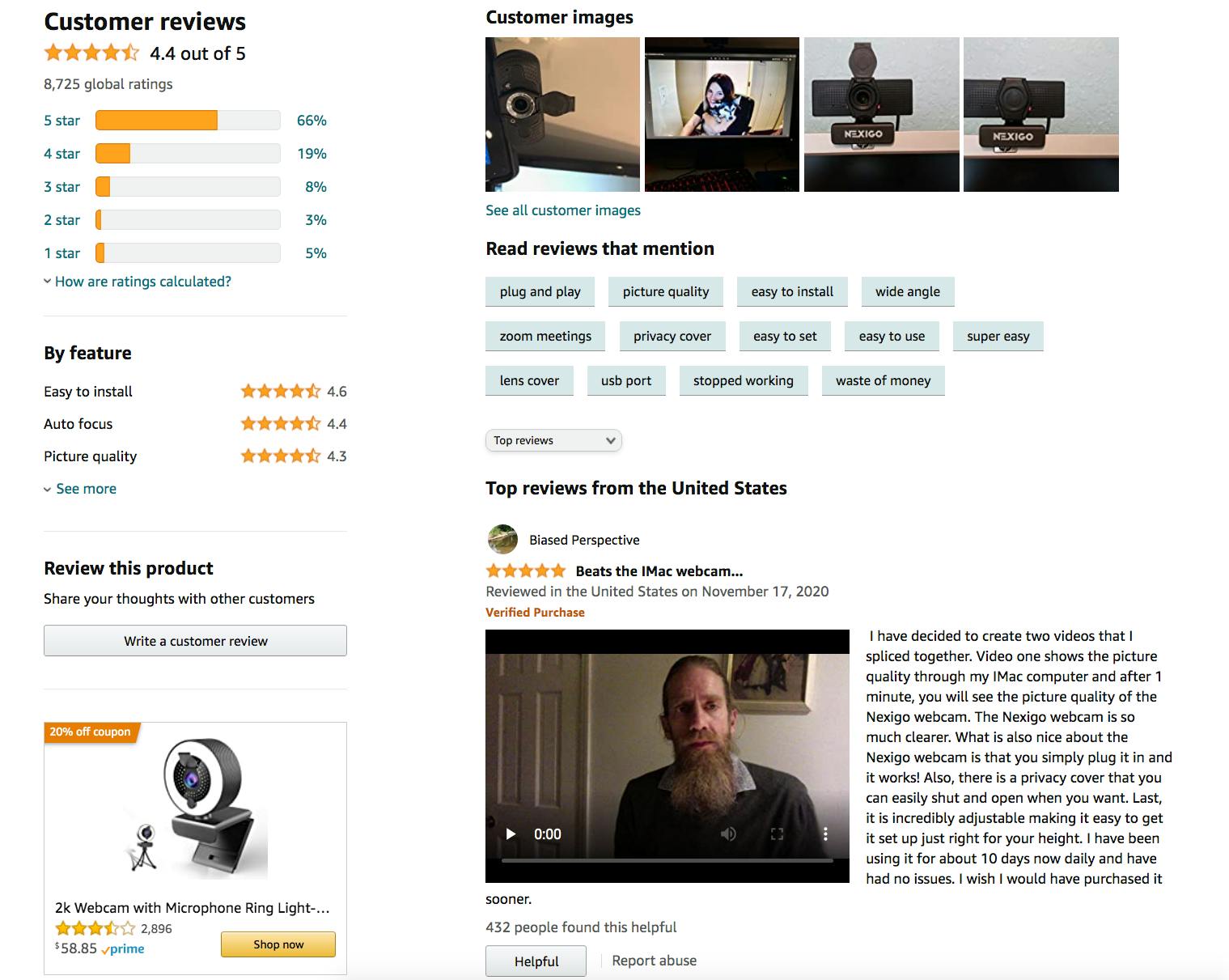 Payment features should be simple to use so that users can buy a product or service quickly. The rule of thumb is to implement as many payment options as possible, including credit cards, PayPal, wire transfers, and ACH transfers.
Ratings and reviews help shoppers to speed up their research on what product best suits their needs.
Features for vendors 
As a seller, you can't just open an account and start selling. Vendors' registration is in many cases extensive to verify their identity and trustworthiness. Many vendors ask product owners to provide business registrations, reseller's licenses, etc.
Company profiles include key information about sellers such as company name, location, product or service category, and quality certificates.
A seller dashboard provides a detailed view of the business. In this case, it's for commercial sellers to review, add charts and customize them as needed, remove items from their storefront if they want to do so without changing product listings, and allow you to manage your offers and payments.
Finally, the analytics feature helps track progress with a detailed report available for analysis that will give sellers a closer look at their listings and sales performance.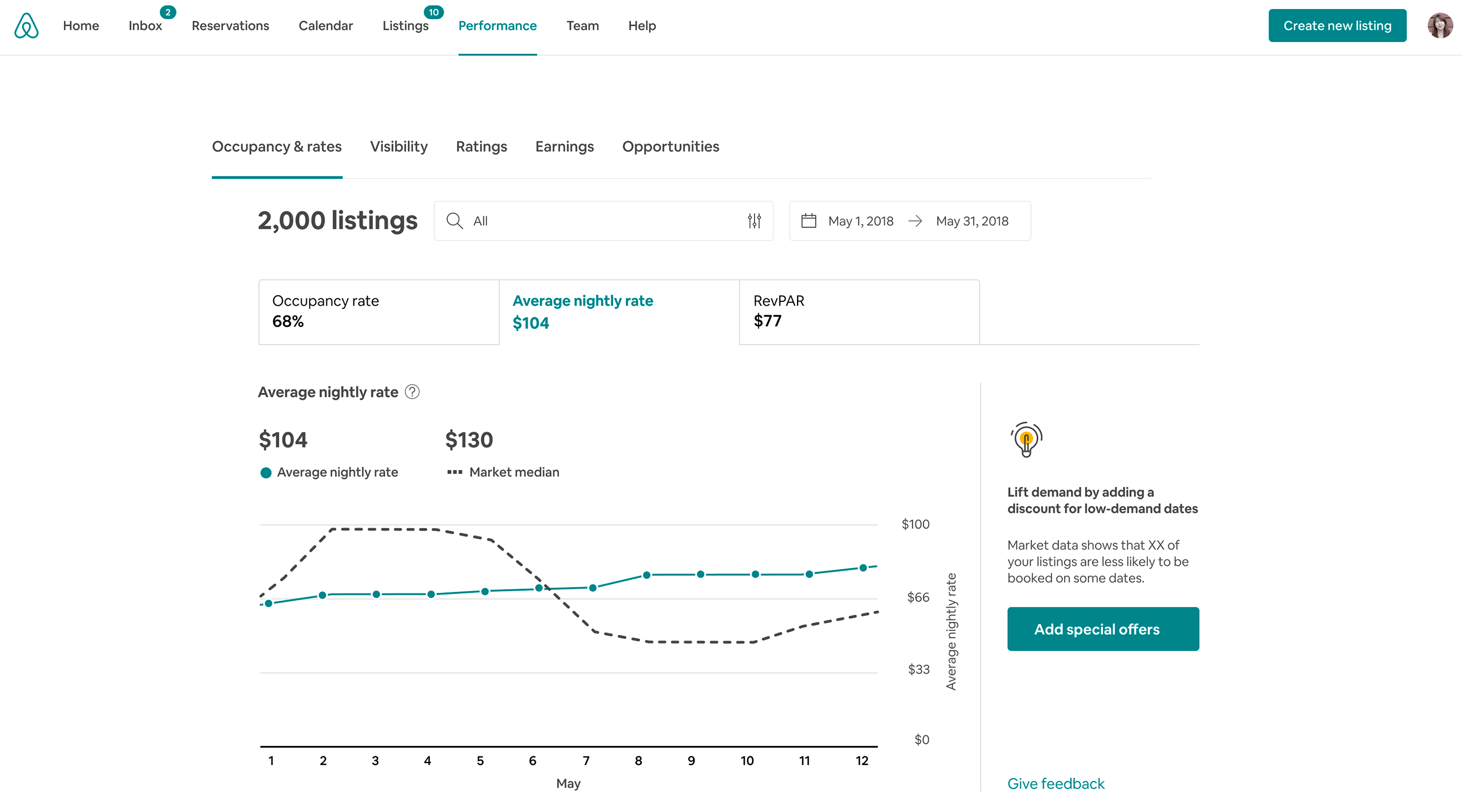 Key features for admins
An admin panel is a set of tools that a platform owner can use to manage the workflow process for various e-commerce related activities. This includes: ·
Managing vendors – Adding or removing vendors, orders, products, services and more.
Setting commissions – Specifying a specific dollar amount as well as a percentage per sale based on the agreement you have with your vendors such as limited time promotions or limited quantity promotions.
Access control – Registering employees, limited access to certain versions depending on permission levels and more.
Your final list of MVP features will depend on your vision and business goals as well as what you feel is required for this version of your tool and how much you're willing to invest into it at this time!
Challenges of building a two-sided online marketplace 
When developing a successful 2-sided marketplace you need to navigate your way around a few issues. Here we've mapped them out and given you ideas as to how best to overcome them:
#1 Solving the chicken and egg problem
Are you launching a marketplace? Are you finding it difficult to get users in the right amounts in the right places at the right time? Well, this well-known problem is caused by what is also called a "cold start." The challenge of getting your business off the ground when you begin with no users, no demand for products or services offered.
One way to solve this issue is to restrict access in which cases many new companies are opting to offer access only to select individuals until they encourage enough participation. For example, OptioLend, a real estate marketplace that was launched in February 2021, started by limiting early access to its services to friends and family of employees at first then slowly enhanced their database by allowing other real estate agents and brokers into their beta testing phase.
One of the most noteworthy aspects of a two-sided business is deciding which side you want to focus on first. Amazon, for example, got started by selling only books. On the other hand, Uber has been working on that tradeoff system where it matches supply with demand for delivery and passenger services.
With that said, if you're focused on building a marketplace platform you might want to consider choosing the supply side because it's easier to attract new vendors than buyers - and once people see your product is relevant they'll be more likely to use it over similar apps/programs in the space!
#2 Maintaining customer satisfaction 
Managing a two-sided marketplace is a challenge. Ensuring that customers and sellers are satisfied with the service, product or marketplace isn't always easy to achieve! This can be difficult to achieve in a variety of ways. Products and services must adapt to the needs of all consumers, sellers and customers involved.
In one example, Uber realized that its drivers were worried about possible health care costs while working with the company. As an extension of this, Uber decided that it would provide health care coverage based on hours worked by each employee.
#3 Saving time and money 
This really isn't rocket science. Really. At the launch of your e-commerce platform, you may find yourself in need of an extra push to get everything off the ground so to speak without spending much in terms of either time or financial resources.
This is when you should turn to experts, like our Distinct Clouds team, who have firsthand experience working with other product providers within the same field - two-sided marketplaces to be exact. We've got a program called marketing that's not only cost-effective but will also help you scale your business quickly and efficiently once it has grown enough.
Trends in two-sided online marketplace development
As anyone knows, developments in technology are advancing at an unparalleled pace. To earn your position among the top-class mobile app developers, it's best to keep an eye out for the following industry trends.
Artificial intelligence and machine learning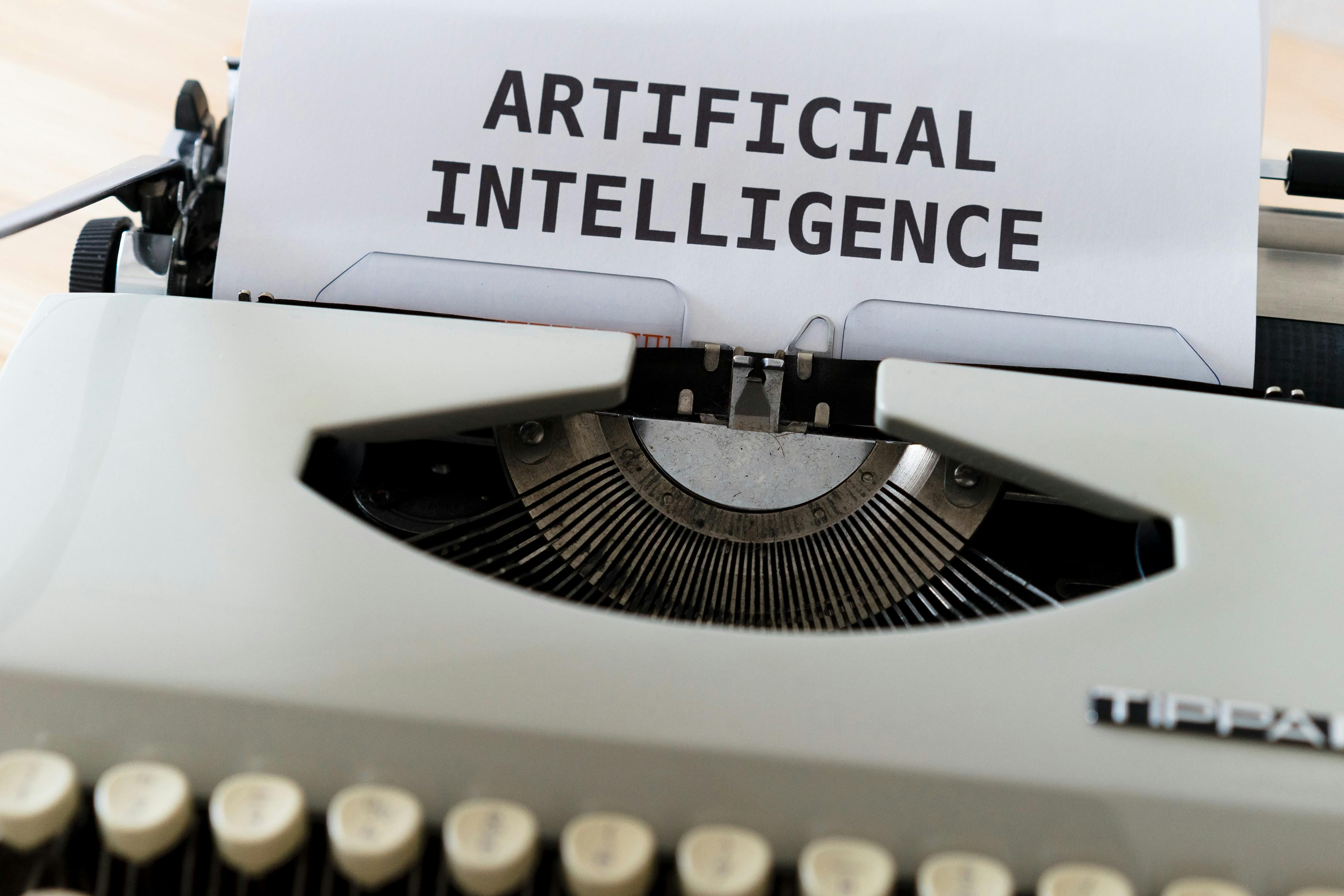 Marketplaces continue to use artificial intelligence (AI) and machine learning (ML) to make their solutions for customers more efficient and well rounded.
Considering chatbots, we've seen a rise in AI-powered chatbot usage by marketplaces over the past few years and this is set to continue as chatbots become even better and help increase sales and customer satisfaction.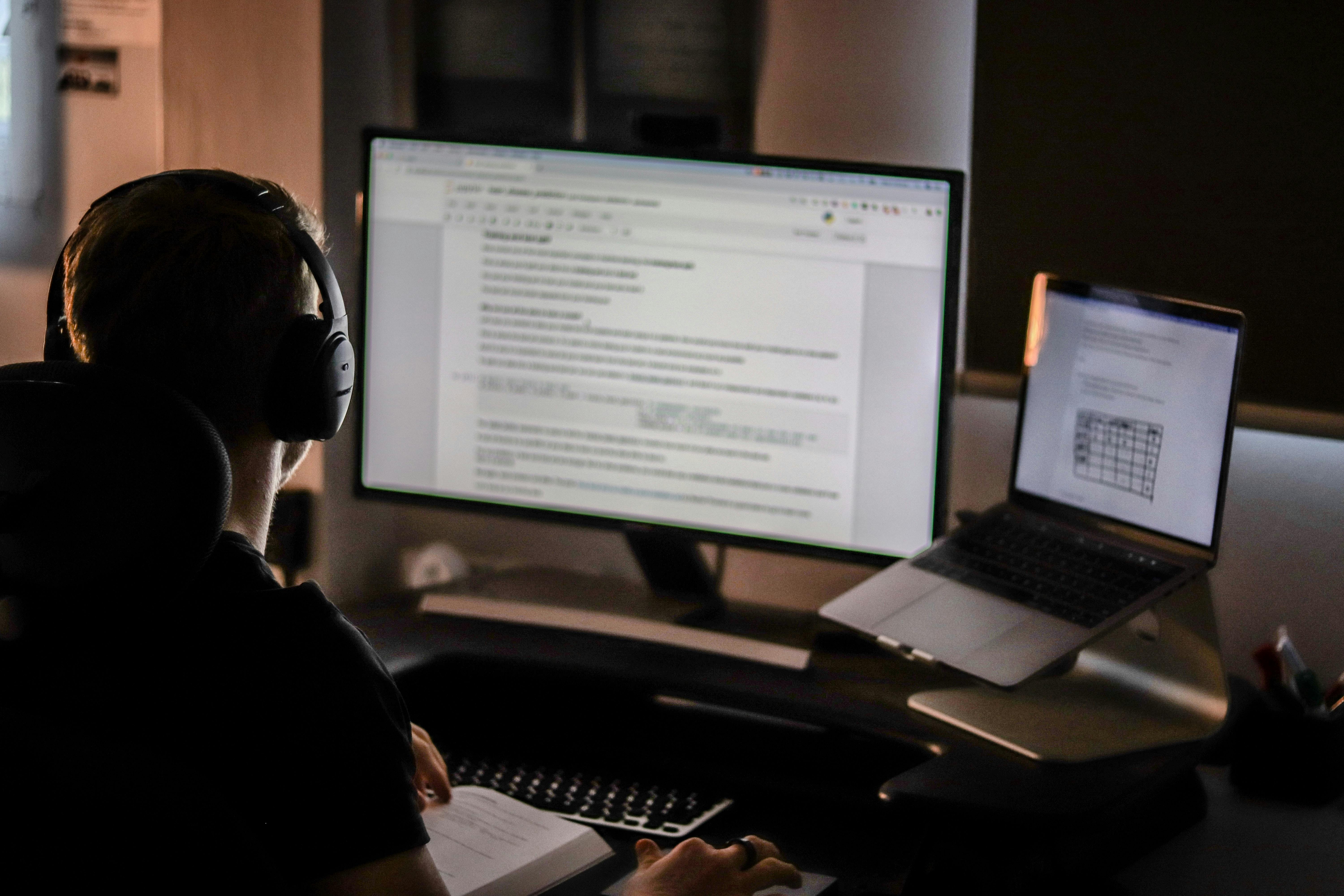 Second, e-commerce platforms are using our very own personal cocktail waiters. AI and ML are being used to enhance search functions as well as matching functions. Data gathered from repeat customers' clicks, purchases, browsing patterns and personal preferences are mined. The data is then applied to personalize search results for an individual user or group of users to determine if your company requires another bartending waiter!
Mobile adaptation
Customers want their online experience to be effortless and unified. To provide an optimal experience for everyone, consider creating a native mobile application that incorporates helpful features. Alternatively, you can choose to create a progressive web app (PWA) and incorporate the beneficial aspects of a mobile app and the user-friendly advantages of a mobile web. Regardless of which route you take, we suggest ensuring your platform's design is optimized for mobile devices.
Enhanced payments 
As the fintech industry is booming, marketplaces try their best to harness as many payment options as possible. They may use credit cards, PayPal, wire transfers, ACH transfers, and even crypto payments--the list goes on. Additionally, a one-click option allows the use of a handy widget for recurring customers to quickly authorize transactions.
Finally, as mobile payment technology begins to reach its apex in trendiness, e-commerce platforms do what they can to make their platforms safe and accessible through these new trends to attract more business partners and make it easier for people to spend their hard-earned money online.
Dynamic pricing
Dynamic pricing can work especially well for B2B platforms. Dynamic pricing falls under a more virtual price model, a rather effective way to operate a business or even a marketplace. Algorithms determine what price to charge based on variables like location, time of day, and delivery speed.
A third-party integration allows an algorithm to predict the price likely to be paid by your users while adjusting with relevant changes such as sudden peaks in demand or various other triggers such as happy hour discounts at restaurants for example! 
Augmented Reality 
Although augmented reality is not brand new, it's still novel. It's only now that some shopping platforms are starting to dip their toes into it. For example, in 2020 Etsy - which sells all sorts of homemade stuff - started supporting AR features on iOS devices for helping users visualize art on the walls of their homes. To increase revenue for sellers, Etsy releases an AR feature making sure consumers can see what each piece of art will look like on their wall using the camera of their mobile device.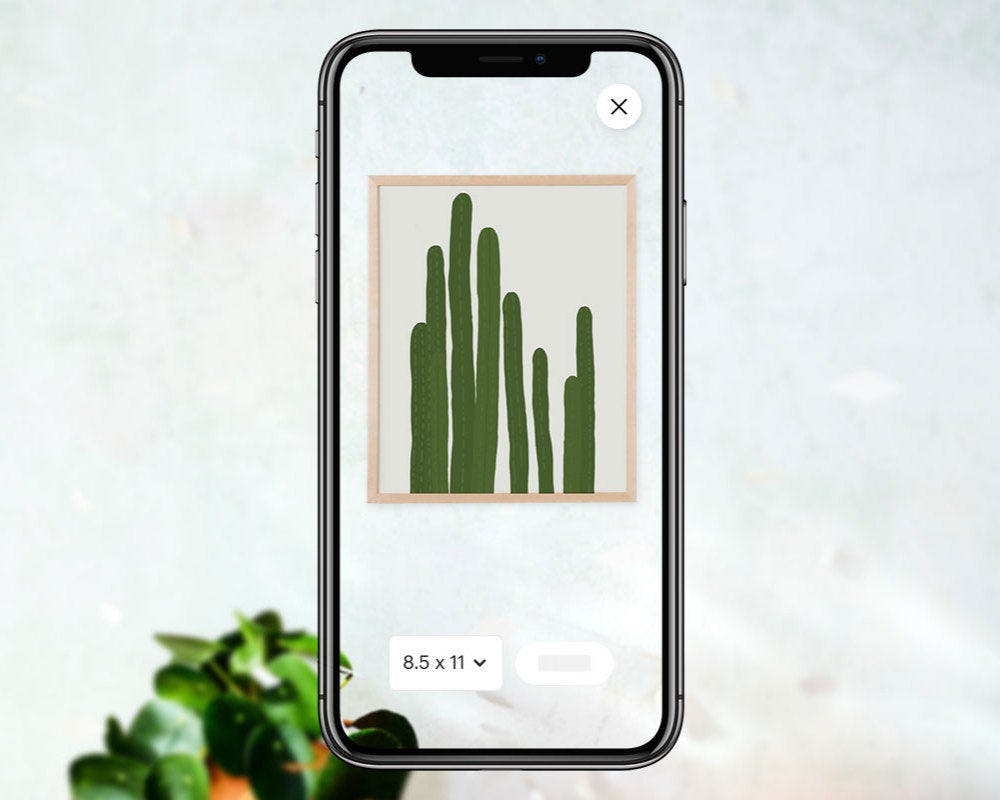 Optimization for voice search
By 2022, the shopping industry will rely heavily on voice search. This feature can change the face of commerce by making the user's experience more personalized and allowing them to save time. That is why it's helpful to try harnessing the power of voice user interfaces (VUIs) for your marketplace, creating a new channel to reach customers. To optimize your marketplace for voice search, you can adjust your keyword strategy. Voice queries tend to be longer and more conversational than text searches.
Conclusion
A two-sided marketplace model can be powerful. This kind of enterprise can begin with an MVP (minimum viable product) that will allow your company to come to market faster and cheaper than if you had to build out both sides first.
To solve the cold start problem, you can start first on the supply side by building up the interface first and limiting access for early adopters until your revenue streams become more stable. Once you've achieved network effect, your growth potential will continue to grow substantially as users flock to your enterprise due to strong referrals from their peers once they see how easy it is to make money with your business model!