During the COVID-19 pandemic, people are increasingly making use of video conferencing apps due to the efficacy of more efficient collaboration with remote work. A recent study predicts that by 2025, 70% of the workforce will work remotely at least five days a month. If you're wondering how to build a video conferencing app and take advantage of this new normal in communication, go on reading the following article!
Video conferencing market overview
Video conferencing tools have become extremely popular during quarantine, as they allow businesses to work effectively no matter where their employees are. Our favourite video conferencing apps are listed below.
Zoom

Zoom is a technology company that has been around since 2011 and was founded by Eric Yuan. In 2020, there had been a huge surge in the popularity of video conferencing because of the pandemic. Zoom reached 300 million users per day in April 2020 because there were 30 times as many daily participants within these particular months compared to December 2019.
Keep in mind that Zoom offers free versions of its service with a 40-minute meeting duration which can be renewed every 40 minutes if no one ends the call first. But premium subscriptions are also available to upgrade to unlimited use at any time!
Google Meet

The meet is a real-time meeting software that was launched in April 2020 by Google. It has made huge strides within its first 6 to 8 months, growing from less than 300 million users in January 2019 to over 100 million users in late April 2019.
The COVID-19 pandemic has influenced user growth, with 300 per cent more users signing up for the app in April due to the outbreak. The meet is designed to compete with similar products like Skype and has become immensely popular almost right after launch helping pave the way for its further expansion into other business-related spaces.
GoToMeeting

GoToMeeting is a great online alternative to holding weekly team meetings in person. It's part of the GoTo suite of online apps that also includes GoToWebinar, GoToTraining and other LogMeIn solutions that allow employees to talk to each other from different locations via their computers, smartphones or tablets.
During the COVID-19 pandemic, however, LogMeIn updated this app so it can be used specifically by healthcare professionals running remote medical appointments and operations. These updated requirements included changes in the security of user data which allow medical operations teams to maintain contact among one another and with patients while complying with government HIPAA requirements.
BlueJeans

Bluejeans is a cloud-based video conferencing service made by Verizon. One of the great things about BlueJeans is how easy it is to use simple interactive features like Smart Meetings. Smart Meetings allow attendees to leave meeting notes and takeaways straight in the app.
According to data provided by BlueJeans, their network experienced a fourfold increase in video conferencing traffic in China and a threefold increase across Asia–Pacific region between January and February 2020. Towards the end of March 2020, they reached around 350% of their pre-pandemic traffic levels.
While many businesses dealt with disappointing revenue declines during this time, most video conferencing apps saw immense increases in revenues. If you are interested in building your own video conferencing app to take advantage of the market opportunity, read on for some valuable tips.
Steps to take before building a video conferencing app
#1 Determine your business vision
First of all, you need to establish a clear vision of your product to ensure it brings real value to users and you. Where should you start:
Define your target audience
Define the audience you're going to target for your video conferencing app. You can do in-depth research to create several customer personas and an ideal customer profile (ICP) to facilitate targeting. Although a customer persona and ICP are similar concepts, these are different documents.
A customer persona helps describe your target audience before you launch your product. It allows for adjustments to be made once the product is live and gathering feedback from real customers. A sample of a customer persona can be seen below: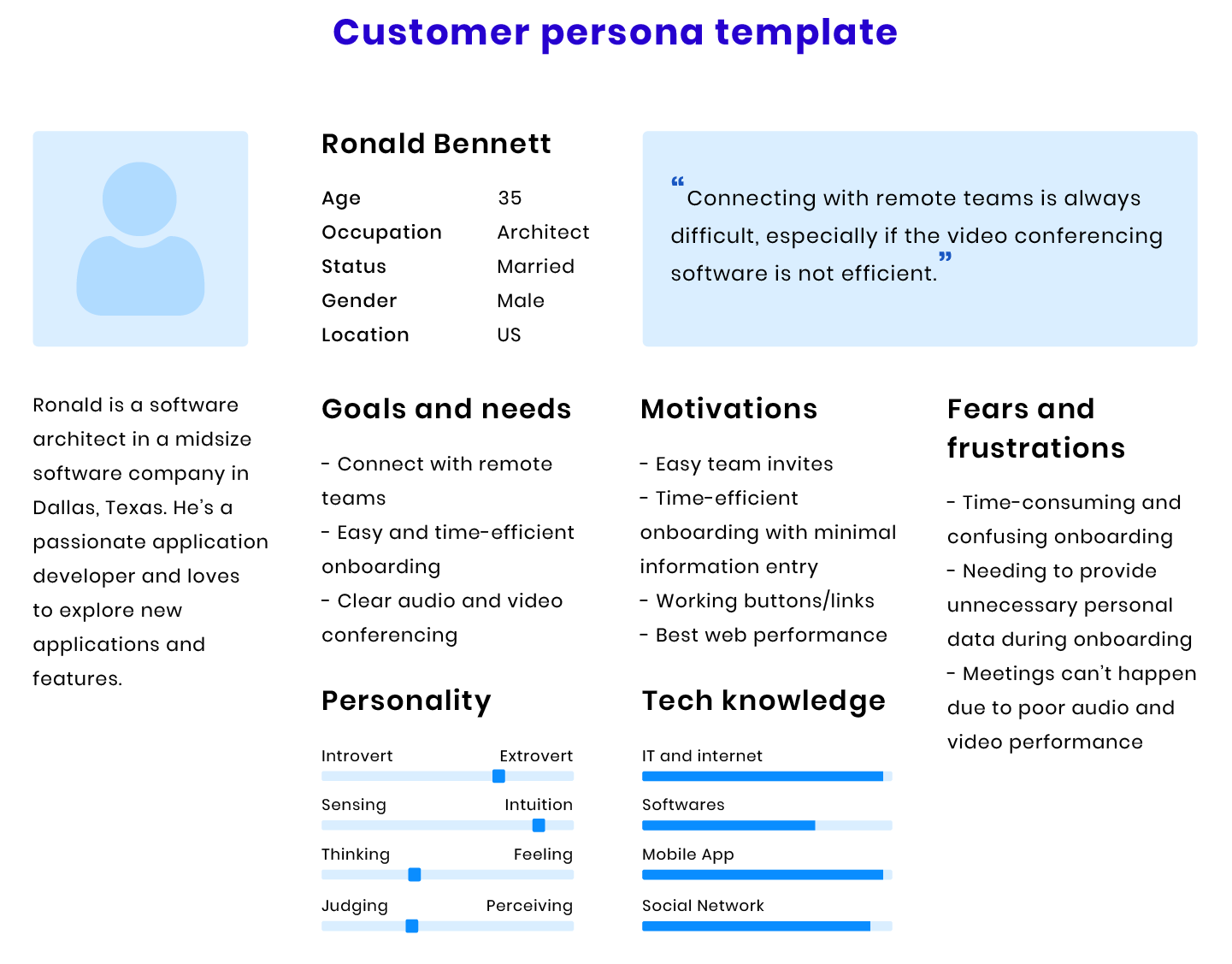 A customer profile is also called an avatar. It's the representation of your ideal user. An avatar should be more than just a photo on their social media page, it should include stats like age, gender, income level and lifestyle. The most valuable part of this exercise is that it helps you to see your product in an unbiased way.
Make a list of your customers who have taken the most successful sales cycle.
Determine what characteristics they have in common.
Prioritize the features that are unique to this smaller segment of your market. After defining what makes up your best customers, you should select the one most significant characteristic among them, which will serve as the foundation for creating an ICP template.
Your ICP should define such customer characteristics as an industry, business size, annual revenue, budget, location and customer base.  You may add other valuable criteria if necessary!
An example of how an ideal customer profile may look: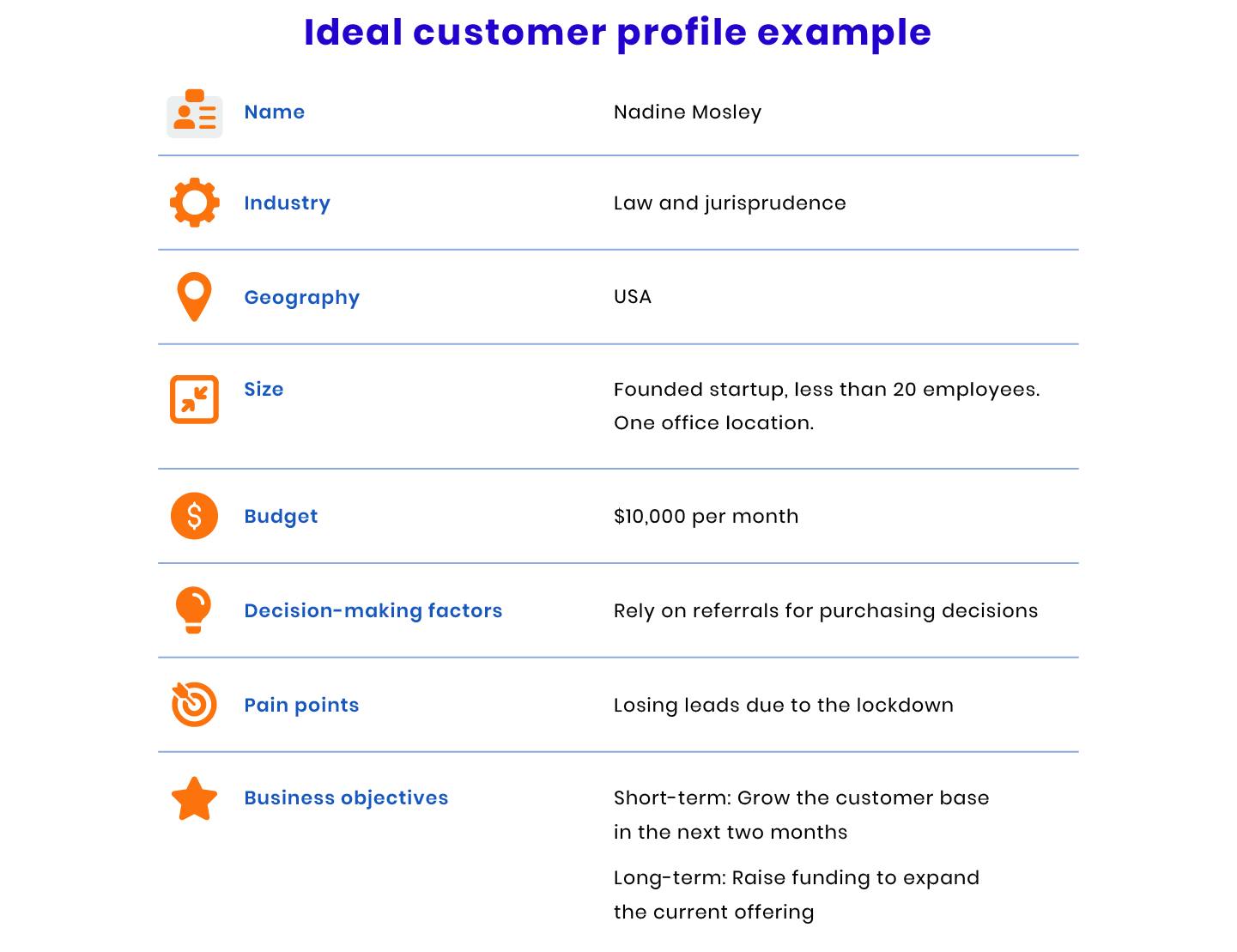 Developing a customer persona is important in ensuring your SaaS product will be profitable. A Customer Persona is similar to the "fake" personas you may have created when you were in school, but need to contain more information about your actual target market if you want to be truly successful. An Independent Consumer Profile can help identify your ideal client and determine their most pressing problems.
Decide on how to get revenue
Another thing you need to consider is your application's monetization model (you can choose between the following options) :
Freemium. This model helps your users get acquainted with a basic feature set for free and allows you to charge for pro features like file and screen sharing and blurring the background. Zoom and Google Meet have adopted this model as their primary source of revenue.
Advertising. A good way to monetize your app is by furnishing it with advertisements. You can do this by inserting ads into the content users view. If someone clicks on the ad, you'll get paid for its appearance on your app. Mobile games like Candy Crush Saga rely on this type of advertising to make money.
Paid Subscriptions. You can also generate revenue by charging users a monthly or annual fee to access your service once they've tried it out initially for free for a certain amount of time (a subset of folks within the freemium market). Business structures like Verizon use PAYG (pay as you go) model expansion methods for their software product BlueJeans.
The choice of monetization model depends on your needs as a business. Many different things will affect the type of model you choose. For example, if you're designing a product that is more effective for healthcare or enterprise users, you might want to consider a subscription-based platform as it would be most suitable for those types of users. However, if you were creating a service where people have irregular usage habits such as social video conferencing - your freemium or advertising-based monetization model would be best suited.
Build an operational flow
The next step is to create a plan for your business. The Lean Canvas is a great way to get the whole picture of what you're doing and how you can improve it, as well as notice any weaknesses that aren't apparent just by using the tools on hand. Startup companies use this tool to ask their target audience what major problems they need solved and add value to their lives - in other words, asking the right questions at the right time!
A Lean Canvas is like a business plan for startups. It seeks to give them the structure and reference they need when trying to figure out what they want their business model or their MVP to be. A Business Model Canvas, on the other hand, is designed for established businesses so that they have some form of reference to guide them in taking on various decisions about their growth strategy.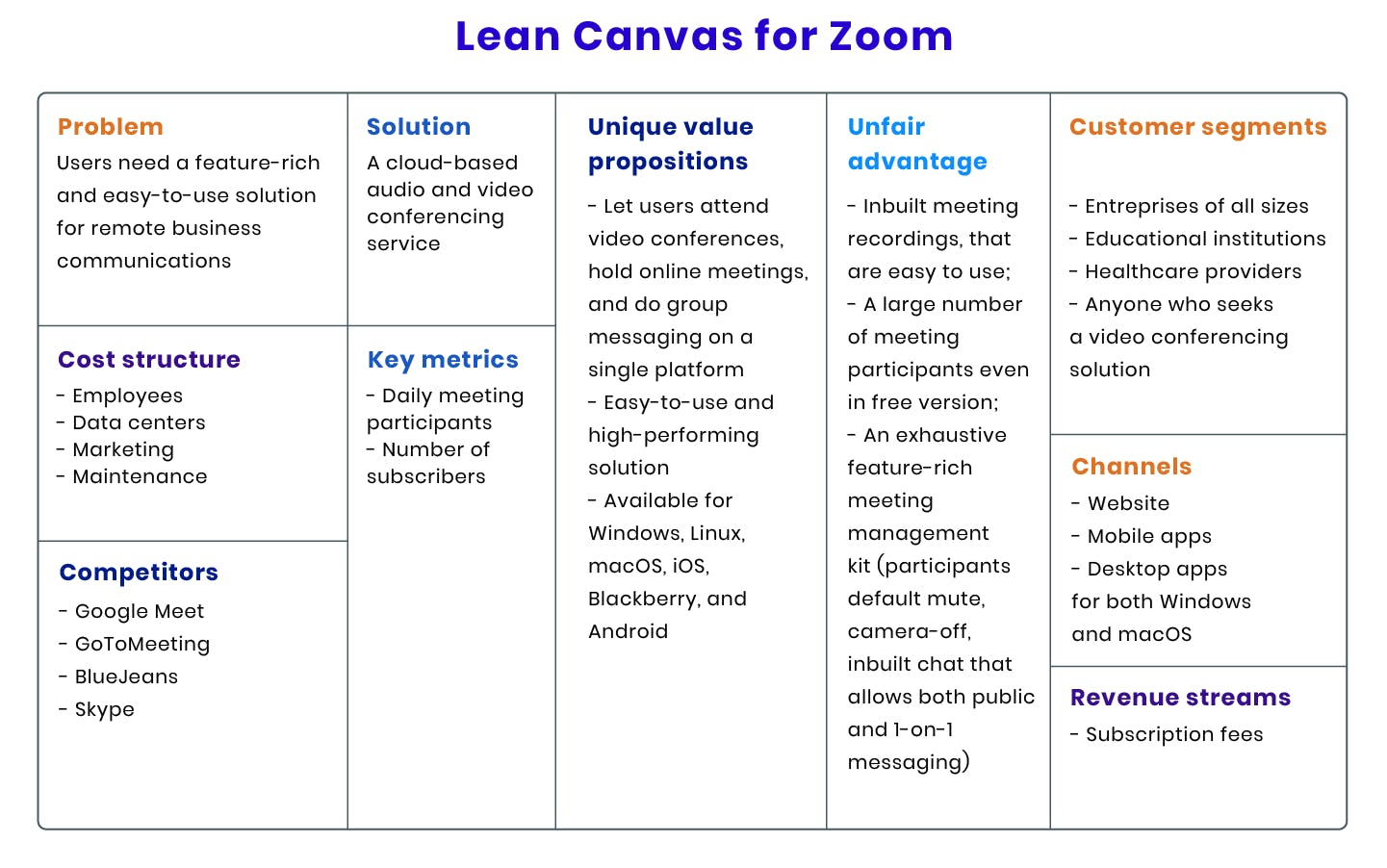 #2 Define your MVP feature set
A Minimum Viable Product (MVP) is a product with enough features to ensure that you can test whether or not your concept has a market value. You should prioritize features that will cover the most common points of interest for your customer base, keeping in mind both needs and wants.
Registration and authorization
When building a registration flow, you should pay attention to the specifics of your target audience. If you provide your video conferencing app to healthcare institutions, you should implement a detailed registration form that will request information like what OS they would like to use or whether or not they plan on shipping products internationally.
 A registration form for webinar visitors should request as little information as possible. It may include integrations with major social networks to enable registration through existing Google, Twitter, Facebook, etc. accounts. You can also offer additional integration opportunities in the form of QR Codes so that attendees may scan them to enter an event with their mobile devices!
Profile management
You need to make sure you allow users to manage their profiles on your video conferencing platform. Some things they may want to do are:
Set a profile icon.
Edit personal information and qualifications.
Manage contact information visibility.
Adjust privacy settings.
Change their location
Pre-call room
Create a web page that allows users to check their audio and video before joining a meeting. This web page should allow users to mute their microphones, disable the camera, set the background image, and enable some sort of video feed so they can see who is in the meeting.
Peer-to-peer and conference calls
One-on-one and group video and audio meetings are essential features to help us get things done faster. Your app should provide an equally high calibre of video quality during a meeting with one participant or with several participants.
Chat
Your video conferencing app should allow users to exchange messages since this adds communication channel during meetings.
Additional features
There are complements features you can implement in further releases. For instance, you can consider implementing file sharing during conversations. Thanks to file sharing, team members can share documents related to the discussion topic and patients can share test results or earlier health exam results during consultations with healthcare specialists.
·       Screen sharing is particularly useful when giving presentations or demonstrating new flows or digital instruments with remote members of your team. It's also possible to use desktop sharing software that allows attendees on the call to remotely control the computer screen of the presenter.
·       Using call recording is another feature that adds convenience to your application because it allows specialists who give webinars and online consultations,, for example, to record their sessions using their own equipment but provide them with a video file equivalent to something they know users are more accustomed to receiving from current market solutions.
·       A mute background feature allows you to filter out problematic background noises like keyboard typing or paper shuffling to concentrate on what's really important.
·       Background blurring makes it possible for your app users to create the perfect backdrop for video chat meetings, consultations, or webinars.
·        Polling can aid decision-making during team meetings or allow customers to consult with their peers about their opinions.
·       Push notifications let your clients take advantage of timely reminders no matter if they're taking part in online consultations, webinars, or team meetings.
#3 Ensure high video and audio quality
Video calls must be of the highest quality if you want to impress your customers. Make sure your app has sufficient bandwidth and CPU to support HD video. It's a bonus if your team employs multi-bitrate encoding to ensure that videos play at optimal resolution depending on a user's device and network connection speed.
Audio quality is key for a positive user experience, too. Engage customers with sound from specially-trained industry professionals - never settle for less!
#4 Provide enough security
To maintain the confidentiality of your users' conversations, your video must conference app support end-to-end encryption. This means data should be encrypted on the sender's end and decrypted only on the recipient's end so that no one can get access to it in transit.
To implement end-to-end encryption in your video conferencing app, you can use technologies like AES 256 or HMAC SHA256 message authentication code (MAC).
AES-256 is a protocol that contains a cryptographic function for securing data. This means the same key is used for both encryption and decryption. AES can be used internally within your business or organization primarily because symmetric keys are more efficient than asymmetric keys and require less computing power.
HMAC stands for Hash-based Message Authentication Code and ensures the validity of information so only authorized users of private systems may access their databases or assets.
#5 Keep compliance in mind
To protect the data of your customers, you need to use encryption. However, encrypting alone isn't enough. When collecting and processing personal information in Canada or Europe (or other regions with similar laws), you need to make sure your product is compliant with the region's individual software security laws.
If your target audience is medical organizations located within the US, you must follow HIPAA regulations to ensure the highest level of protection of your users' health-related information.
GDPR, PIPEDA, and HIPAA are examples of regulations you need to comply with. The list of laws, regulations, and standards you need to follow will depend heavily on your target audience and the specifics of the meetings your users will be participating in. That's why compliance research is required before choosing as there are several things one can look into from legal concerns to industry best practices.
How to build a video conferencing app
Now that you know the basic requirements of a video chat application, let's move forward to reviewing three of the most common ways in which to build the said solution.
Communication platform as a service (CPaaS)
A communication platform as a service is a cloud-based software solution integrating video conferencing features directly into your system. When using a CPaaS solution, you can create a video conferencing app without setting up your own infrastructure and interfaces from zero.
Among the advantages of this approach is the speed of building the application. Since your team uses a prebuilt architecture, you can get your app in front of users in a matter of weeks. In addition, your application won't require any maintenance efforts from your side as the CPaaS provider will take responsibility for maintaining application performance.
The main disadvantage of using CPaaS is that it comes with a monthly cost for what amounts to an unmanaged service where you have limited control over critical components such as scaling and security.
Bespoke development
If you're concerned with having full control of your application, custom development may be a better option for whatever it is that you want to build. Video web applications usually rely on a video streaming protocol – one which enables audio and video calls – to function. Let's review some of the most popular protocols and see how they work:
Real-Time Messaging Protocol (RTMP) was designed originally by Macromedia and has been incorporated into Adobe Flash. Today, RTMP is mostly used for live streaming applications, meaning that it is not stored on a remote server but is streamed as it happens.
RTCP is a streaming protocol for delivering audio and video over IP networks, which is necessary for developing software programs that are used to engage in telephone calls, videos and threaded teleconferences.
WebRTC is a protocol that enables real-time video and audio communication in the majority of browsers and native clients like Android and iOS applications. Developers from Apple, Google and Microsoft support the open-source project WebRTC and it continues to grow as more companies adopt the RTP/RTCP technology.
Apart from choosing your video streaming technology, you should decide on the programming languages, databases, frameworks, and other technologies to use for your product. By building an in-house customized software the biggest advantage is the ability to build what you believe fit best for your own business models.
 However,, developing a product from scratch also takes time and money which are both needed resources are needed to be utilized carefully.
Prebuilt solution
Using a prebuilt video conferencing solution, you get a complete suite of features that comes with also a variety of capabilities integrated into the platform.
Since it's a prebuilt, single point-of-entry to an existing solution, it cuts down on the cost and time involved in getting your video conferencing app built. Plus, you can get an application up and running much faster than if you were going to build from scratch! The good thing is that by building on top of an existing solution, developers freed up more time to add in material that'll add real-world benefit for your video app such as designability and scalability - which both increase revenue opportunities for when it's time to upgrade.
Prebuilt conferencing apps in the market do not have many features in common with video conferencing apps in the workplace that are built specifically for businesses, so when it comes to developing your own custom solution all of the time you save by using a prebuilt app is lost in the development process because every feature will need to be added individually or on request.
Comparison
In the table below, we provide you with a short comparison of the steps taken to create a video conferencing app (see below).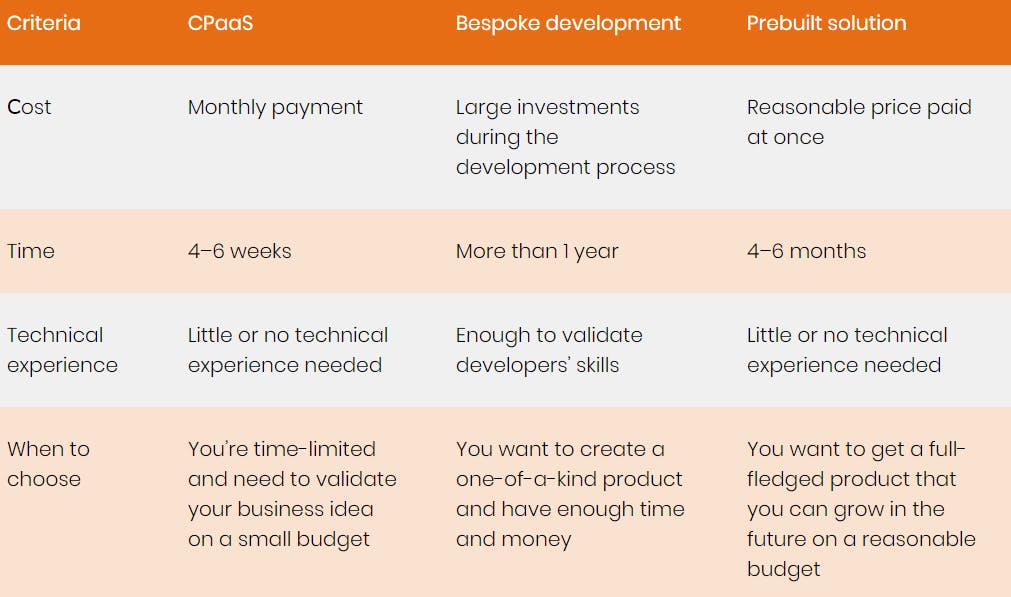 Wrapping up
Choosing the right way to build a video conferencing app can be complicated because of all the possibilities and components that must come together. However, your decision depends mostly on budget and what you already know about building such solutions.