When bringing your digital startup idea to life, focused efforts are vital. The best way to accomplish this task is by creating a clear roadmap for your product or company's future. In the following article, we'll explain how to create an effective product roadmap for your digital startup.
What is a product roadmap and why is it important?
A roadmap is an essential tool for growing and scaling your startup. A roadmap allows you to keep your team on task, aligned, and focused which can be hard when you are looking three months into the future. By outlining specific goals and initiatives to reach them as well as setting deadlines gives startups a sense of direction and allows them to scale at breakneck speeds.
Creating a product roadmap for your startup is truly a great way to help you create and maintain focus as development continues forward. The most essential aspects of a strong product roadmap include:
Taking care of product strategy communication between all your stakeholders.
Helping everyone to understand the business strategy implementation plan at a glance.
Indication of high-level project goals in one place.
Aligning business goals with the technical solutions that will be implemented to achieve them.
Business owners can track their progress against goals by using a new online platform to keep everyone on the same page and quickly address problems as they come up.
In turn, without a clear and comprehensive product roadmap, each member of your team may interpret your product vision differently. This will result in your company falling into disorder and failing because each person is doing their own thing and not working together toward the implementation of your product strategy.
Goal-oriented roadmap
Startups often need to reduce their time to market and check the viability of their business models as soon as possible. Our essential guide will cover how you can formulate and set up a goal-oriented product roadmap that aligns with the Lean Startup methodology. A goal-oriented product roadmap indicates five key areas:
Date – When it comes to completing a certain goal, as an entrepreneur, you should know when your time frame is seeing as how every project has one.
Name – The name of the digital product that is going to be developed, improved or brought on to the market over a particular time frame of your choosing
Goal – An objective that you would like your customers to achieve during a specific period of time.
Features – A list of high-level tasks that need to be completed in order to meet the product goals
Metrics – Scales and measures used to check if a goal has been met
Here's an objective view that will aid you in this process of crafting your roadmap for execution.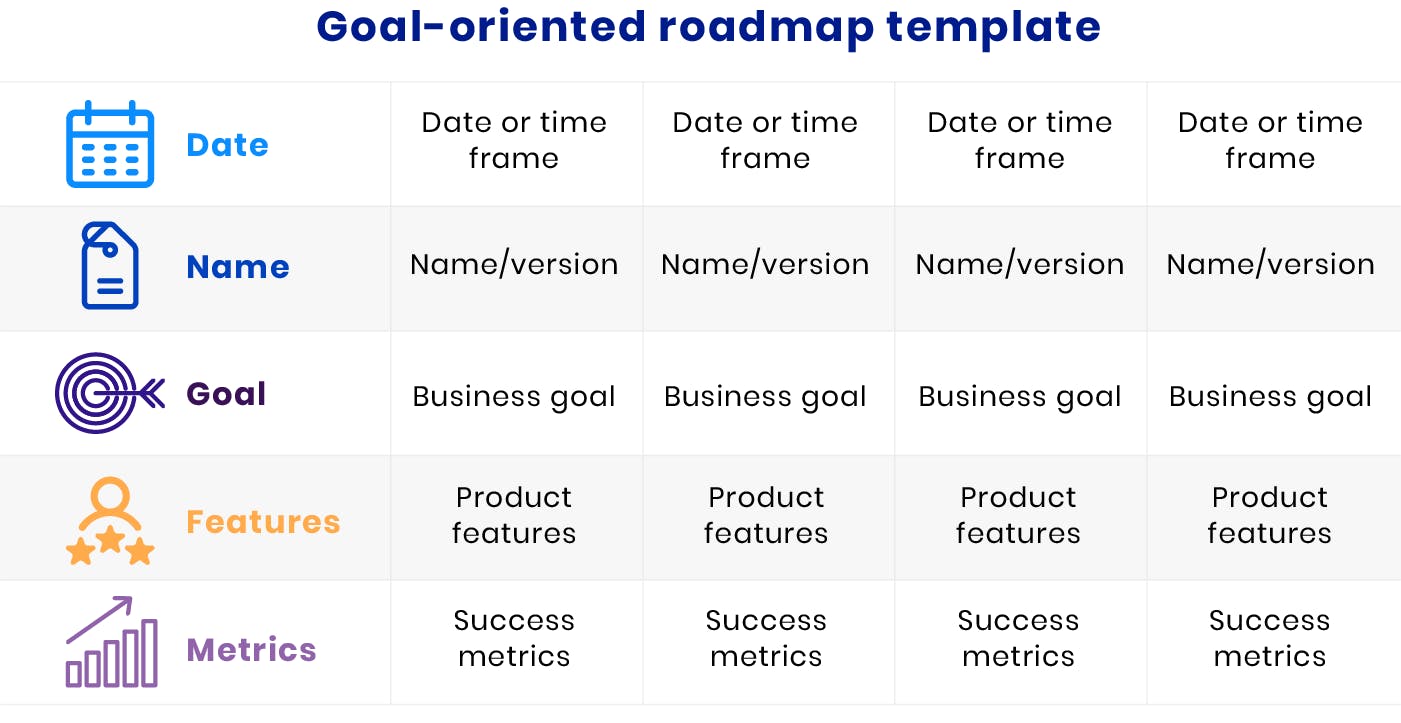 Now that we're aware of the importance of a product roadmap and have a template in place, let's review the steps to create our own lean startup product roadmap.
How to make a startup product roadmap
Even if you have the appropriate roadmap template, you can't simply fill it in without a little preparation. We recommend you look into each detail of the process required to create an effective roadmap and do an extensive review of your plan for success.
Define your product vision
At the very beginning of your project, it's important to ensure the team is on the same page and working to create a successful product. Having a clear understanding of how exactly your product aims to help users along with your values and beliefs can cement your company's place in the industry in the present day as well as how you hope it will be viewed long-term.
A product vision serves as a sort of guideline for everyone involved – even if they're not currently part of your company – that explains why it exists, what its benefits are, and most importantly why someone would want to use what you're building.
Your vision statement for your product should outline the most crucial elements that all play a part in creating that particular product. It includes information about what the end goal is, who your target audience is specifically, why it's necessary and what it solves for customers. To get started, you can use the following template: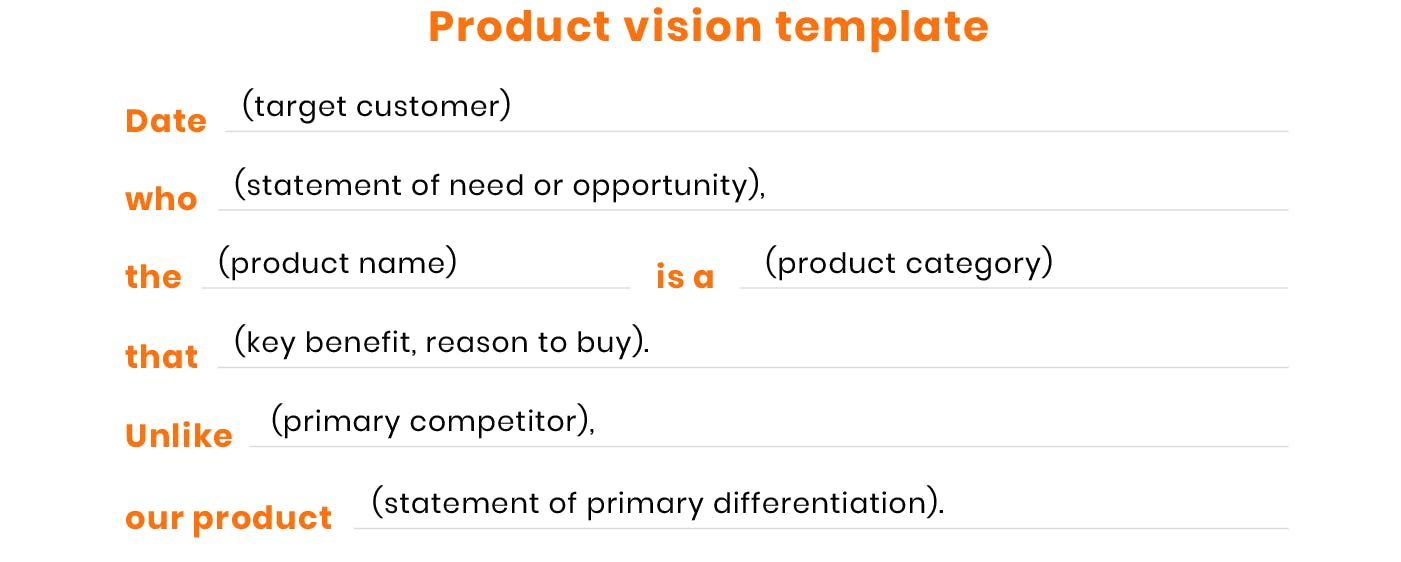 Product vision is like a compass. It guides the ship on which you work – to do this means that your product can be directed and focus in the direction you want it to go - or which you know its target audience needs/wants it to go. This vision must also be consistent with the company's mission, guiding principles, core values and business strategies so that it will continue to be driven by the right momentum in all situations, towards the correct goal.
Build your product strategy
As soon as you decide to build a product that you can bring to market you need to think about how to get people interested in it as your first step. This is why you need a product vision. The product vision will help you layout the big picture of what your product will become and define the direction of your company's activities. Three steps are needed to create value for your users, a market, and a business model – they are the same three steps that every startup founder needs to get right at least once before being successful.
Research your customer.
Draw up a marketing plan.
Validate your assumptions
Step #1. Research your target market
First of all, you'll need to figure out your product's primary target audience and their needs by doing a bit of market research to see whether there's demand for the type of product you want to create. During this research, you should come up with answers to the following questions:
Who are your primary target audiences?
What do they stand to benefit most from purchasing your products or services?
How might your products be competitive in terms of pricing and quality?
Step #2. Draw up a business model
Now is the time to use your research results to create your Business Model. You've already chosen a product to help solve a problem, and are now ready to think about how you'll make that product work for your new business! Use our Lean Canvas template to focus on those areas of your business upon which you will rely most heavily in addition it's customizable so that you can focus just on the aspects of your business model that are relevant to your specific project as well as helpful instructions about how exactly you should use this template to complete your tasks effectively.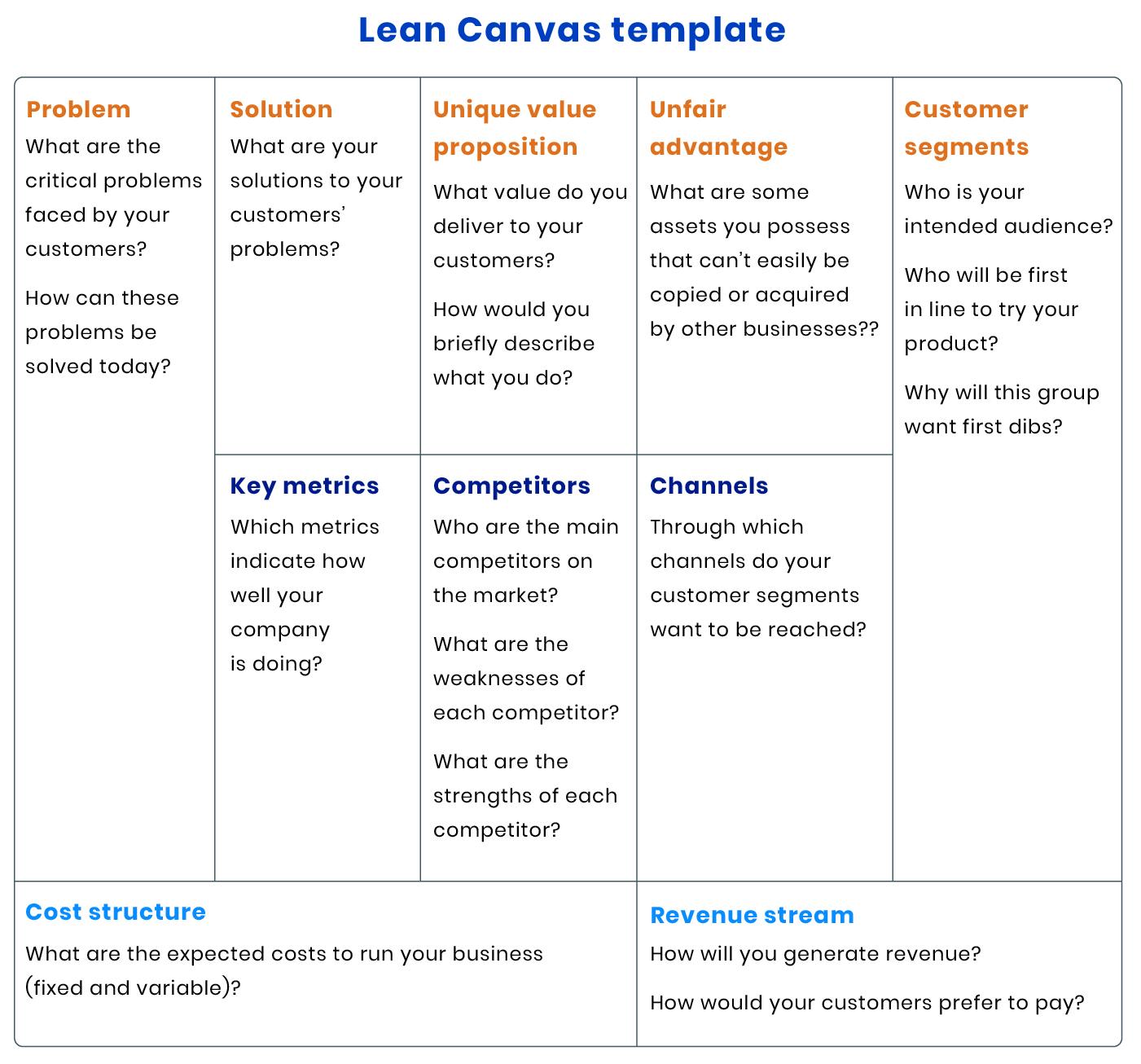 This template comes with ten different sections, each tackling an important element of your business model. Let's take a closer look at each section:
Problem – Indicates the major problems that your product will address in helping your users solve real-world situations.
Solution – Demonstrates how you plan to help your users overcome these issues effectively using what are known as key points to back up how exactly you will accomplish this and form a unique Selling Proposition (USP).
Key Metrics – The key metrics are the main terms of your business. They show whether you are succeeding or not in your project, and give you guidelines for altering it if deemed necessary.
Unique Value Proposition – Indicates how your product solves a problem or fulfils a need. Also, offer them something they won't find with other similar products on the market.
Competitors – Lists your competitors as well as the strong and weak sides of their products.
Sustainable competitive advantage – Illustrates a sustainable competitive advantage that is difficult for your competitors to copy or achieve.
Channels – Shows the channels you will use to deliver product from your company to your customers.
Customer segments - Demonstrates your customer archetypes or personas as well as their geographic, social, and demographic characteristics. It is vital to know your core audience to build strategies that connect with them.
Cost Structure - Points out the expenses needed to run your business, such as staff, equipment, and building fees. In this section, you need to indicate the costs that are the most important for operating your business, identify the resources and activities that are the most expensive and distinguish between fixed and variable expenses.
Revenue streams: Specifies how your company will make money. Your revenue streams show the value for money you will be providing your customers with a product that is valuable to them without overcharging them. Showing where this value comes in will help us figure out your pricing structure.
Step #3. Validate your hypotheses
It's very important to note that your business model is based on a set of assumptions about what you're offering to the marketplace. You'll need to find ways to test these assumptions, and one of the best ways to do so is by providing a small group with your product if you're able to at the early stages of development. At this point, being able to ignite their interest concerning your product's value proposition can provide you valuable feedback that will be important for shaping and refining potential additions or changes involving your business model going forward.
Of course, it's important to realize that some aspects of your business model may not be validated just yet. However, unlike these remaining criteria, your product's UVP and solution can be validated later, which will save you a lot of time and effort. To validate your target audience and UVP, you can enlist the help of potential customers by having in-depth discussions with them - this will give you a better idea of how they might respond to what you have to offer and how they feel about your product's message.
The results of in-depth interviews will show if your hypotheses about your business model are valid. If they aren't valid, go back to step one and repeat the procedure until you get hypotheses that can be proven or disproven thanks to the customer feedback that you've gathered.
Select product features 
As soon as you've set your product strategy, you need to figure out what features will be built into the project's roadmap. When choosing features for your product, make sure to take the results of surveys and in-depth customer research quizzes into account carefully because they are vital sources of information about exactly what solutions your target audience expects from your digital product.
Although you don't necessarily have to build all these features that potential customers ask for, customer interviews are an excellent way of learning how people genuinely think online consumers want their products to work!
Selecting the right features also involves looking at what your direct and indirect competitors have to offer. In other words, check out what their customers say about their products in different places like user forums or websites where those products are discussed. This will help you discover long-standing issues that plague users of competitor's products which you should incorporate into your planning stage.
You might come up with plenty of ideas for what features your product should include, but you won't always have time to develop them all straightaway. You need a plan! One way to prioritize these ideas is to apply the MoSCoW method.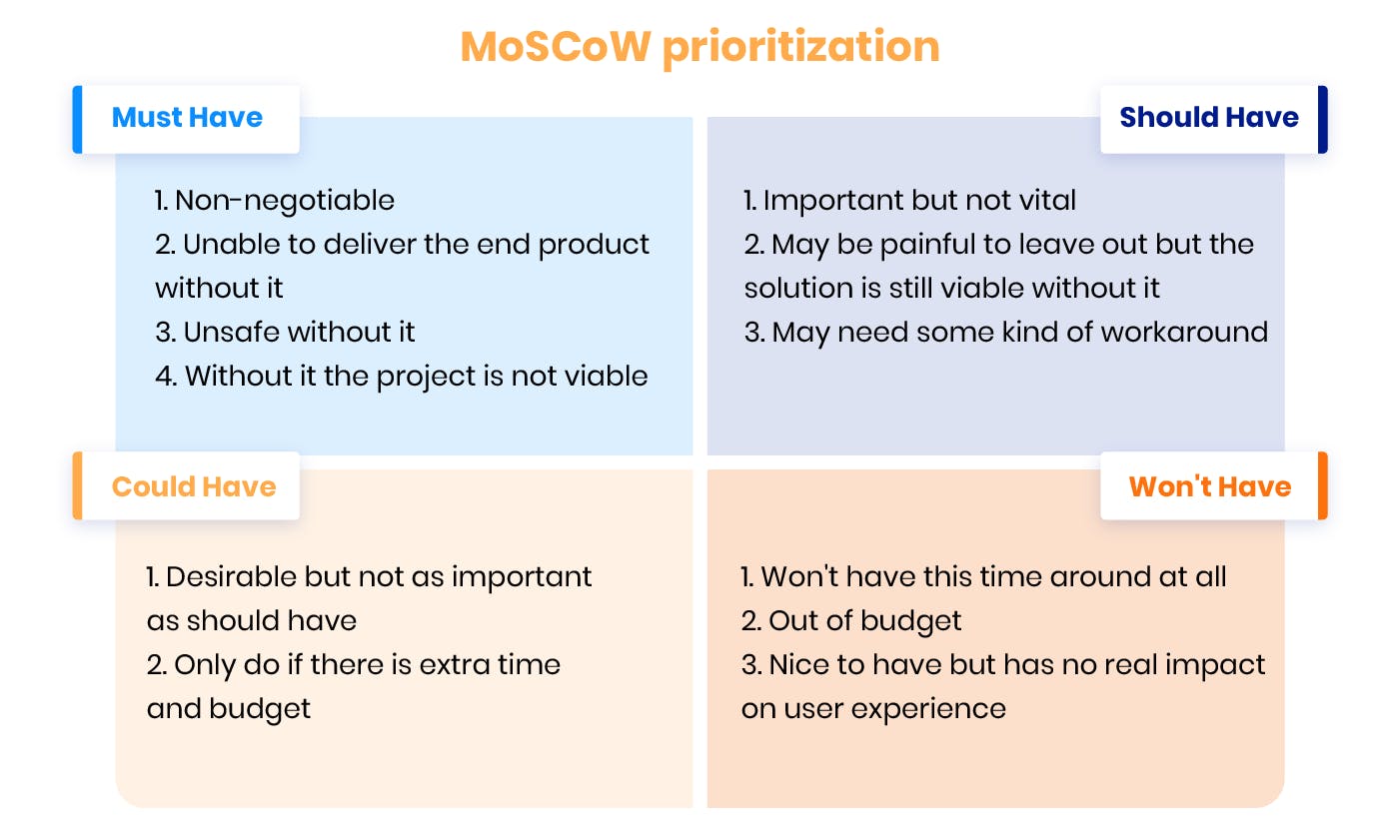 This method involves dividing features into four distinct groups:
Must-haves are features that you need to have. If your product or service doesn't deliver these then it will fail to fulfill the requirements of your audience and be ultimately useless.
Should-haves are features that, though they're less essential, should be implemented as soon as possible because their absence can jeopardize the progress your brand is making.
The same goes for nice-to-haves, which although they might seem very important at first sight and on paper, some of them can probably wait few months or even years before you implement them.
Finally there comes the category of won't-haves which are features you don't need but may still want to add at a later point in time if you have enough resources like money, time or energy left at hand.
In order to create the best possible product, you need to use a prioritization technique. After using that technique, you will have a list of ranked-by-priority features that you can feature in your lean startup product roadmap.
Estimate and plan the scope of work and project budget
To move forward, you must specify what comes next. When identifying a plan for implementing features on your product roadmap , you must also define and assess the level of effort required to achieve each task.
To estimate the scope of the project, you need to involve subject matter experts such as UX designers, QA engineers, and programmers. Collectively you can decompose your product into tasks, estimate them in hours or story points, determine the scope of the project, and thus define what is needed from your company.
Next, you need to create a project release plan based on the number of specialists you're going to hire and divide your project into individual releases. Create a list of what these goals and deadlines should be for each one.
Afterwards, evaluate your timeline based on whether or not the previous stages' work has been completed as well as how long it will take to finish up the final stages.
Create a visual representation of the roadmap
The purpose of a roadmap is to give your team members - and yourself - an up-to-the-minute overview of what's happening with your strategy implementation plan at any given moment. If you're trying to keep your roadmap in a document or presentation, then it can be hard for you to use its full potential. That's why it's vital to find visual ways to display it so that everyone on your team will easily get the picture about what's happening instead of having them sift through pages. With a visual roadmap, team members are able to grasp the "essence" of progress much more quickly and be able to adjust course accordingly so you don't fall behind.
Don't be afraid to experiment with color coding to make connections between items on your roadmap. When using text, try using a large font and writing phrases that are short and to the point. And mind that the more text you plan on using for your roadmap, the less legible and easy-to-read it will become. Don't add specific resource requirements, worker-hours, and story points to the roadmap; better save them for the execution stages of your plan.
Here's a visual representation of a goal-oriented roadmap in action: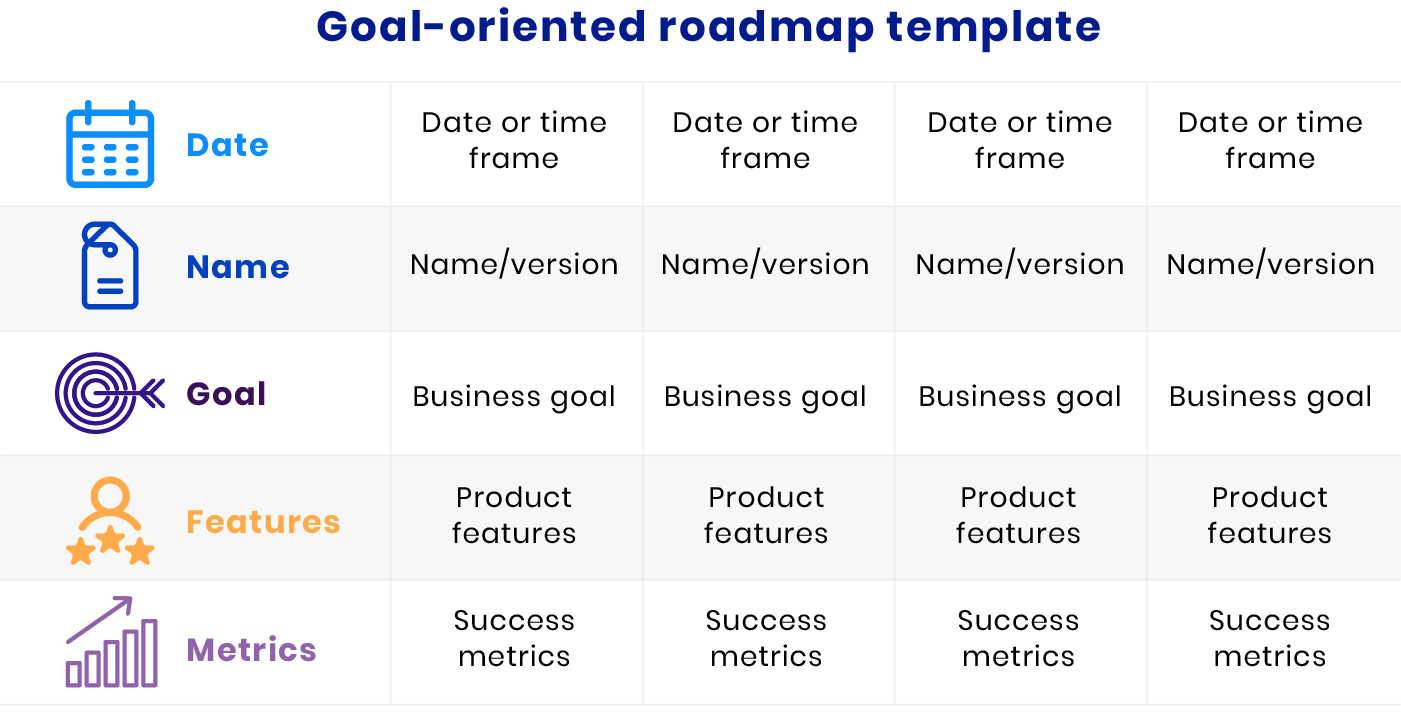 Regularly review and update your roadmap
A product roadmap isn't built once and then left in a corner. It's dynamic and is constantly growing along with your products, if you're doing things right. How often you should update it is going to depend on a lot of different factors, but you should be doing it at least monthly because that's what the survey suggests by ProductPlan found out that more than 30% of companies update their roadmaps every month, making next to 25% do so weekly and another 25% quarterly.
When deciding on when to review and update your own roadmap, take into account the specifics of your product market, project timeline and pace of product development.
Conclusion
A lean startup roadmap is not just written overnight. It's a product of data validation and a systematic product development approach. Having a roadmap that's accurate can help with making optimal tweaks as required. This is why any modifications made to either the project's backlog or its master plan should be highly calculated so nothing slips through the cracks.