If you're an entrepreneur and want to avoid the fate of 90% of startups that fail in the first year after launching, an MVP is a key way to do so. When starting with an MVP, entrepreneurs can receive feedback fast and efficiently, before launching a fully fleshed product or service. This approach allows entrepreneurs to accurately determine their target audience and save significant money. But how can you test your business idea with a minimally viable product?
After studying the materials below, you'll know exactly how to do this!
Reasons to start your product with an MVP
An MVP is an early version of your software house. It's the foundation on which you assemble your product. Starting with an MVP can be helpful in both the case of first-time startups that want to test out their business idea quickly or when it comes to mature companies who are looking for ways to launch new products to validate their business ideas fast.
Netflix is a great example of how an MVP helps validate a business idea. The company started as a DVD rental website that was designed to validate two hypotheses:
People do not like late fees for video rentals and
People will love selecting films to watch through a website while sitting at home and then getting the film(s) delivered by mail.
Netflix started as an MVP in 1997, operating only in a few blocks. The MVP was successful and the business expanded to deliver films to almost 300,000 customers by 2000.
Here are more ways that an MVP can help you optimize your startup: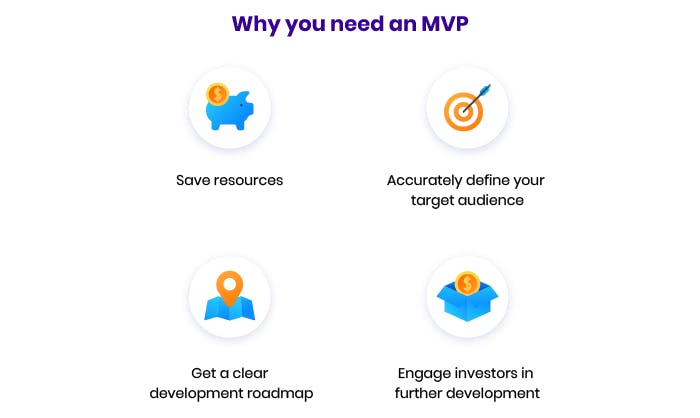 Save resources
It might take a lot of time and money to develop a product with all the features you want. It's not always the best idea to have every desired feature in your product from day one because if it doesn't perform well, there would be no users. A Minimum Viable Product (MVP) is a huge asset when planning out the initial release of your product that allows for fewer resources needed at the onset including both time and money. Some other ways an MVP can reduce costs are:
Fewer Bugs. The smaller you make your MVP, the less chance there is for things to go wrong. This becomes very helpful when launching a product because if something does happen consumers will be willing to overlook it or tell you about bugs in hopes that it will be corrected by the time they reformulate their thoughts on your solution (aka product).
Fast Customer Feedback. When starting up your business idea with an MVP, you can put out real scenarios and test which ideas interest potential customers most and why that is or isn't what people want to see added into the product before the official launch occurs.
Reduced expenditures. Early feedback allows you to quickly understand which features are in or out for your MVP to save money on the cost of unnecessary functionality that does not add value.
Re-purposed expenses. Because an MVP is cheaper to produce than a fully functional product, much of the development expenses are not needed upfront but are instead divided throughout the deployment period - oftentimes replacing money received early on when funding was still low.
Accurately define your target audience 
A recent report by CB Insights concludes that 42% of startup ventures fail because there is no market need, and some even go as far as saying as many as 90% of startups fail. An MVP (minimum viable product) can be a great way to test your business idea on the marketplace and find out what people want most. This approach allows you to:
define your target audience and its problems more distinctly and come up with a superior solution
work through different challenges along the way and think about how your marketing campaign will resonate with prospective clients.
run a marketing campaign that's catered to customer needs.
Looking for an ideal niche market can be increasingly important at earlier stages in your business life cycle.
Get a clear development roadmap 
After identifying your target audience and market niche for a product, it's much easier to determine what features should be included in the final version of the product. By developing a minimum viable product, or MVP, one learns whether an idea has potential value for end-users. Such a tool helps you to find out if a problem exists and if your solution is something that would make a difference to them. It also allows you to get immediate feedback from your early users so that you can see which changes or additions need to be made before launching the final version of the product into the market. As such, you can identify which functionality is necessary and eliminate unnecessary features from being included in the final version of the product.
Many startups began their journey as a service or an idea that they intend to turn into a full-fledged business. Consider Instagram for instance.

Instagram, the most recent social media sensation which was acquired by Mark Zuckerburg's Facebook online empire for $1 Billion, is known to have been created with just one feature in mind: allowing its users to upload square-shaped photos with filters on them to colour correct and add a dramatic texture! The problem many startups face is how to build user adoption and keep this going. The best way oftentimes is through offering a "minimum viable product" - something anyone visiting the website could test out and get an idea if it works or not. This can be done by offering this software for free on sites such as Product Hunt (the recently launched new forum) or ProductHunt (the site dedicated solely to finding great products).
As technology developed and smartphones got bigger, Instagram adapted and changed the size of its app. In 2012 it was originally available only for the iPad, but in 2013 Android users could get it too. Later it went through a few more changes: videos of up to 15 seconds were added; private messages were possible, and the ability to take photos in vertical format (in their original quality) was introduced.
Engage investors in further development 
Investors are cautious when it comes to investing their funds in new startups. If they are persuaded, investors are usually ready to write a check only after the investor gets full assurance that the startup is viable.
An MVP with constantly increasing traction looks convincing and can persuade people to cut a check. Using your MVP you get the first feedback and pique the interest of potential customers who will then tell you if they would buy your product or not.
You have already learned about the importance of MVP, so let's take a better look into that right now by taking a look at some useful ideas for testing the viability of an idea for an MVP.
How to test your MVP
Below, we list several beneficial ways to test your MVP so that you can be sure there is indeed demand for your product idea.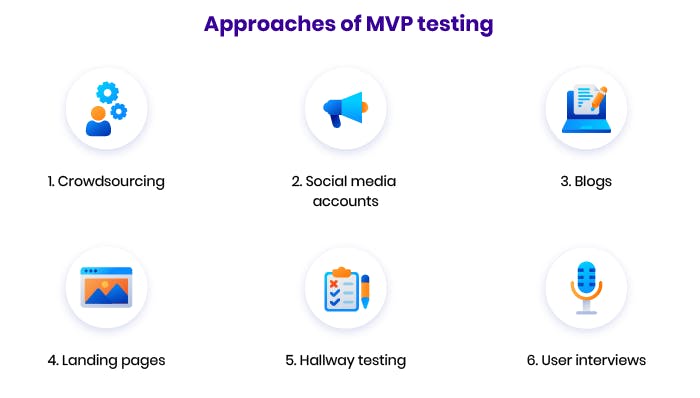 #1 Crowdsourcing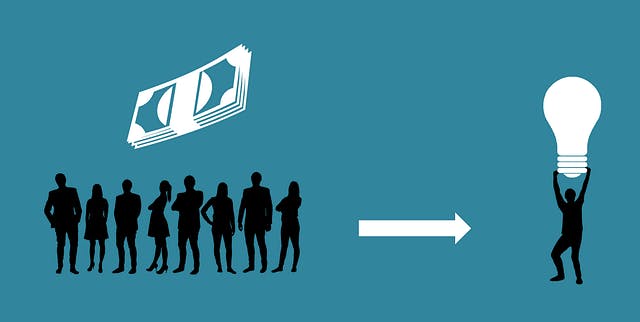 Crowdfunding can be a great way to not only get an idea to take flight but it can be a very insightful way for you as an entrepreneur to check your business concept's appeal. When using a fundraising platform like Kickstarter, Indiegogo, or Patreon there are a few steps one(you) could go about to not only get yourself the needed funds but also to ensure that your idea is interesting and unique enough to help it attract backers interested in helping you get the word out and take your brand/branding up off the ground!
For example, the startup Petcube, founded in 2012, set out to create an entertainment box and mobile app to allow pet owners to keep an eye on their pets while they're out. This pet-related idea received such a good response from the crowdfunding community that it raised $500,000 via two Kickstarter campaigns – two times more than anticipated!
However, a crowdfunding campaign isn't always a success. If you see weak activity and don't get at least a slight investment then it may be worth revising your idea to keep going. Not all first-time founders have enough experience to make crowdfunding work for them.
If you choose this method to test the viability of your MVP, then you must track how active your backers are and what they say about your product. With promotional platforms like crowdfunding, you can also get valuable suggestions for improvements on your product by showing potential new markets that you hadn't considered.
Although reaching out directly to customers would be ideal, there is still some level of anonymity between you and them when using crowdfunding platforms.
#2 Blogs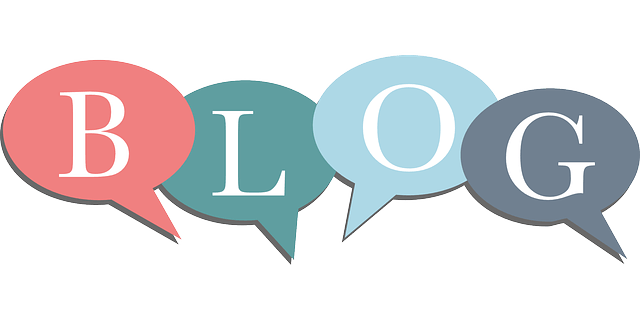 When it comes to MVP promotion, a blog is an effective option. To take advantage of blogging, choose a platform where you'll share posts about your MVP with the world. There are several options. The first is to create a blog from scratch using tools like WordPress or Ghost. This method is convenient because you can create a simple blog without any technical background.
The second option is to publish information about your MVP on public websites like Medium. When you choose this option, you don't need to build a blog; you can just share stories using a personal account.
A blog can be a powerful tool for businesses today. It enables companies to stay closer to their customers and potential clients through the use of more informal yet detailed content about recent developments in the company, but also on individual members of staff, behind-the-scenes stories on the creation of your product or service, details about what went into making your Minimum Viable Product, hiring new staff or any other aspect that might be newsworthy.
To conduct MVP tests, ask readers to subscribe to your newsletter via email. This will make it easier for you to understand how many people are interested in your product. Analyzes the data found in subscription lists and conclude who might want to move ahead with your product and want it so badly that they would not mind signing up for anything.
#3 Landing pages
Landing pages are one-page sites that provide detailed information about a product and include various calls to action (CTAs) - buttons that nudge visitors to take the desired action. They're great tools for attracting organic traffic to your MVP, but only if the landing page contains useful and high-quality content on all of its pages.
When creating a landing page for your MVP, include a short description of what your product is and what it does as well as the benefits it can give to your users. To test your MVP idea, provide your software product in return for users' emails. This will provide you with emails of your potential customers and a communication channel through which you can directly provide product information. -
A successful landing page example that shows how to use this method to validate an idea is Buffer's campaign. Joel Gascoigne, the founder of this start-up, decided to see if people wanted to have access to scheduling tweets earlier on in their process.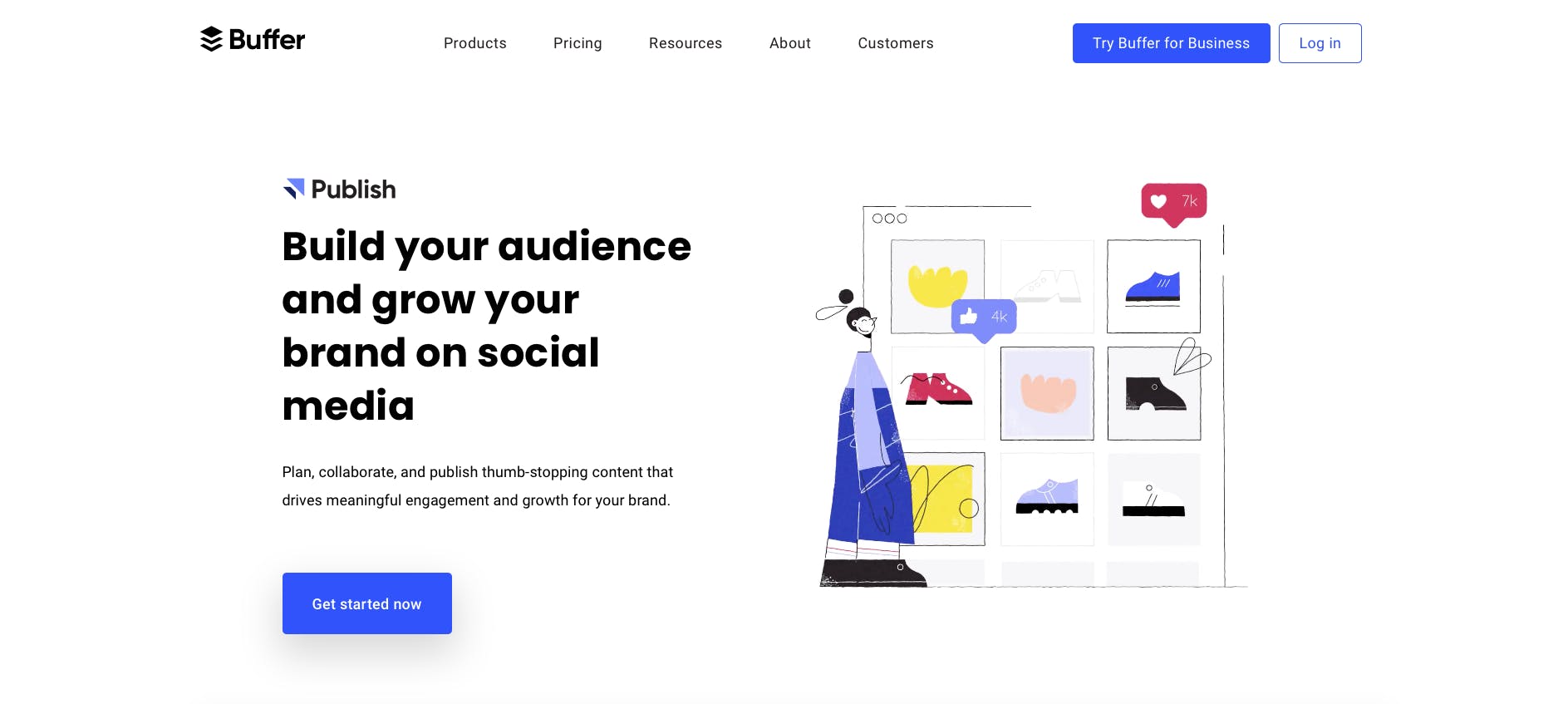 Joel has posted a message on Hacker News describing the idea behind Buffer. He's got 20 visits to his landing page after 3 days. He'll keep developing the landing page until he gets 100 visitors or until 4 weeks have passed.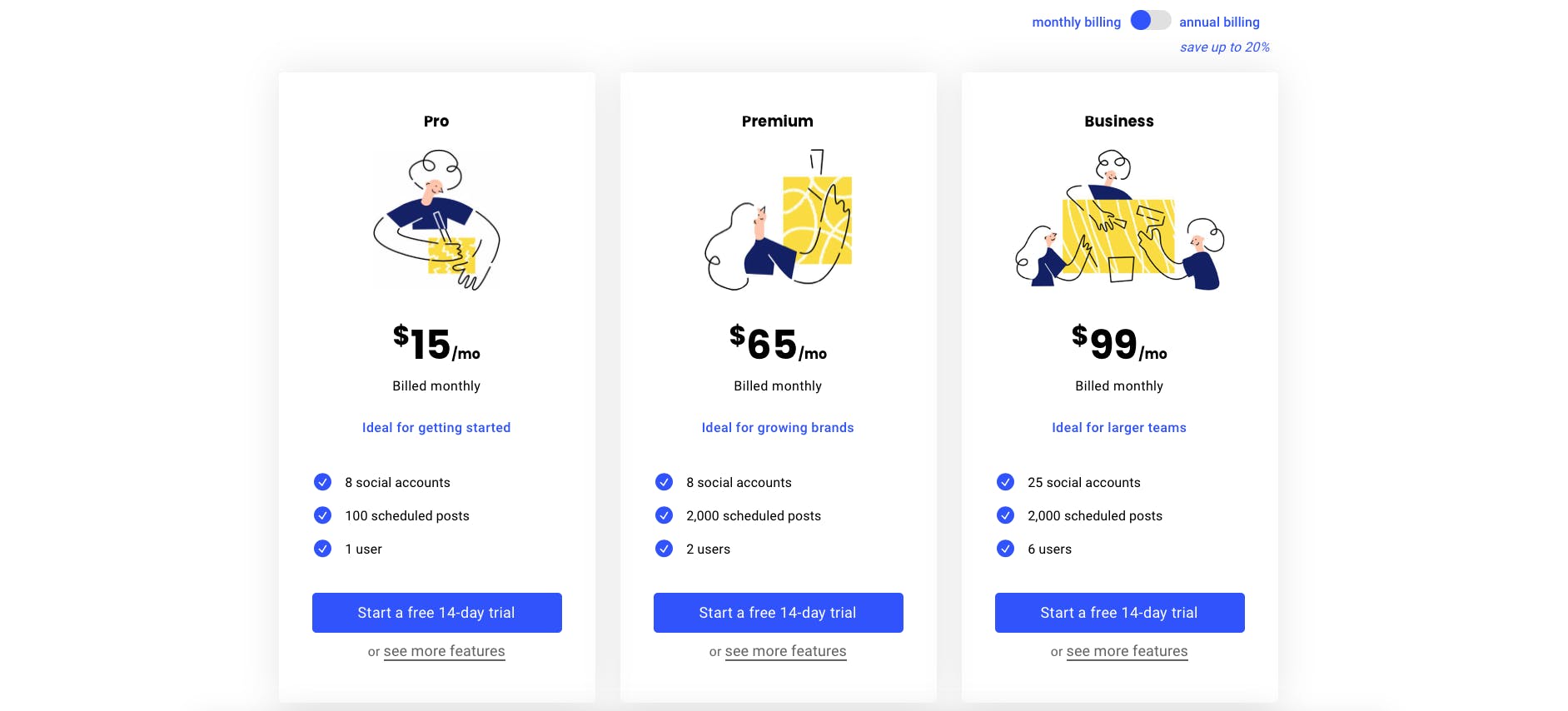 A landing page may be one of the quickest, least expensive ways to get an understanding of idea validation. There are many platforms you can look into while creating your landing page. It's important to remember that getting people to signup for your newsletter or simply an email address is essentially validation in itself.
Choosing a platform for creating a landing page for your startup can be quite challenging. If there are financial limitations, you can start with Wix free version. However, to get access to more templates and tools, one would need to opt for paid subscription plans to save on costs. Another option is LaunchRock, which offers the upgraded premium package at $5 per month while the free version has all the features necessary to create your initial landing pages MVP.
#4 Social media accounts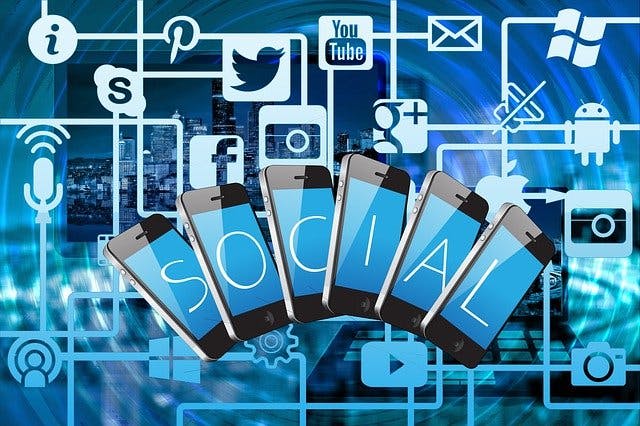 Since social networks are a popular avenue for communication, they can be a useful tool in your MVP test-flight. Choose the platform that best suits your target customer base and promote your product or service there in a way that makes it easy to access. Evaluate the response to ensure the message about your product is coming across the way you want to present it.
Demonstrate your MVP on social networks and include links for users to try it out. Post photos of your MVP. Explain its features and tell what kind of benefits users can expect when using this software solution. Thanks to the tools built into social networks, you can:
Analyze the number of likes, shares, likes, downloads, mentions, subscriptions etc., to find out if your target users are interested in your product.
Communicate with your potential audience using comments or private messages to discover what features they want to add or what problems they encounter when using your MVP.
Start focusing on your target audience by analyzing the whole picture of the audience based on collected data.
Users are typically more active on social networks compared to blogs and landing pages. By promoting your MVP on social networks it will be easier for you to reach your potential audience and analyse their reaction to MPV.
#5 Hallway testing
To check how accessible your MVP is, you can use a technique called hallway testing. The main premise of this method is that you have a few friends stop random people who are passing by in the hallway and ask them to test the usability and intuitiveness of your product for the first time without prior notice. You should ask these people to complete several tasks to see how they cope with certain features or UI elements. If they have difficulties getting past a screen or step, it's worth considering changing some features or UI elements of your MVP as a way to make it more accessible.
Hallway testing, otherwise known as "whiteboarding", allows us to determine whether the designs made by our app development company live up to your expectations and make sense to users.
#6 User interviews
One of the most effective ways to discover if your MVP is dealing with users' pain points with high accuracy is to ask the right people.
As an option, you can demonstrate your MVP at conferences and gather people's opinions about it in person. However, this approach is time-consuming and less informative. Here are several ways to collect comprehensive data at minimal cost:
You can start by compiling a list of potential users on social networks and you can offer them the chance to use your MVP. After you do, you can ask them several questions concerning your product and analyze their answers.
You additionally could employ built-in pop-up banners or notifications in your mobile or web MVP to ask users if they like your product. To conduct such a survey in a fast and non-intrusive way, make use of a star rating system or thumb ups and thumbs down symbols.
If your MVP is a mobile application released on the App Store or Play Store, try analyzing the number of downloads, your app ratings, and comments. This method allows you to find out if your audience likes your application, what features they don't like, what features are lacking but expected, and what features are worth changing.
The main goal of this testing method is to collect a lot of data from real users. The more information you collect, the more chances you'll have to find your niche and decide whether there is enough market demand for your product and avoid additional expenses.
In conclusion 
MVP stands for a minimum viable product. These are the first steps you take that help you lead toward your creations' completion. You can't always predict how things will turn out, but only by investing time and effort into testing can you eventually discover whether there are still changes to be made. We've included valuable MVP test examples in this article so you can compare potential statistics of your website or a new app or create valuable sources for reference materials.