A startup can only be successful as a team, similar to an orchestra, where every individual's contribution and performance truly matters. A team is a key to success. The roles are like necessary instruments; if one instrument misses the ensemble doesn't sound harmonious. Similarly in a startup company, all members of a team must work towards making their business a success. So let's discuss some key positions in a startup company. First off - CEOs and founders!
1. Product manager position
Position overview 
The product manager is the chief product advocate. They are responsible for carrying out the functions of both customer and market research along with building, prototyping, testing, and commercializing a product.
Market research entails understanding how the company's proposed new product will be used, and how users will react to new features or enhancements.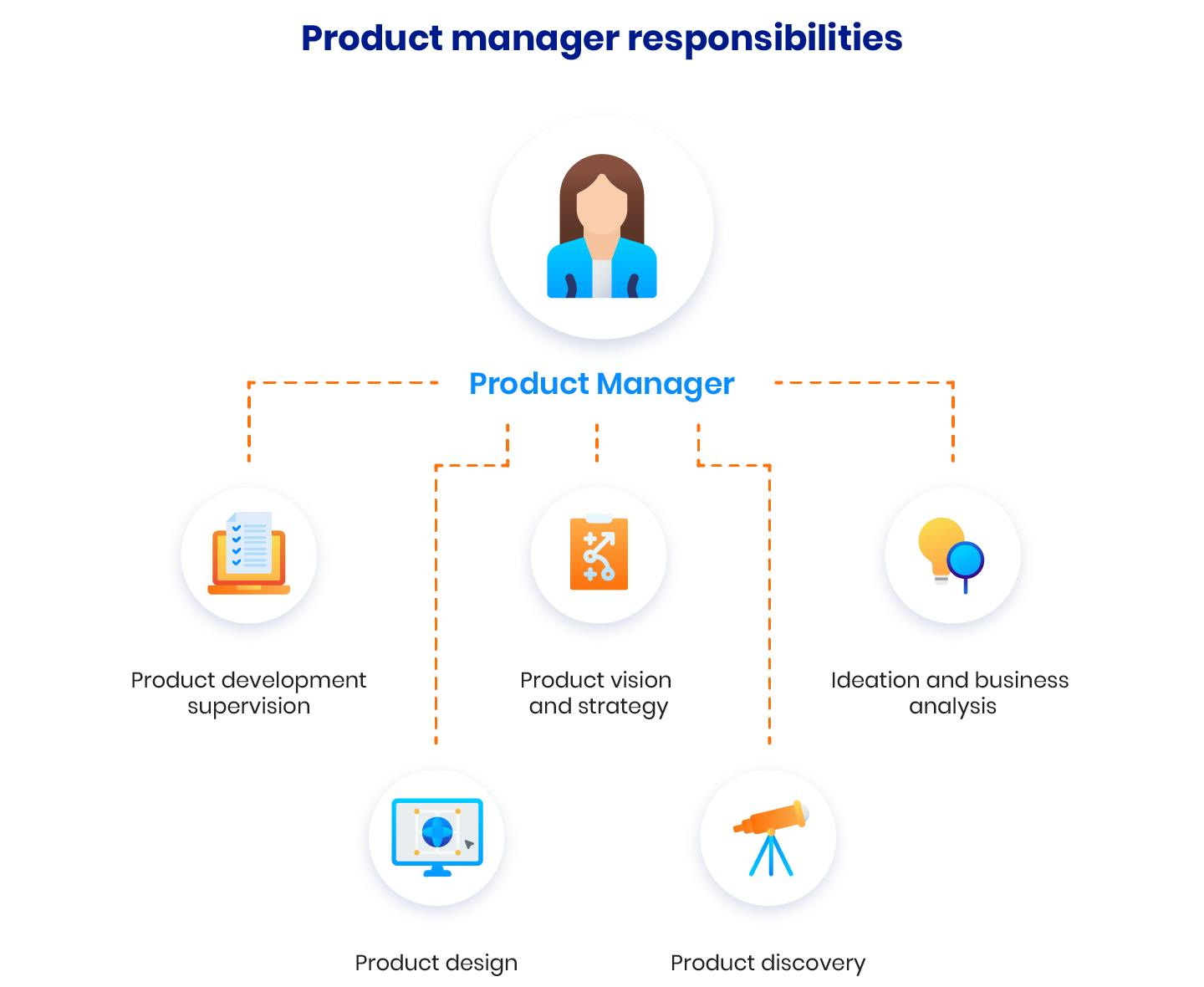 Create a product vision and strategy 
In a startup, product managers work with designers and engineers to lead the development of new products. In particular, they:
Help set goals for what the product should do and how it should do it
Formulate a strategy and inspire their team to follow that strategy
Perform product discovery 
The product manager's goal is to state the problem that their product will solve and define the target audience who need their product. In order to do this, they:
Create a business model
Perform market analysis of competitors, and compile estimation of the target audience's needs and wants.
Determine what the startup product can offer as a solution to the customers' requirements, then concern themselves with defining a solution in terms using specifically defined terminology.
Identifying elements which the startup product must incorporate into its feature set in order to excel.
Estimate the project budget and set up a team.
Start working towards the project schedule baseline.
Be sure to define and develop your MVP scope.
Carry out ideation and business analysis 
Ideation and business analysis is a process that repeats from release to release. Product managers seek to execute the business strategy at each stage, and in doing so define the scope of each release. For this, they:
Collect, review, and prioritize hypotheses based on industry trends.
Define a feature's concept based on market conditions.
Prioritize feature development tasks so that top features can be developed faster while not neglecting lower priority ones in case time management constraints pop up along the way.
Assign and groom tasks.
Design the product and approve the design 
The product manager's role is to make the product come alive. Their goal is to:
Define, manage, and prioritize functional and business requirements.
Perform data modelling.
Approve the final UI/UX solution as the product manager is accountable for it.
Supervise product development 
A Product Manager is like a movie director. They make sure that all the elements of the product (whether that be the script, storyboard, props, etc.) meet their vision and strategy. They also are in charge of overseeing how something is built within their team in order to ensure that it meets key requirements such as functional, non-functional and business requirements.
Key product manager hard skills 
As a multifunctional role, product managers should have knowledge and expertise in:
A thorough understanding of the market. Product managers should understand the industry and target audience. The product manager should be able to analyze the competition or marketplace and identify areas for improvement or innovation.
Creating business models is an important aspect of a product manager's job. A product manager would define the value proposition of their product based on customer needs and market factors. Key elements to this include the definition of different target markets, establishing the best pricing model for each market, and choosing an ideal channel through which proposed products can be sold to each key segment.
Customer development. A product manager needs to be able to conduct market research, conduct customer validation, and be able to create a market plan.
A product manager should be well versed in the fundamentals of the actual product, its design and development. A good PM knows how to tell a good story and can create a roadmap that outlines how the team will achieve success.
Requirements engineering. A software product manager should be able to think like a salesperson and create business, functional and non-functional requirements.
Data modelling and interpretation. A product manager should be able to develop a data model that includes an entity-relationship diagram (ERD) and a data dictionary.
UX design best practices. A product manager needs to observe their target users and be able to structure a product that will appeal to their specific needs.
A product manager should be able to manage their team and the work that they're doing. They should know about building and managing a team, how to divide up work through a task list, how to set deadlines and expectations, and know when to change or remove tasks as needed by project management best practices such as in Scrum.
Key product manager soft skills 
A product manager's soft skills should include:
Problem-solving "muscle" is as important as smarts or technical ability when it comes to making products that sell. A big part of every product manager role is getting in on the floor and putting your mind to the problem - whether it's creative, logistical, or financial.
Great communication skills. As a product manager, it's vital that you're able to speak effectively and convey information in a clear manner on a daily basis to those who need it, whether that be members of your team or even customers and stakeholders.
Leadership skills. A product manager needs to generate confidence and excitement in their team members, leading an organization into a new direction full of innovation and teamwork.
Agile decision-making. Issues can easily arise when business owners are too slow to act and bear the responsibility entirely on their own backs. It's beneficial for business owners to learn how to make appropriate decisions quickly with an effective course of action in mind before things get out of hand.
Competitive intelligence. Increased competition is an integral component of the tech market. A product manager with competitive intelligence skills can help their product stay ahead of their competitors' products by observing industry trends and using that information to make informed tactical business decisions.
2. Technical lead
Position overview 
A Technical Lead is responsible for making sure that technology, along with everyone who's involved in the product, works together so that it aligns with what we're trying to achieve. They make sure the software works properly.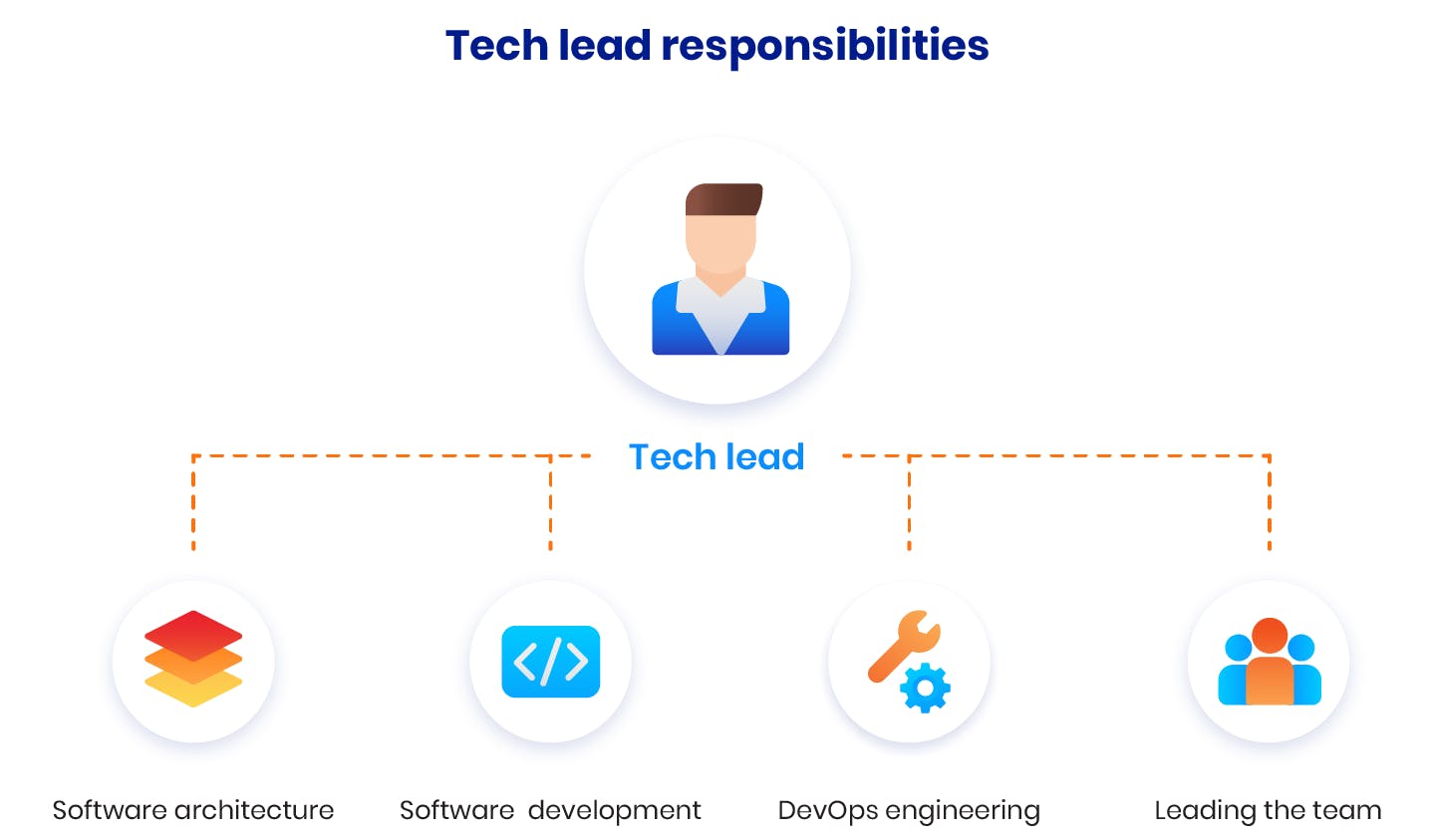 Building the software architecture 
The tech lead is the key software architect in a technology startup. They:
Design and implement a software architecture
Choose a technology stack, and maintain good development standards.
Design and develop infrastructure.
Pick a development language.
Design and build a database
Software development 
Before your tech startup gains momentum, a tech lead may be the only one writing the code. A good tech lead needs to:
Create an MVP
Use APIs
Manage third-party services
Writing software documentation.
Leading the technical team 
As companies expand, the role of tech leads changes from leading distinct teams to managing a team as one. At this point, tech leads need to:
Hire and train professionals that will comfortably mesh well with each other
Decompose tasks for developers into smaller bite-sized pieces, plan some sprints during which they effectively arrive at deadlines and hit quality benchmarks
Organize the delivery process with Agile methodologies and improve team performance.
DevOps engineering
A tech lead is like a good leader. They need to have a certain level of skill in all facets of their craft so that they can properly set up their team to operate at maximum efficiency. A tech lead should be able to comply with:
Setting up a streamlined deployment pipeline
Making and executing safe and downtime-proof software releases
Managing projects including the assignments of tasks to specific people on the team
Key tech lead hard skills 
In terms of hard skills, a tech lead should have:
A broad set of programming languages under their belt (you know wide that a tech lead is often responsible for being a full-stack developer).
An understanding of more complex architectures.
Knowledge in database architecture as the decision they make have far-reaching implications for others in the team.
Experience working with APIs and SDKs.
Experience creating internal tools, workflows, and integrations for the team.
Experience deploying software to staging and production environments.
Experience configuring continuous integration tooling.
Key tech lead soft skills 
Soft skills for a tech lead include:
Leadership and communication. Being a tech lead requires not only excellent coding skills but also good leadership skills. A tech lead needs to manage the team in a way that allows for delivering the product quickly and effectively.
Effective decision-making. A tech lead has to make important decisions about new technologies and allocating resources to carry out projects.
Entrepreneurial wisdom. As your startup grows, it becomes more and more necessary for product managers to support their product-related decisions with research, data science & design thinking, and connections to the wider industry.
Strategic management skills. As chief executives often depend on product managers to present a clear vision of which business goals are most important & how these goals should be achieved at any given moment in time, it's necessary for the leader or CEO to have a strong knowledge of strategic planning so that they can best understand what role each person is best suited for based on their individual talents.
3. UI/UX designer
Position overview 
A UI/UX designer is responsible for how consumers experience and interact with the product. Furthermore, they are responsible for its feel and look.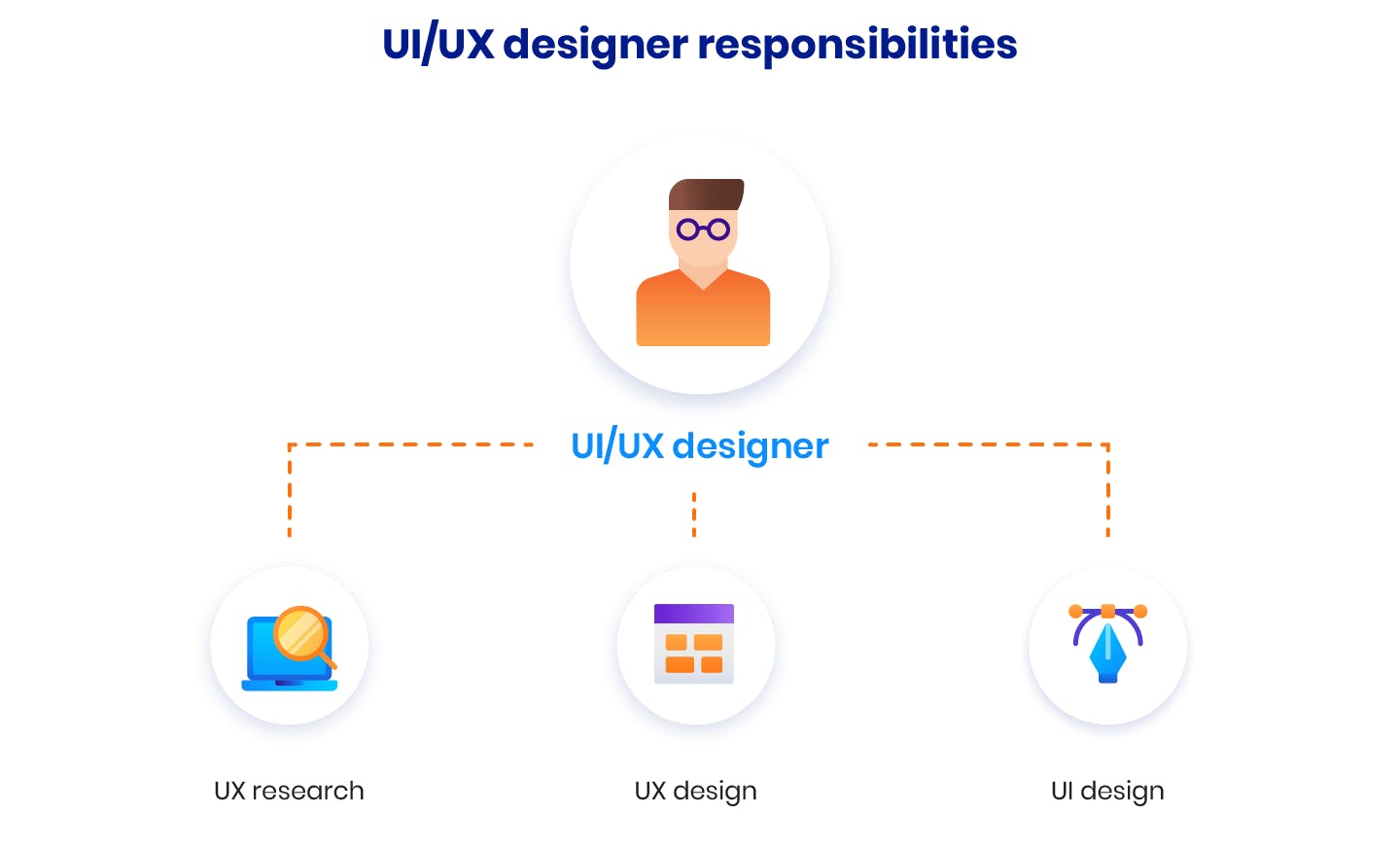 UX research
User experience research is a core part of a designer's activity, assisting them in defining the scope of the project and it's goals. A UX designer:  
Researches target users.
Analyzes market trends to help you determine new requirements based on market feedback.
Performs competitor analysis.
UX design 
The goal of any UX Designer is to develop a full range of UX prototypes that can be used to produce the product's UI design so that everyone knows how the finished product should look. The responsibilities of a UX designer include:
High-quality design.
User experience.
Wireframes and prototypes.
Testing and usability evaluations.
UI design 
A UI/UX designer develops a user interface for your product using tools like Photoshop or Sketch. A UI designer:
Develops and implements a mood board & design concept.
Creates a mini prototype of the final project that is either applied to the app page in-house, sent to developers on wireframes and specifications, or saved in an online library.
Key UI/UX designer hard skills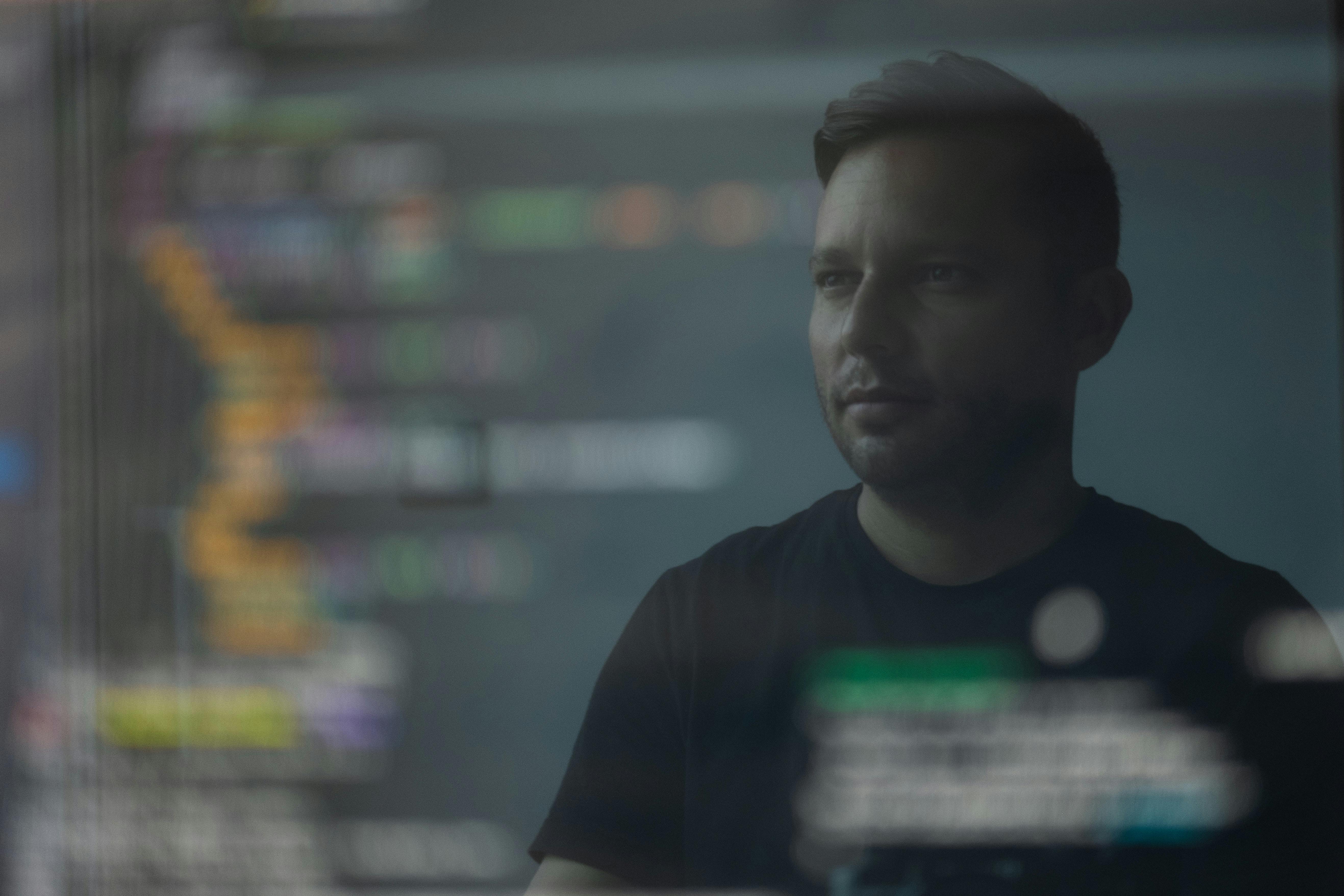 Understanding of the fundamentals of software development.
Being able to work according to an agile methodology.
Awareness of current design trends.
A great UI/UX designer should know what it means and have knowledge about how to build as well as maintain a product that focuses on both form and function in current day innovation spaces - without sacrificing one for the other!
Experience with design thinking processes
Experience with system and information thinking capabilities
Familiarity with lean and agile development methodologies
Experience working on Agile Scrum teams (XP, SCRUM, LEAN SCRUM)
Key UI/UX designer soft skills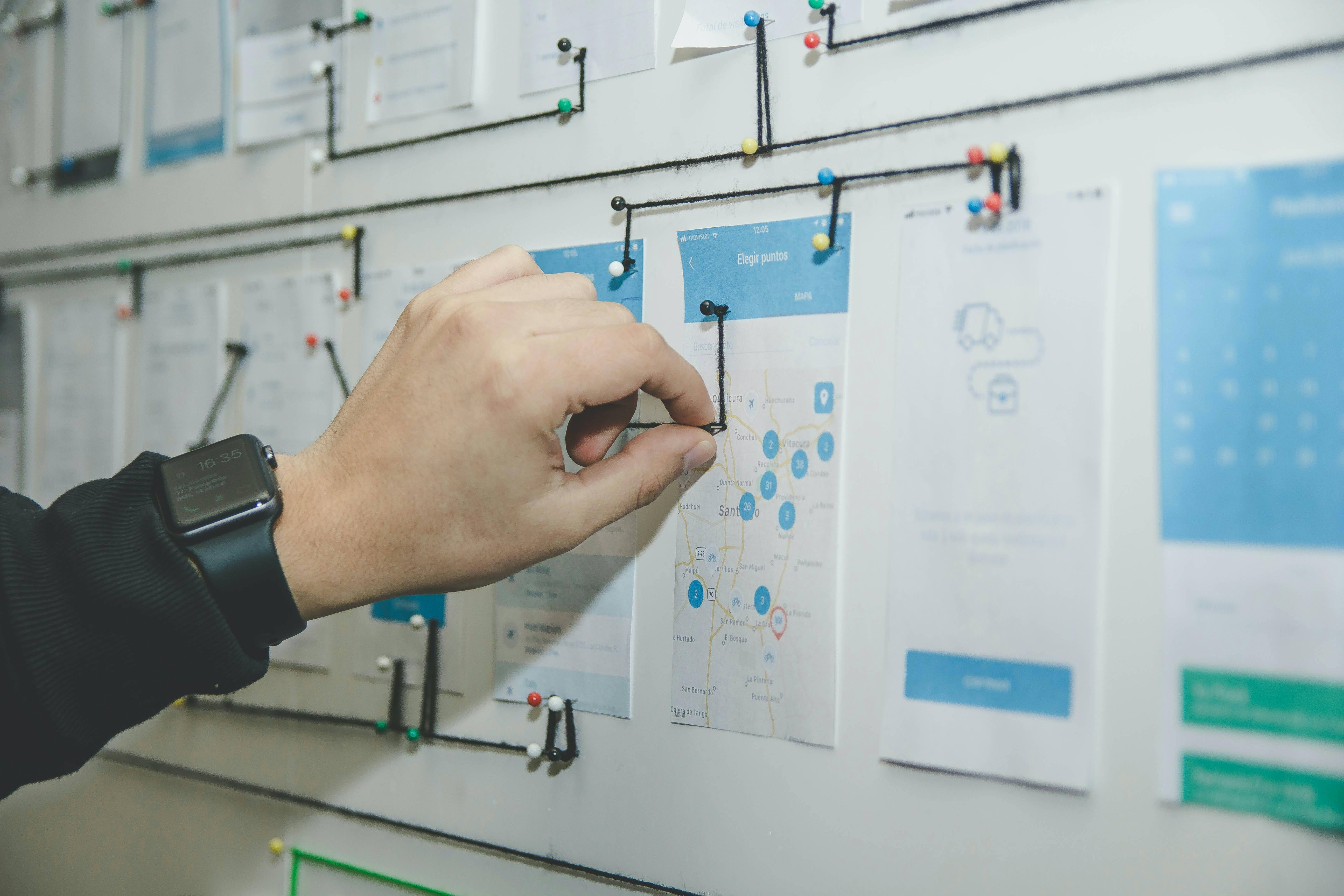 Design thinking. Whether you're a seasoned pro or just getting started on your career path, there are certain skills you need to adopt and perfect as a designer in order to create user experiences that work at both ends of the spectrum i.e).
Having "soft skills" like problem-solving and communication can only help ween out flaws from your project but if you really want to be taken seriously by your clients and put forth top-notch work then you need to keep up-to-date with the latest design trends and showcase them in an innovative way.
4. Software developer
Position overview
The software developer is the one who builds the product solution. Sometimes, startup owners look for full-stack developers instead of hiring separate frontend or backend software developers. At other times, though, the tech lead is the only software developer on a team.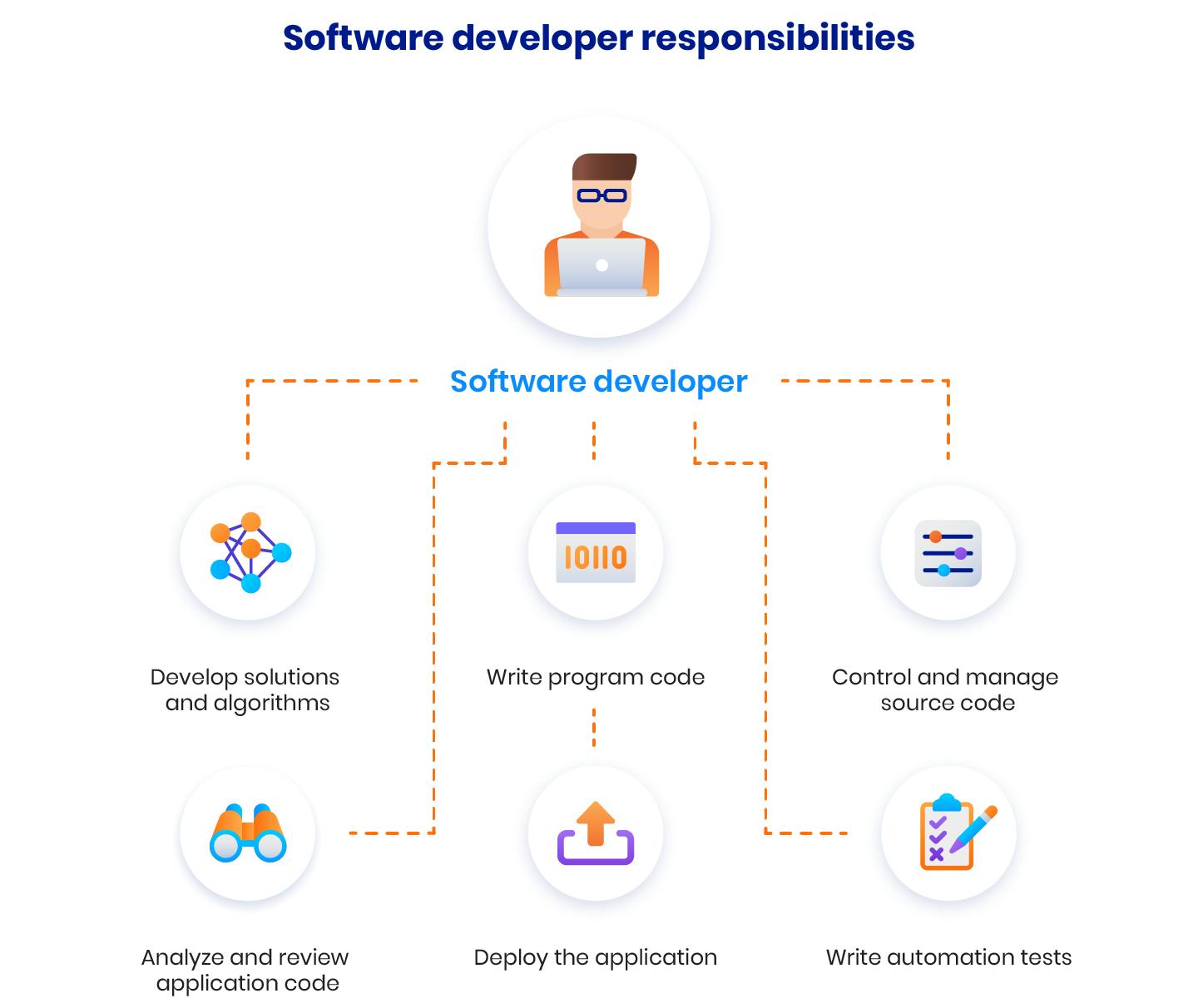 A startup software developer:
Implement solutions and algorithms according to product requirements.
Author program code according to the app architecture.
Definitively control and manage the source code using Git and GitHub.
Really analyze and review application code.
Creative automation tests.
Definitely deploys the application to staging and production servers
Key hard skills for a software developer
The skills required from a software developer in a startup vary depending on the tech stack you choose. Here's a general set of skills:
SDLC fundamentals. A software developer should be familiar with various data structures and algorithms related to the product they're working on day-to-day.
Knowledge of the tech stack: A software developer must know the programming languages, frameworks, libraries, and tools necessary to build their project.
Experience with relational and non-relational databases: A software developer needs to understand how a database works so that they can build their projects on top of them wherever possible.
Experience with version control systems: Sometimes you need multiple developers working on one project, which is where a good version control system comes in very handy!
Experience with test-driven development, software debugging, and software testing: Because we won't want anyone breaking or messing anything up now will we? Experience in cloud deployment and migration across multiple platforms.  
Key soft skills for a software developer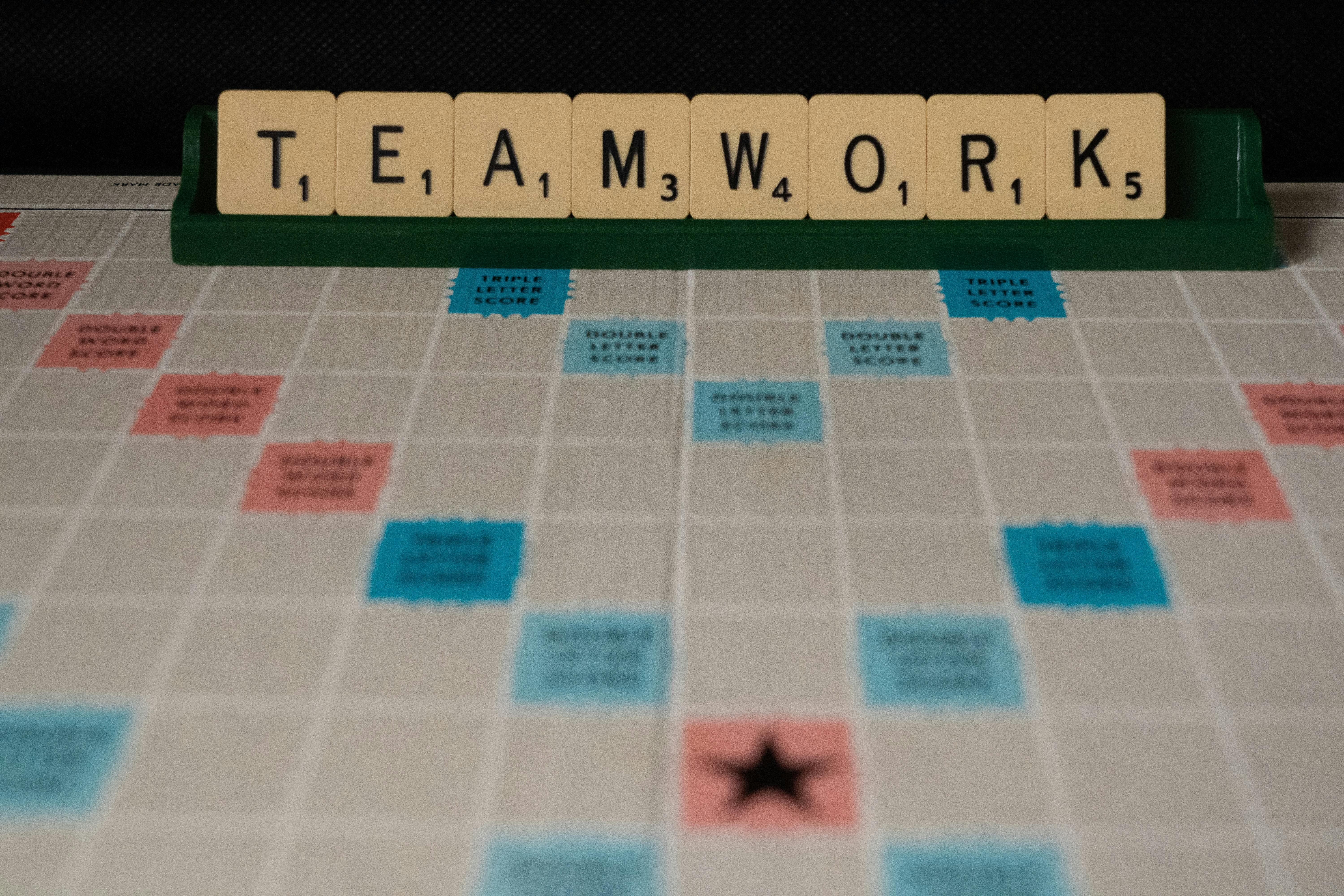 1. Teamwork – When you have a startup it's very important that everyone in the company work well together, especially at such an early stage where every employee counts the most.
2. Time Management – Being able to manage time also means being able to prioritize tasks and get them done more effectively than if one were doing it alone.
3. Agility – When there are changes and your product requirements shift, it's important for everyone on the team to be flexible and ready to change directions accordingly because within a startup environment no two days are ever the same!
5. Quality assurance engineer 
Position overview 
You need a storage capacity of arms to hold the test cases that need to be executed by QA engineers. Hence, you must ensure that these arms are of good quality.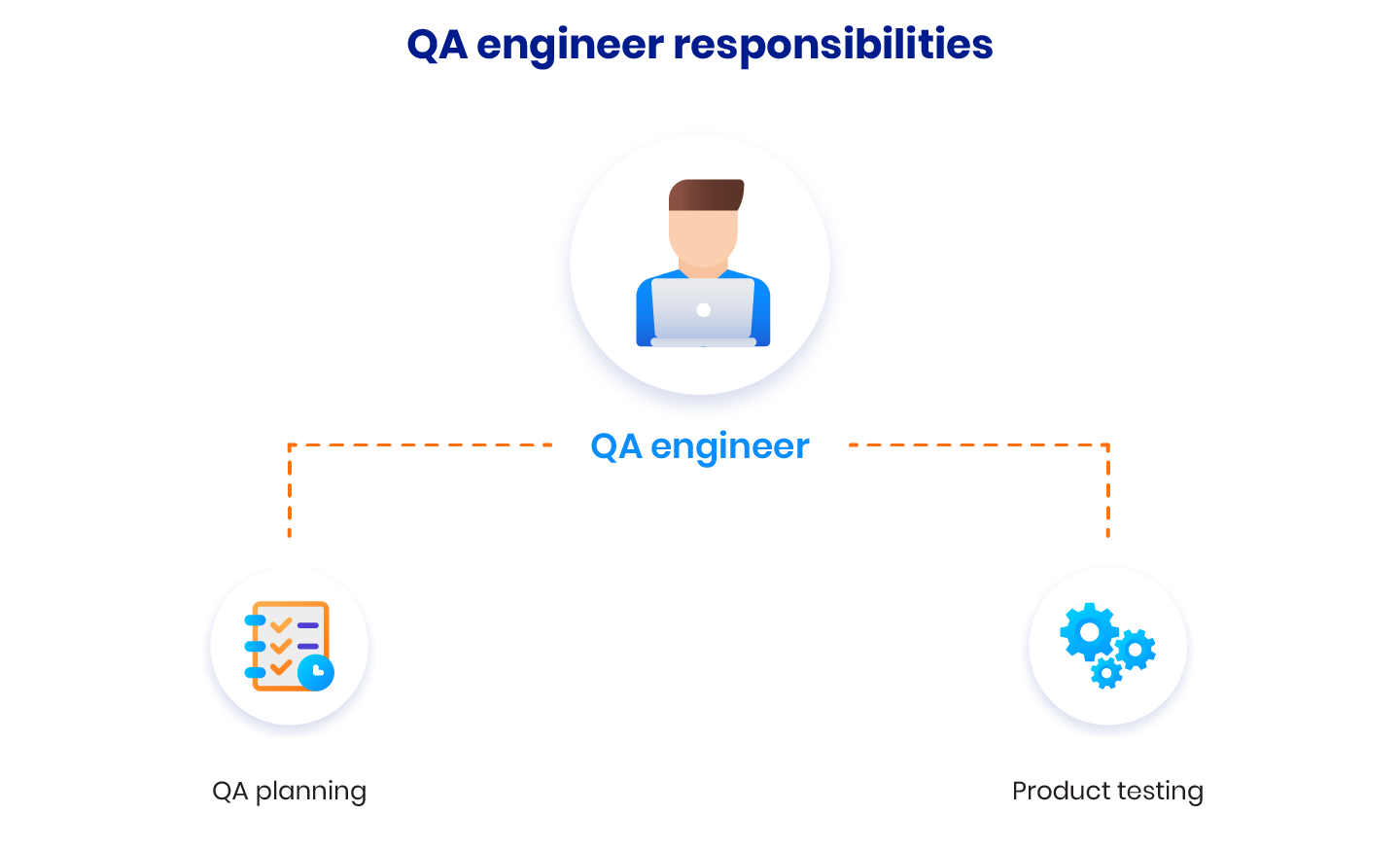 QA planning 
The first task of a QA engineer is to:
Estimate, prioritize, and plan testing activities.
Set up the testing environment.
Determines best approach and workflow. Selects the QA workflow.
Preparing test plans based on functional specifications
Product testing 
The QA engineer conducts quality and assurance testing on the developed solution. As soon as the front end of the product (or particular features) is ready and the product is deployed on the test (or staging) environment, the QA engineer performs the following activities:
Regression and performance testing 
Product environment testing 
Automation testing 
A QA engineer:
Creates quality bug reports.
Assigns bugs to developers for remediation.
Performs retesting on fixed bugs
Key hard skills for a QA engineer
Experience in web development including JavaScript, HTML5 and CSS. This role requires someone who can create an array of tests for building both desktop and mobile versions of web projects.
Experience with frameworks such as React Js, AngularJS or Bootstrap would be beneficial to your candidacy.
Awareness of continuous integration using tools like CircleCI, Jenkins and Maven will be considered a plus for this position.
A passion for best practices for quality assurance and test management is important in a candidate's ability to excel.
Depending on the company you're applying to, they might need experience with specific testing styles, like pair programming or event-driven techniques
Keenness about methods for planning tests
Knowledge of modern best practices for quality assurance
Experience in writing coherent reports about your findings while developing new ways to improve efficiency and reduce known errors in existing products.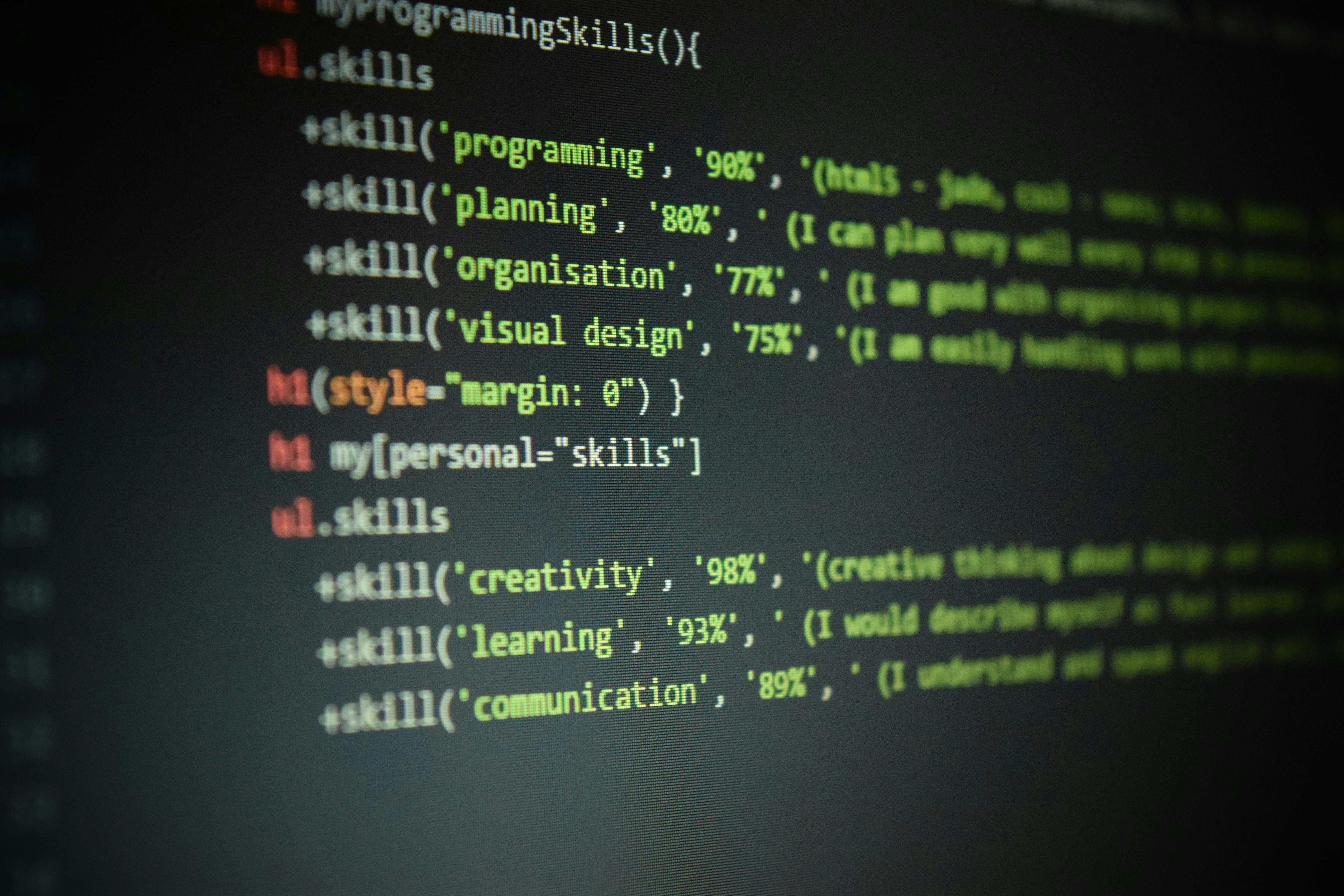 Key soft skills for a QA engineer
Critical thinking. A QA engineer should have analysis, communication, interpretation, and problem-solving skills. Critical thinking is the ability to discern between fact and fiction in favour of realistic options.
Accuracy and precision. Being able to objectively evaluate software and come up with exact recommendations for improvement are important skills, ones that prevent bugs from happening in the first place.
In addition, analytical skills help determine what's wrong when something isn't working properly and aid in coming up with corrective solutions or suggestions to mitigate future problems. Being a rational thinker yet creative and insightful are essential characteristics for this role.
Conclusion 
When a company is in its infancy, it's often best that the CEO handles every responsibility. As time goes on, however, additional team members may be needed to get different parts of the business up and running. While common in startups, it's not always ideal for the CEO to lead the development team, which is why one will usually need to take charge of hiring and overseeing a team of engineers and programmers along with other facets of coding such as system integration or maybe even software implementation.
At the same time, although UX designers are important when it comes to developing a user-friendly solution for users, actual software developers are responsible for creating these solutions from start to finish while QA engineers test out these programs before they're even released.
Knowing about these five startup company roles and responsibilities will aid you in making sure that tasks are distributed effectively amongst your team members so everyone knows what to do. By not making assumptions, a smooth workflow can be maintained. This is important when it comes to getting your product to market!