Building a marketplace for businesses, which is known as a B2B marketplace, can be very profitable considering the market size and revenue generation. Today, the total B2B marketplace revenue stands at an impressive $3.6 trillion as forecasted by 2024.
However, if you are thinking about building your own B2B marketplace and you wonder what features to include in the MVP version as well as those to take care of later on - here is our breakdown of the basic features you should take into account for your new venture.
Here are the main groups of features:
Platform management
Account management
User management
Product/service catalogue
Catalogue content management
Payment, purchase, and monetization
Inventory logistics and shipment
Data protection
Communication
We'll look at each of these one by one from a product-oriented perspective rather than from a feature-oriented perspective.
#1 Platform management

B2B marketplaces usually have three different roles - administrators, vendors, and buyers. Each of these functions has its own separate area of control panel to help them carry out its business and administrative responsibilities.
The platform owner will typically have an admin panel while the vendor or vendor team is normally given a designated place to manage their business-related activities. Buyers on the other hand can create an account where they can keep track of all relevant order information on an individual basis.
The three features described above may have other names, but their main purpose is to serve as a hub for all marketplace content and activities related to a specific user group.
This piece of functionality is packed full of features, which can make it difficult for new users to discover them. To help solve this problem, adding an onboarding feature would be a great addition to your marketplace in the second release.
#2 Account management

Users of each role should be able to easily get started with their personal profiles. This allows users to view and edit their personal information while logged in to the platform.
Usually, an email or phone number is needed for a user to access your marketplace. It's also a good idea to provide Google or Apple sign-in, which will allow users to access your platform via their Google or Apple accounts.
When managing the website for any business, you should make sure that users can browse freely within your platform whether they have an account or not. Vendors often require a restricted access option for vendors which is especially important for businesses with price differentiations based on customer type segmentation.
Once user identities are established, it's often very handy to manage and interact with their roles within your platform.
#3 User management

B2B marketplaces are generally driven by a team of members who make up the marketplace's administrators, vendors, or both. Taking advantage of the B2B Marketplace Team Management functionality, one can create team hierarchies with different levels of access and assign corresponding permissions to various users.
The result is that customers benefit from consistent experiences throughout the marketplace, vendors take advantage of easy vendor management, and all users ultimately have an easier time using the system because they are always greeted by familiar faces - whether marketplace admins or vendors!
Vendors can help to keep track of their products by finding replacement products if the original product is damaged. This way, not only do they reduce waste, but also cut costs related to buying replacement products or requiring labour to repair damaged ones.
#4 Product/service catalogue

Catalogue management is vital for listing and managing offerings on a B2B marketplace. Admins should be able to set up catalogue structures and properties, and vendors should be able to use these guidelines as a reference point for catalogue customization when creating lists of their products or services.
In addition, marketplaces can benefit from giving sellers the power to tailor their search options. For example, you could allow marketplace admins and vendors to create custom conditions they can later use when browsing the seller's catalogue or searching for products. According to a recent report of B2B buyers, after price, ease of finding products via search and navigation was most important in selecting a B2B website.
The catalogue management feature provides many types of functionality to meet the needs of all kinds of users. For example, bulk product management helps vendors manage several offerings at one time. Import and export functionalities help vendors import their product data from other platforms (e.g. CRM systems) or export information in CSV file formats.
#5 Content management

Basic content management features like publishing tools and an images and videos option allow service providers and merchants to add and delete any type of content.
Encourage customers to share pictures of purchased items and leave reviews about their experience.
A great new feature idea is integration with YouTube and Integrating YouTube videos into products. This would allow for link sharing, and also the experience of watching the video on the website by clicking on that link. You can then embed them using a URL or make it auto-play as well as preload the video.
#6 Payments, purchases, and monetization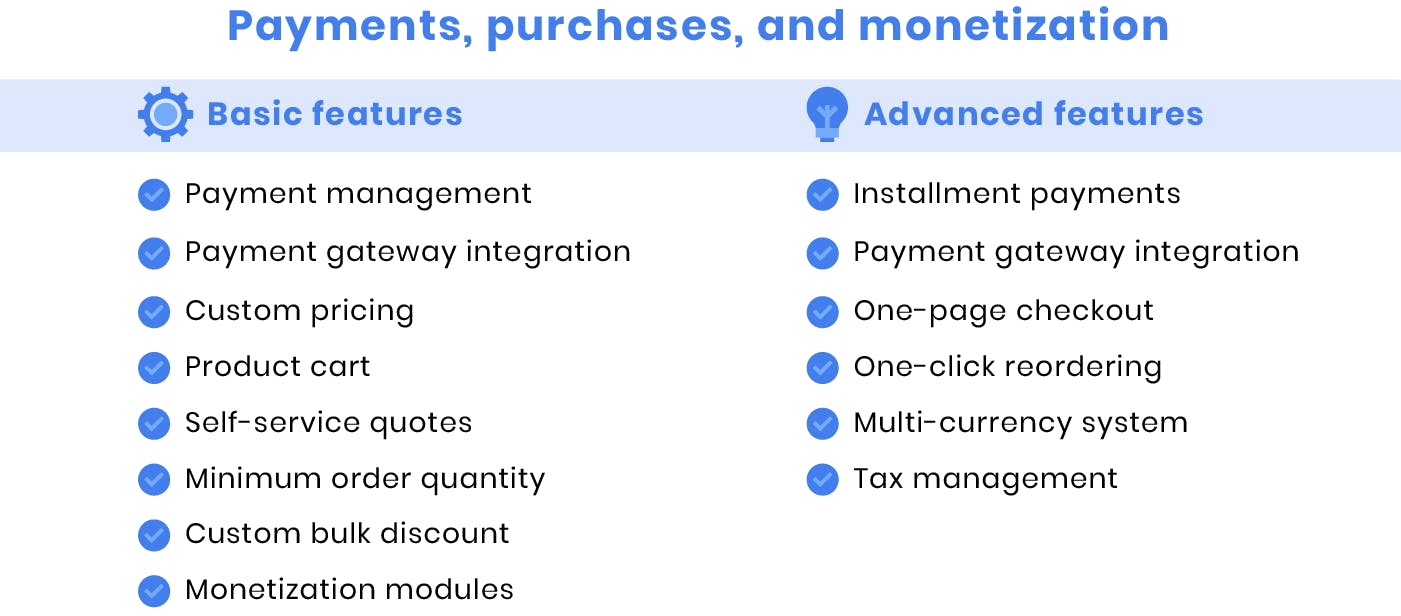 Payment system
Payment management is a key feature of automating the payment process. Payment security is an essential aspect of managing payments because of the high average order values that occur in B2B marketplaces, which are often in the tens of thousands of dollars.
A common practice is to integrate with a payment solution like Stripe to ensure money can be safely and easily sent and received. Users can pay via third-party tools; however, this will not be as secure or convenient as using the dedicated gateway provided by your selected system.
Make sure you choose a payment solution that provides flexible payment methods, even if they're only for purchase orders - this way your customers won't have to worry about remembering what accounts receive payments, how much should be deposited into each account or other details that may complicate their lives when it comes time to make payments!
It's important to think carefully about the most popular payment methods for a B2B marketplace. It's a good idea to provide a variety of choices including cash, cards, bank transfers, wallets and pay-later options – which is a form of instalment payment – as these options are often used with B2B marketplaces.
Pricing 
Pricing for B2B marketplaces can be hard to navigate. Fortunately, custom pricing features help vendors manipulate their pricing depending on the needs of individual customers. This functionality helps increase revenue and customer retention as well as attract new clients.
Purchase 
A cart is a basic feature of most e-commerce sites, including B2B marketplaces. By giving your customers the ability to buy more than one item at a time, it can increase sales leads and client retention.
There are also assorted purchase options that are beneficial for B2B platforms. For example:
A minimum order quantity feature is a special setting on your e-commerce website where you control the lowest amount of products that a vendor is willing to sell.
Custom bulk discounts are incentives that encourage buyers to place large orders at discounted prices.
A self-service quote feature allows customers to instantly obtain quotes for products after completing basic fields like their name, email address, or phone number. The customer can subsequently modify the quote details before proceeding with the order. Users can also check the status of their quotes to monitor shipment updates.
The easy purchase helps customers complete an order simply and quickly without having to go through a complex purchase process:
One-Page Checkout: helps customers complete their orders with just one click and eliminates the need to fill in numerous information fields before buying a product.
One-click reorder makes it incredibly easy for buyers to purchase items they've purchased previously so they can quickly jump right back into checking out without having to go through the steps again
In a multi-currency e-commerce system, users can use different currencies to make purchases. You can set up currency exchange rates from your admin panel.
Tax management systems are very helpful because tax rates vary by region and product category. The best systems integrate with a vendor's tax policy.
Monetization
A monetization feature for marketplaces is similar to the different bells and whistles in an ice cream shop. Depending on how your marketplace makes money, you can choose from a variety of possibilities. If your platform takes a commission, you can configure subscription policies, regulation pricing strategies, and so on. As an option, if your payment structure is more complicated or customized, you can offer platform fees or other custom payments.
#7 Inventory, logistics, and shipment (for B2B product marketplaces) 

Real-time inventory management is a basic feature that helps vendors stay updated about any changes to product inventory. This feature reduces unnecessary spending and ensures that customers receive their orders on time.
Shipping management is a great way to make sure vendors and buyers are pleased. It's important because it enables automated shipping which means your sellers can compile, set up, and manage a list of delivery companies to help track delivery statuses during the shipping process.
For both vendors and buyers, there's usually an order management option that allows them to view orders, keep track of purchase statuses, and more. These options help them get the information they need while providing an opportunity for sellers to stay organized which in turn keeps their customers happy knowing they will be receiving what they paid for at the promised time!
To help our customers keep track of where their package is, we have a shipment tracking feature available. We also included a shipment calculator on the check-out page that helps determine shipping rates automatically.
#8 Security and data protection

One of the best ways to protect your marketplace is by having a sitewide HTTPS and SSL certificate along with a safe payment gateway.
Data protection in B2B marketplaces is usually ensured by at least two features. The first allows database backups that allow you to recover data that might be lost due to technical issues or human error. This feature saves marketplace data at a predefined frequency, so you can always get the last saved version of your critical marketplace information.
Data logs are an advanced feature for users of a marketplace. With this feature, admins will be able to know who makes changes on a platform and when they do it. A log is important because it allows one to deal with logging of changes made on the system to ensure best practices are being conducted. Using logs also helps users deal with unforeseen circumstances that can lead to security violations, performance problems, or system flaws.
#9 Communication

As a rule, the core communication feature of B2B marketplaces is a messaging centre.
Set up and managed by marketplace admins, it allows admins to track all messages sent through their platform. Usually, admins are also able to control who sees what - making the messaging centre an invaluable business tool for B2B companies of all stripes.
For product (or service) buyers, communication can be implemented through live chats. These features offer solutions to some of the most common knocks on e-commerce stores - pushy salespeople, slow turnaround time in terms of order processing and a lack of personalization when it comes to customer support. Live chat functionality greatly simplifies customer queries and allows vendors to improve their reputation by better attending to customers' needs.
Conclusion
It's still debatable if the hype regarding B2B marketplaces is justified. Marketing for this niche can be tough because you have to convince buyers that your software will be worth their money. To achieve this, any B2B marketplace should have these two major types of features: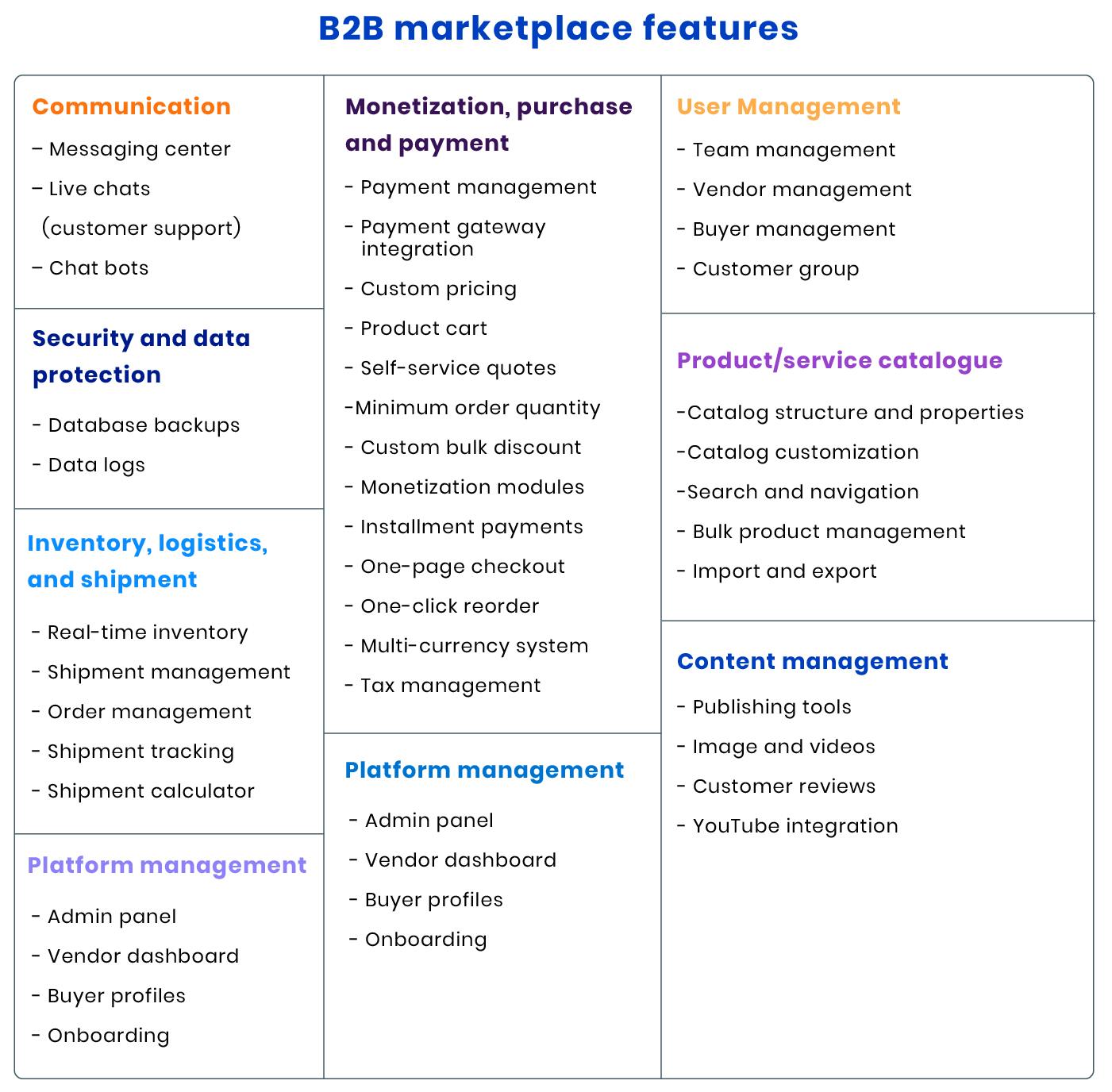 Whatever feature set you choose for your B2B marketplace, building an online platform from scratch would be quite expensive and time-consuming. That's why it's a good idea to make sure all of the programming functions you require are available on a pre-built platform that already has a proven functionality while also giving you options for more specialized functionality that leaves room for growth in the future